Saraya Qasioun ('Squadrons of Qasioun'- referring to Mt. Qasioun) is an insurgent group operating in the Damascus area that has occasionally claimed attacks on Syrian government forces (see interview I did with the group here). The group has issued a claim of responsibility for the bus bombing attack today in Damascus that killed at least a dozen Syrian military personnel. Statement and translation below: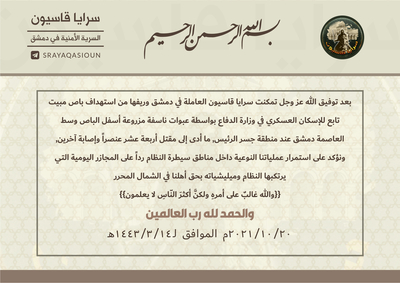 Saraya Qasioun
Covert Squadron in Damascus
In the name of God, the Compassionate, the Merciful
After granting of success of God (Almighty and Exalted is He), Saraya Qasioun which operates in Damascus and its countryside managed to target an accommodation bus that is affiliated with the military settlement in the Defence Ministry via IEDs planted beneath the bus in the middle of the capital of Damascus at the area of Jisr al-Ra'is, which led to the killing of 14 personnel and wounding of others. And we affirm the continuation of our special operations inside the areas controlled by the regime in response to the daily massacres that the regime and its militias commit against ou people in the liberated north.
And God is predominant over His affair but most of the people don't know.
And praise be to God the Lord of the Worlds.
20 October 2021 CE corresponding to 14 Rabi' al-Awal 1443 AH.