For other writings of the Elipandus corpus, see:
. Letter to Migetius
. Symbol of the Elipandian Faith
. Letter to Fidelis
. Letter of the Bishops of Spain
. Letter to Charlemagne
. Letter to Alcuin of York
-------------------------------------
The following post contains a translation and overview of the last letter in the Elipandus corpus as contained in Juan Gil's Corpus Scriptorum Muzarabicorum. The letter is directed to Bishop Felix of Urgell, who came to espouse Elipandus' Adoptionism but actually repudiated it publicly on more than one occasion in the 790s CE, including on one occasion before Pope Hadrian I. This particular letter is thought to date to 798/799 CE. It was during this period that Felix ended up in the presence of Charlemagne (who had conquered Felix's jurisdiction in 789 CE) and debated Alcuin.
Linguistically speaking, this letter is distinct from the other writings in the Elipandus corpus on account of its greater deviation from the norms of standard Latin grammar. To use the Arabic fusha-'aamiya analogy, one can say that the author's Romance vernacular (the 'aamiya) is interfering considerably more in the Latin of this letter.
I would like to dedicate this translation and commentary to my friend Masaki Amadera, who works in Japan's diplomatic service and has long been very supportive of my work in translation from both Arabic and Latin. I hope this small work can be a sufficient gift of appreciation for the time you hosted me in Jordan in 2019.
Note that the Latin text and Biblical references noted here are taken from Corpus Scriptorum Muzarabicorum.
-------------------------------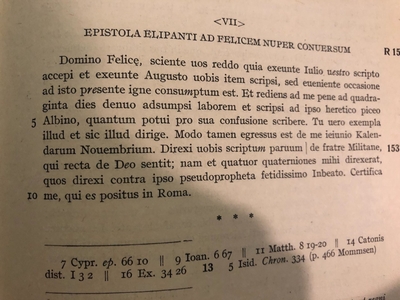 The letter of Elipantus[i] to Felix the recently converted
To Lord Felix, as you know I reply to you because as July was going out I received your writing and as August was going out I wrote back again to you, but as it turned out things were consumed by this present fire. And returning to myself around 40 days later I again took up the labour and I wrote to that pitch-black heretic Albinus,[ii] in as far as I could write to correct his confusion. But you make that example and thus direct that. Nonetheless the fasting of the Kalends of November turned out for me.[iii] I directed to you a small writing from the brother Milita, who perceives correct things about God. For he had also directed four quaternions to me, which I had directed against the most fetid pseudo-prophet Inbeatus.[iv] Certify me, as you have been [/were] placed in Rome.
Your letter, which somehow slipped to me from heaven, I received as July was going out, and with my arms extended I have given the utmost thanks to my God, as He made me rejoice in your words amid the daily losses of this world, in which we endure rather than live. But there was also the most fetid letter from the son of the fire of Gehennam Albinus, the new Arrius[v] who has arisen in the territory of Austria in the time of the glorious emperor, and he is not a disciple of Christ, but of the one who said: 'I will place my seat from the north and I will be similar to the Most-High.'[vi] About a person such as this it has been written: 'They have come forth from us, but they were not of us; for if they had been of us, they would have also remained with us.'[vii] Against him, as far as I could, I rendered a response in writing and I supported it with the pronouncements of the orthodox and Catholic saints.
But let your holiness act with vigour and may your heart be strengthened, as you remember what the Lord says: 'Blessed are those who endure persecution on account of justice, because theirs is the kingdom of the heavens.'[viii] And also: 'Behold I send you as sheep in the midst of wolves. Be therefore prudent as serpents and simple as doves.'[ix] 'Therefore beware of men; for they will hand you over in the councils and they will whip you in their synagogues, and you will be led to governors and kings on account of me in testimony to them and the Gentiles,'[x] etc.
But I have directed your letter to Córdoba to the brothers who perceive right things about God and have written many letters to me, which I should have directed to help you; but I directed them for reading to the heresiarch the anti-phrasian Beatus who is the master of Albinus. But you direct that writing through your glorious chief Fidelis,[xi] before it should come to Albinus the son of death, who does not believe in the adoption of the flesh in the Son of God, which the holy forefathers and we ourselves believe in the form of human servitude alone, not in the glory and substance of the divine nature.
Concerning that brother of ours who died, I heard that he was mandating to direct something to us. And so I beseech that you order your servant Ermedeus, that he should inquire from the Jews who have there wives and sons about someone who may make the effort and direct to us whatever God has inspired; in such a way nonetheless that other Jews who dwell among us should not perceive, or, if it is possible, that you can direct someone from your humbles ones to us with the traders who come; and certificate from your intention for us what you have done. And above all for the two books of the letters of the blessed Hieronimus[xii] and the little works of the blessed Isidorus which Ermedeus has, which I had directed to the brother who has died. Hence also he had entrusted to me some similar things he had found. Therefore however make use of Ermedeus for yourselves and instruct him in your discourse and the true doctrine of faith, as I have made known to him.
However know that I have already entered with decrepit old age into the eighty second year of life from the eighth day before the Kalends of August.[xiii] And pray for us, as we also pray for you assiduously, that God may join us together equally in the region of the living. But we will entrust to all brothers to offer a sacrifice to God on your behalf. May I merit to be happy concerning your reply, the sooner, the better. I commend this present letter and our presbyter Venerius to you, if it will be granted that he should reach you.
Notes
---
[i] Elipandus.
[ii] Alcuin of York.
[iii] On fasting on the Kalends of November in the church in Spain, cf. Concilium Gerundense (article III):
Item secunda laetania facienda est Kal. Novembr. <W411, f. 94v> ea tamen condicione servata, ut, si isdem diebus dominica intercesserit, in alia hebdomada secundum prioris abstinentiae observantiam a quinta feria incipiatur et in sabbato vespere missa facta finiatur. Quibus tamen diebus a carnibus et a vino decrevimus abstinendum.
'So a second Litany is to be done on the Kalends of November, nonetheless with the condition kept that, if a Sunday intercedes on the same days, it should be begun on another week according to the observation of the prior abstinence from the fifth day and should be finished on Saturday evening after mass has been done. Nonetheless on these days we have decreed required abstinence from meats and wine.'
[iv] i.e. Beatus of Liébana. This is a play on Beatus' name: rather than being 'blessed' as his name means, Elipandus derides him as 'unblessed.'
[v] For this insult, see Elipandus' letter to Alcuin.
[vi] Isaiah 14:13-14.
[vii] 1 John 2:19.
[viii] Matthew 5:10.
[ix] Matthew 10:16.
[x] Matthew 10:17-18.
[xi] Cf. Elipandus' letter to Fidelis.
[xii] Jerome.
[xiii] i.e. Elipandus' birthday was on 25 July.