Many Iraqi fighters participated in fighting in the Syrian civil war alongside Syrian government forces. Among them is one 'Abu Mujahid al-Rubai'e' whom I interviewed recently. In the interview we discuss Abu Mujahid's life history and combat experiences in both Iraq and Syria. I include also some photos Abu Mujahid provided me. Any parenthetical insertions in square brackets are my own.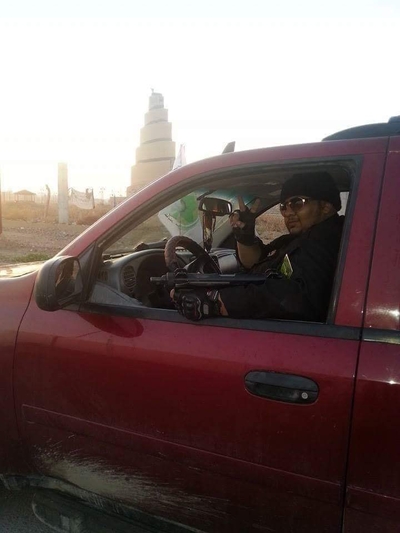 Q: When were you born and from which province are you originally? Did you study in university? Did your family fight the regime of Saddam Hussein?
A: I was born in 1989 in Baghdad in Sadr City. I studied at the preparatory level: al-Mustafa preparatory college. Yes, my maternal uncles [fought the regime]. As for my gather, he worked as an office and died. My material uncles are among those who opposed the Saddam regime and we suffered previously.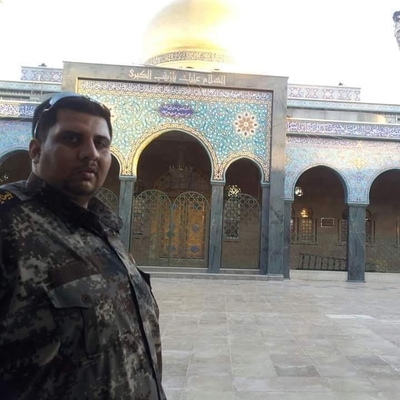 Q: When did you join Jaysh al-Imam al-Mahdi and in which battles did you participate? Why did you join Jaysh al-Imam al-Mahdi?
A: I joined in 2004 when I was 15-16 years old. And I fought in Sadr city and al-Najaf al-Ashraf under what is called the Mahdawi Intifada and I have pride in that and I have two wounds and I participated in all the battles every day of my life consisting of battles and obligations. And here I specialised in planting IEDs, the Namasawi ['Austrian'- referring to a type of projectile], primitive weapons and RPG-7 weapons. As for the reason for my joining, it was to defend my land, honour and country and holy sites and a creed firmly planted in the prophecy of the appearance of al-Imam al-Hujja (may God hasten his appearance).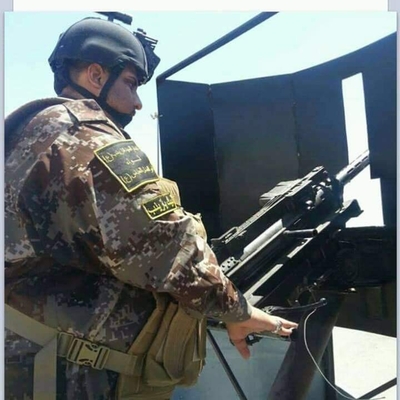 Q: Why did you leave Jaysh al-Imam al-Mahdi and when did you go to Syria?
A: I left Jaysh al-Imam al-Mahdi (may God hasten his appearance) because first it was frozen after I returned from the Islamic Republic [Iran] and there were at the time demonstrations on the day of al-Zahara' and I found the flag of the Free Army ['Free Syrian Army'] hung on the platform so I left the line but even as my heart is with Sayyid Muqtada al-Sadr (may God protect him) and I chose to defend al-Sayyida Zainab (peace be upon her) the daughter of the stallion of stallions [Imam Ali] and the daughter of al-Batul al-Hawr al-Anasiya [Fatima] (peace be upon her).
Q: You have mentioned that you fought with Liwa Abu al-Fadl al-Abbas. In which battles did you participate and were you with the brigade led by Abu Ajeeb? Did you fight with another formation inside Syria?
A: Yes I was with the commander brother Maher Ajeeb Jazza the son of Nubl and I was honoured to work with him and I did not fight with any formation inside Syria except Liwa Abu al-Fadl al-Abbas and throughout the time from 2013 until November 2013 approximately: all the battles that occurred, I was present in them. And I specialised in auxiliary mortar cannon support and heavy machine guns (14.5 mm) and I stayed [with the brigade] because I went for the sake of creed and not for the sake of financial reward, but rather for the divine reward and closeness to God (Almighty and Exalted is He) and to help truth come into its own.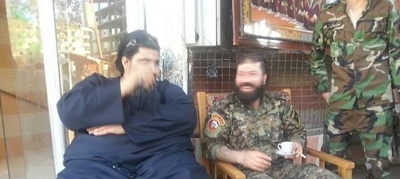 Abu Mujahid (left) with Maher Ajeeb Jazza (right).
Q: It is said that there was a distinction between Liwa Abu al-Fadl al-Abbas and the so-called Haydari Force composed of multiple factions of the resistance. Is this true?
A: There is no distinction except a simple one. The two sides fought for the sake of one madhhab and creed and protection of the holy sites and defending the honour of Arabism and brotherhood and the right of the neighbour upon the neighbour. And we as the Liwa Abu al-Fadl formation: our leadership was autonomous and Syrian and the affiliation was with the air intelligence but in terms of creed and not in sums or financial support for it. As for the Haydari Force, the name of the force means a number of formations and factions that come under this name and they came from the Islamic Republic Abadan airport, and most of them were Iraqis, but the support of weapons, rights and salaries ranged from $1600-2000. As for us, we received around $50 (18,000 Syrian pounds) at the time.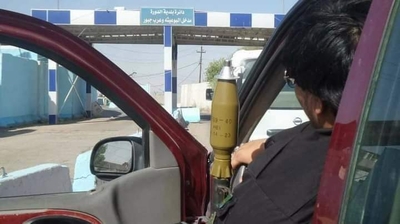 Q: When did you return to Iraq and why? And with which formations did you fight in Iraq and in which battles did you participate?
A: I returned at the beginning of 2014. I fought with the formation of Kata'ib al-Fatah al-Mubin in al-Yusufiya and al-Taqa al-Rusiya also on auxiliary support and after that with Faylaq Badr al-Junah al-Askari in Anbar in the two areas of al-Hawz and al-Mal'ab under the so-called 'Sons of Iraq' and after that the fatwa came so I was within the first force formed in Baghdad airport in the name of al-Hashd al-Sha'abi and we were in the Emergency Response base and our official was colonel Kadhim. And I remained with them until 2020 and more or less most of the battles [I participated in]: Baghdad, Sheikh Aamer, Saba' al-Bour reaching the daughters of al-Hassan and Samarra' with the fifth brigade Tashkeel al-Karar [Badr group in the Hashd Sha'abi Commission] at the time the commander of the brigade was Haydar Abu Dergham al-Maturi. [And I fought in] Diyala, al-Zarka, al-Udhaim, Tikrit, Makshifiya, al-Ziyala and Tikrit al-Qusur. And I was exposed to assassination attempts three times in my come with a sticky bomb and gunfire and praise be to God in any case.