The al-Qa'ida-loyalist group in Syria- Hurras al-Din- has largely gone silent in claiming and advertising military operations since the clashes with Hay'at Tahrir al-Sham in Idlib province in summer 2020, which saw Hurras al-Din and its allies decisively subdued. However, it would appear that the group is still trying to maintain relevance with the idea of continuing the jihad in Syria, and has claimed an operation against the Russian presence in Raqqa province, far removed from the group's main presence in Idlib province and a place where insurgent attacks are normally associated with the Islamic State. Indeed, to my knowledge, this is the first operation Hurras al-Din has claimed outside of northwest Syria.
Below is the statement of the group claiming the operation in Raqqa province translated.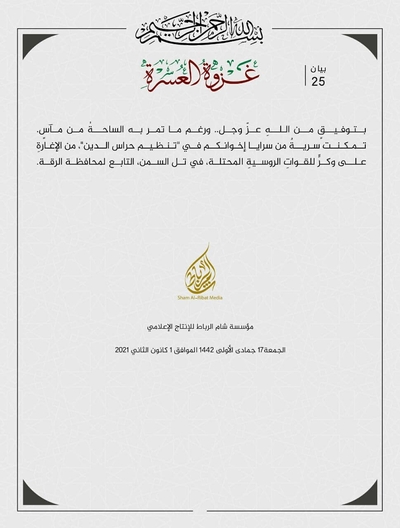 'In the name of God, the Compassionate, the Merciful.
Ghazwat al-Usra (Statement 25)
By granting of success from God (Almighty and Exalted is He), and despite the tragedies the field is going through, one of the squadrons of your brothers in the 'Hurras al-Din organisation' managed to raid a den of the occupying Russian forces in Tel al-Saman affiliated with Raqqa province.
Sham al-Ribat Foundation for Media Production
Friday 17 Jumada al-Awal 1442 AH corresponding to 1 January 2021 CE.'