Following on from the jihadist group Ansar al-Tawheed's announcement of a medical course set up by its medical office, the medical office of the group has begun to advertise some of its activities and has released an article on the importance of medical help for the wounded: namely, that it is an example of conveying 'extended benefit' to the people and not merely benefiting oneself. Indeed providing medical treatment for the wounded and saving lives are of the most beloved of deeds in God's eyes. The article was written by one 'Abu Musa al-Tibbi' (Abu Musa the Medical Official).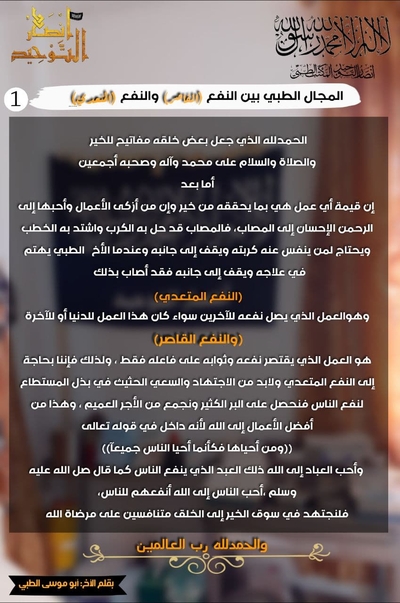 There is no deity but God, Muhammad is the Messenger of God
Ansar al-Tawheed: Medical Office
The medical field between the limited benefit and the extended benefit.
Praise be to God who made some of His creation keys for good, and prayers and peace be upon Muhammad and all his family and companions.
As for what follows: indeed the value of any work is in what good it realises and among the most pure and beloved deeds in the eyes of al-Rahman is doing good to the wounded, for worry has fallen upon the wounded and the mishap has intensified in him, and he needs someone to relieve him of his worry and stand by him. And when the medical brother shows concern for his treatment and stands by him, he has gained by that the extended benefit and it is the work whose benefit reaches others, whether this work is for this world or the Hereafter.
And the limited benefit: it is the work whose benefit and rewards are limited to the one who does it only. And therefore we are in need for the extended benefit and there must be exertion and intense effort in expending what one can to benefit the people, for we realise much piety and make gains from the general reward. And this is of the best of deeds in God's eyes because it comes under the Almighty's words: 'And whoso has saved a life, it is as though he has saved all mankind.' And the most beloved of servants to God is that servant who benefits the people as SAWS said: 'The most beloved of people in God's eyes is the one who is most beneficial to the people.'
So let us strive to convey good to creation, competing to please God. And praise be to God the Lord of the Worlds.
Written by: Abu Musa al-Tibbi