The recent flare-up in hostilities between Armenia and Azerbaijan has prompted enormous controversy because of reports of the deployment of Syrian rebel fighters by Turkey in support of Azerbaijan. The weight of the evidence now points to the reports of the deployments being true. However, a further element of outrage has been injected because of specific claims that Turkey is relying on jihadists and/or former Islamic State fighters. Even French president Emmanuel Macron has made this assertion.
Undoubtedly a significant influence behind these claims is a sensationalist report that was published in The Daily Beast, entitled 'Turkey Sends ISIS Warlord to Azerbaijan to Fight Off Against Putin's Armenian Allies.' Written by an author called 'Muhammad al-Binshi,' the report specifically claims that 'Sayf Balud' (aka: 'Sayf Abu Bakr')- the commander of the al-Hamza Division that constitutes the second division of the second legion of the Turkish-backed 'Syrian National Army'- was previously a commander in the Islamic State.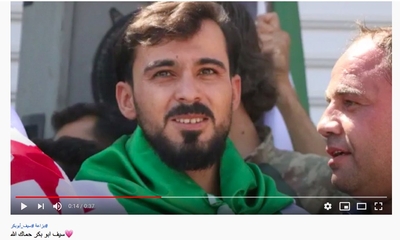 Sayf Abu Bakr
To quote the relevant parts of the report in full (reproduced in the interest of fairness):
--------------------------
'Sayf Balud, commander of the Hamza brigades , however, is also known for his checkered past, in particular, as a former commander within the radical jihadist group ISIS.
An ethnic Syrian Turkman from the town of Biza'a in Aleppo city's northern countryside, Balud originally joined the Abu Bakr Sadiq brigades, a moderate rebel faction near his hometown that received widespread support from Gulf states in the early years of the conflict. However, coming from a small, relatively unknown family, Balud failed to climb the ranks of Syria's rebel movement as quickly as he would have liked, and as others from more prominent backgrounds regularly did. By early 2013, Balud had joined ISIS, whose ranks were staffed mostly by foreigners who couldn't have cared less about the social status of their Syrian recruits.
In July 2013, Balud appeared in an ISIS propaganda video shot in the border town of Tal Abyad after the group successfully captured the city from the Kurdish People's Protection Units (YPG). In the video, Sayf appears next to an Egyptian foreign fighter addressing a room full of two dozen captured YPG soldiers, who were assembled before an ISIS camera crew to officially repent for having joined an armed faction that ISIS' leadership described as being "at war with God."
Over the next several years, Balud's star continued to rise, as the commander attained a level of status within ISIS that would have been unattainable in other rebel groups. Despite the large-scale defeat of ISIS across northern Syria at the hands of the YPG in 2016 and 2017, the cunning commander was able to leverage his history of fighting against Kurds to re-invent himself as a valuable client for another foreign patron: Turkey.
By January 2018, when Turkish backed rebel forces launched "Operation Olive Branch" to take over the Kurdish canton of Afrin located in Syria's uppermost northwest corner, Balud regularly appeared in the group's propaganda videos as the official commander of the newly formed Hamza brigades.'
--------------------------
This section is full of errors.
Firstly, it is true that Sayf Abu Bakr appears in an Islamic State video, but this does not prove he was a member of the group. Further, the article is wrong about some details of the video. The video in which Sayf Abu Bakr appears is called 'Messages from the Land of Epic Battles (4)' and it was released by al-Furqan Media in August 2013. The video does feature a scene of what was then the Islamic State in Iraq and al-Sham (ISIS) blowing up a base of the Kurdish YPG/PYD (linked to the PKK) in the north Raqqa countryside town of Tel Abyad that borders Turkey, but it should be noted that contrary to what the article implies, ISIS was not alone in driving out the YPG/PYD from Tel Abyad. It did so in cooperation with local rebel factions. This episode was one of multiple instances of Syrian rebel-ISIS cooperation in summer 2013. By portraying the expulsion of the YPG/PYD from Tel Abyad as solely the work of ISIS, the author is misleading the readers.
Besides, Sayf Abu Bakr does not in fact appear in that part of the video from Tel Abyad. He actually appears in a subsequent section (screenshot below). A source in the al-Hamza Division pointed out that this section of the video in which Sayf Abu Bakr appears is from Qabbasin in north Aleppo countryside, which has historically had a substantial Kurdish population. This section of the video features a lesson in 'repentance' being given in a mosque to 'PKK members' who had surrendered. Alongside them are some weapons they presumably surrendered. Sayf Abu Bakr can be seen walking into the mosque while the lesson is being given, and then standing alongside the person giving the lesson. Screenshot below (although the footage is somewhat blurry, Sayf Abu Bakr is definitely in the screenshot):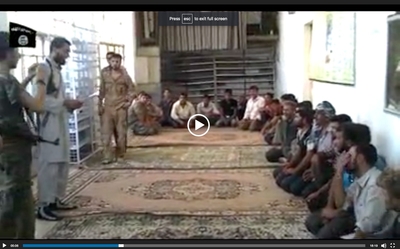 Is it fair to criticise the cooperation that occurred between ISIS and the rebel groups in summer 2013? Yes. But does Sayf Abu Bakr's appearance in that video prove he was a member of ISIS? No. In the same way, no one disputes that an FSA commander- Colonel al-Okaidi- appeared alongside an ISIS member in video footage following the capture of the Mennagh airbase in 2013. But no one then claims that Colonel al-Okaidi was actually a member of ISIS.
More damning as an error- if not outright deception- is the claim that Sayf Abu Bakr joined ISIS in early 2013 and then rose in the ranks of the group 'over the next several years' before he then used his past in fighting the YPG/PYD to re-invent himself as a useful proxy for Turkey, appearing in propaganda videos for 'the newly formed Hamza Brigades' during the operations against the YPG/PYD in Afrin in 2018.
First off, there is the misleading implication that the al-Hamza Division (not 'Hamza Brigades') was not somehow a new creation of Turkey intended to fight the YPG but actually was a development of a much earlier U.S.-vetted 'Hamza Brigade' formation that was set up in 2015 and specifically supported under a Department of Defence Program to fight the Islamic State. But as for the main substance of the claim, all I have to do to disprove it is to find something from the period 2013-2016 that shows Abu Bakr Sayf was not in fact a member of Islamic State.
As it turns out, a simple task. A quick search on Youtube turns up the following video uploaded on 27 November 2014. It is entitled 'Very important: Interview with the military commander Sayf Abu Bakr of Harakat Hazm and leader of the operations to liberate the al-Ma'amal region, now inside.' For context, Harakat Hazm was perhaps the most well-known U.S.-vetted rebel group in 2014 but was supported under the CIA program with the intention of fighting the Syrian government forces and its allies. Screenshot below.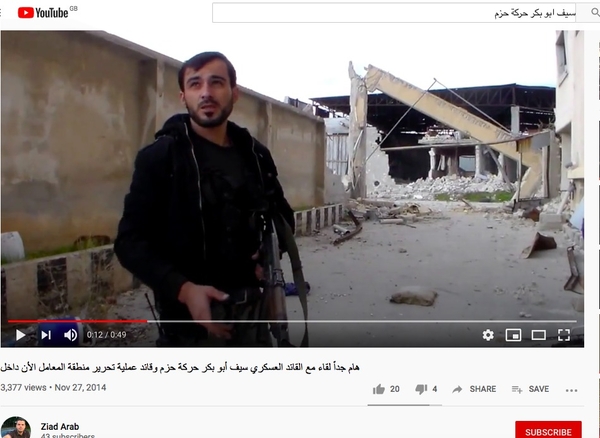 So, during the very period in which the Daily Beast article claims that Sayf Abu Bakr was a member of Islamic State and rising up through its ranks over the course of years, here he is in a video that shows he was actually with Harakat Hazm in late 2014. Why did the editors not perform a basic factcheck here?
Similarly, here is Sayf Abu Bakr in an official photo put out by the al-Hamza Brigade in March 2016, showing him as leader of the brigade in a village in north Aleppo countryside captured by Syrian rebels from the Islamic State.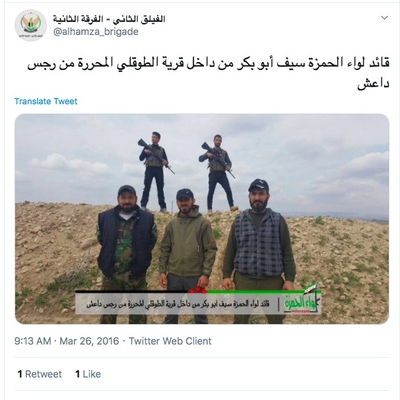 Hence, far from somehow only being promoted for fighting in the operations against YPG/PYD in Afrin, Sayf Abu Bakr was well before the Afrin operations a prominent face of Syrian rebel efforts against Islamic State in north Aleppo countryside. The Daily Beast article made no mention of this fact.
Keep in mind that it is not the intention of this article to get into the rights and wrongs of the conflict between Armenia and Azerbaijan. I have not studied the matter and am not qualified to comment. Nor am I here to weight on the strategic merits of Turkey's interventions in support of Azerbaijan. However, the Daily Beast article can only be described as clickbait and defamation against Sayf Abu Bakr (and by extension defamation against Turkey) because it contains a false claim that can easily be disproven, contributing to the propagation of false information. I therefore call on the Daily Beast to retract the article.
-------------------------------------
[Update 2 October 2020]: I thought it would be worthwhile to add some more information I was able to find on Sayf Abu Bakr.
First, there are some videos from early 2013 that show his involvement as an FSA figure in the operations around Kweiris airbase in Aleppo province. For instance, this clip from al-Jazeera in spring 2013: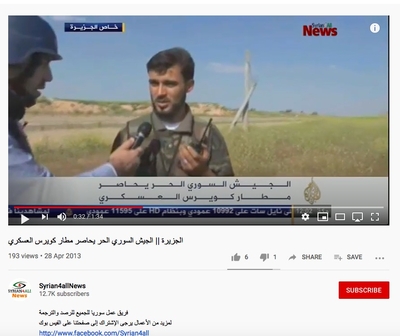 Secondly, the journalist Wladimir Van Wilgenburg, in response to my piece, drew my attention to a profile of Sayf Abu Bakr written by analyst Nicholas Heras in November 2018 for Jamestown Militant Leadership Monitor. It is behind a paywall so I had not been able to access it. In his profile, Heras provides multiple alleged details of his career based on interviews with a 'prominent Syrian opposition commander' who has worked in 'recruiting and mobilising opposition fighters, especially against the Islamic State' and has 'personal knowledge' of Sayf Abu Bakr's 'background story' on account of his work. Heras explained to me that this person is a 'Turkey-based Syrian opposition intelligence person' who helped recruit assets against Islamic State, including for the U.S.-led coalition. In his profile, Heras provides the following information based on this source regarding Sayf Abu Bakr and his alleged role with Islamic State (note all the footnotes in these lines go back to the interviews with the source):
'Sometime in late 2013, when Islamic State (IS) began to emerge as a powerful actor in the region of al-Bab, Sayf Abu Bakr and members of his family mobilised a group of fighters that then joined IS. He subsequently became an important aide to the IS chief responsible for al-Bab and the surrounding region. [4] Sayf Abu Bakr's responsibilities reportedly included serving as the liaison between IS and other armed opposition organisations in the region of al-Bab, and facilitating arms transfers to IS. [5] Although it is unclear if Sayf Abu Bakr joined IS out of a sense of personal support for the organization's ideology and goals, or for financial reasons, during his time working with IS the group consolidated its power and control over al-Bab and incorporated the region into its Caliphate. Sayf Abu Bakr's responsibilities for IS during that period significantly contributed to the consolidation of IS's influence and authority in the region of al-Bab. [6] He reportedly continued in this role until sometime in the middle of 2014, at which point he and members of his family are believed to have defected from IS and fled for a time to Turkey. It is also rumoured that at some point in his work with IS between 2013-2014, he became an asset for Turkish intelligence through the Syrian armed opposition. [7]'
As it stands, this timeline would not contradict the evidence that shows that by late 2014 Sayf Abu Bakr was a commander inside Harakat Hazm. Heras also stresses that he trusts this source, so the testimony deserves consideration, in contrast to the Daily Beast article that falsely claimed Sayf Abu Bakr was an Islamic State commander for several years. Heras himself notes that he was careful not to 'overstate' this alleged aspect of Sayf Abu Bakr's past. In my view the key remark in this section is the claim that Sayf Abu Bakr became an 'asset for Turkish intelligence through the Syrian armed opposition.' When I asked what exactly was meant by this, Heras said that his source said that Sayf Abu Bakr 'was working for MiT [Turkey's intelligence agency] at some point while engaging with ISIS.' Heras gave the analogy of a 'mafia asset': 'They'll still do sketchy stuff, but they are working ultimately for a different boss.'
If the account Heras relays is true (and in my view, if we are going to be fair analysts, we have to take all reasonable lines of evidence seriously), then it would provide an explanation for how Sayf Abu Bakr could then have found his way into a vetted group like Harakat Hazm despite past interactions with Islamic State. In this version of events, it seems to me plausible that Sayf Abu Bakr 'defected' from Islamic State because the organisation found out that he was a spy for Turkish intelligence. It is unlikely that he could have been a disillusioned, genuine defector who could have presented himself to recruiters in order to become a contingent commander in Harakat Hazm.
In general, Heras notes that this period of his life (i.e. late 2013-middle of 2014) is 'murky, at best.' The explanation from the al-Hamza Division is that Sayf Abu Bakr was actually imprisoned in the al-Uyun hospital by what was then ISIS in Aleppo city, and that he was going to be executed, but was then freed by the rebels in the infighting that resulted in the end of ISIS' presence in Aleppo city. Heras does not discount the possibility that this account could be true. In any event, I agree Sayf Abu Bakr makes for a fascinating figure to study as a commander so closely tied to Turkey.
In sum then, here is what we know:
1. In early 2013, Sayf Abu Bakr was an FSA figure involved in operations around Kweiris airbase in Aleppo province.
2. In summer 2013, Sayf Abu Bakr appeared as a figure standing by an ISIS member giving a lesson on 'repentance' to 'PKK members' who had surrendered in Qabbasin in north Aleppo. This shows he had some kind of working relation with ISIS at that point, at the minimum as part of the joint rebel-ISIS efforts against the YPG/PYD in northern Syria.
3. Sayf Abu Bakr's working relationship with or alleged membership of ISIS could only have lasted for a year at most (c. summer 2013-summer 2014), if true. By late 2014 the evidence clearly shows he was working with the U.S. vetted Harakat Hazm (which was also backed by Turkey). The al-Hamza Division account of Sayf Abu Bakr's imprisonment by ISIS in Aleppo city and his subsequently being freed by the rebels also needs to be noted.
4. In 2015-2016, he became involved with the group Liwa al-Hamza, noted publicly as its leader by early 2016. He then became leader of Farqat al-Hamza announced in April 2016. Both Liwa al-Hamza and its evolved form Farqat al-Hamza were backed by the U.S.-led coalition to fight Islamic State.
5. The claim that Sayf Abu Bakr was an 'Islamic State commander' for several years and only reinvented himself as a Turkish proxy asset to fight the YPG- as claimed in the Daily Beast- is still patently false. It is also false to claim he is somehow a jihadist. Accordingly, the Daily Beast should still retract or significantly revise the article.
----------------------------
[Update 2 October 2020]: The original Daily Beast article has now been revised in a way that is acceptable. I consider this case to be closed and will now move in. I have also found this to be an interesting exercise in exploration of rebel interactions with ISIS in the earlier period of 2013.