It has been almost two years since the assassination of Sheikh Abu Fahad Waheed al-Bal'ous, the Druze sheikh who founded the Rijal al-Karama (Men of Dignity) movement in the predominantly Druze province of Suwayda' in southern Syria. Many misconceptions have surrounded Rijal al-Karama, above all the idea that the movement aims to remove the regime and state structures from Suwayda'. In reality, Rijal al-Karama operates on the premise of those basic structures remaining in place, while emphasizing the idea of defending one's local area instead of being conscripted into the army to fight in a place far removed from one's home. In short, as I have outlined before, Rijal al-Karama is more of a reformist and third-way movement.
Though suspicions regarding Bal'ous' assassination pointed to the killing as the work of regime loyalists, the incident has not really altered the movement's fundamental outlook and situation on the ground. Handling of local security largely remains delegated to Rijal al-Karama and other local militias (some of a more loyalist orientation), incidents of kidnappings are frequently reported, and allegations of corruption and smuggling within the province are widespread. Any incidents of attacks on Suwayda' by outside forces will lead to joint initiatives between Rijal al-Karama and other militias in Suwayda' to repel the attacks.
Bal'ous' death proved not to be a fatal blow to Rijal al-Karama, which is presently led by Yahya al-Hajar, who succeeded Bal'ous' brother Ra'afat in February 2017. New local affiliates for the movement continue to be set up or are in the process of creation. Last month, at least five new affiliates were set up or in the process of being formed, one of those being Bayraq al-Majd (Banner of Glory), talk of which arose in the latter half of that month. Note that local affiliates of Rijal al-Karama' generally take the form of Bayraq X (Banner of X) in nomenclature.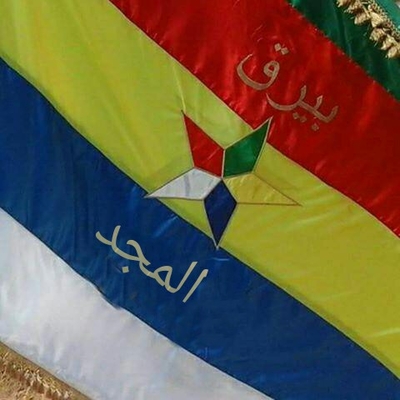 Flag for Bayraq al-Majd, similar in design to other Rijal al-Karama affiliate flags, with the Druze flag and the Druze star in the centre.
To discuss Bayraq al-Majd, the situation of Rijal al-Karama more generally and other issues relating to the Druze in Syria, I interviewed the media activist for Bayraq al-Majd (who will remain anonymous at his request), as transcribed below, with minor editing for clarity and some explanatory notes in square brackets.
Q: First, may I ask when was Bayraq al-Majd formed and in which villages in Suwayda' is the group?
A: Bayraq al-Majd is in the process of being formed and the announcement will be soon. [It is] in Suwayda' city.
Q: After the formation of Bayraq al-Majd, approximately how many bayraqs does the Rijal al-Karama movement have in Suwayda' now?
A: 34 bayraqs officially declared, and big groups to be announced but operating on the ground.
Q: In addition to the Rijal al-Karama movement, what are the main factions in Suwayda' currently?
A: Many, some affiliated with the local people, others with the state.
Q: Like the National Defence Forces and Kata'ib Humat al-Diyar?
A: And Kata'ib al-Ba'ath, the east sector [sic.], and many groups.
Q: Yes. Currently the Rijal al-Karama movement is the biggest conglomeration for groups in Suwayda'?
A: Of course, the most powerful faction in material, numbers and creed.
Q: Can you describe in a detailed sense the aims of the movement at the present time? For example there are people who say you want to bring down the government but I don't think this is true.
A: The aims of Rijal al-Karama: to protect the land and honour. We are neither supporters nor opposition. We forbid aggression against anyone, and we do not accept that anyone should attack us.
Q: Can we say that the movement wants to reform the regime in Syria?
A: The Rijal al-Karama movement is not a political movement. It has prevented the entry of any armed group from outside the province, while it has also prevented forced conscription in the province. The regime and government do not concern us so much as preserving security and stability as far as possible. The important thing is the homeland, and preventing its division or its occupation. The nucleus is Suwayda': for if every person protects his area, Syria will become secure and stable.
And we stand in the face of corruption wherever it is, in addition to our war against racism and sectarianism, because we are a humanitarian movement. And every person in the province, regardless of his religion and ethnicity, is one of us. His honour is our honour and his blood and wealth are sacrosanct.
Q: So the best thing is local defence. I heard there are problems of smuggling of oil in Suwayda'.
A: Be sure to know that the conflict in Syria is not over a chair or position. It is a conflict against Syria: rampant and systematic corruption on one side, and numerous and multiple foreign hands on the other. And everyone is trying to realize his personal interests without the interest of the homeland and people.
More or less [local defence is the best thing], because the war in Syria is sectarian and not against an occupier or colonizer. But we are on the precedence of those who defend the homeland.
There are those who buy oil from the Bedouins settled east of Suwayda', and sell it to the Deraa countryside west of Suwayda'.
Q: Yes. And the Rijal al-Karama movement works to stop this sale of oil?
A: We within the movement do not accept the undertaking of this kind of work by any person present with us because we are against this work on account of what has followed from it from smuggling of weapons and drugs. But we are not in the business of inciting fighting inside the province to prevent smugglers on account of the sensitivity of the situation in Suwayda': and so that we do not open the door of civil war, especially as there are those who exploit matters thus to pour fuel on the fire, especially as the oil has been taken in origin from Da'esh [Islamic State], and is considered a financial resource for it. So we are against this matter inside and outside.
Q: Generally how are your relations with the other factions in Suwayda' and the security apparatuses?
A: All the factions are from the people of Suwayda': so our relations are very good generally. We are all sons of this mountain [Jabal al-Arab/Jabal al-Druze]. As for the security apparatuses, our relations with them are bad because of their corruption and erroneous actions, but we are not in a state of war with them, because our demands are implemented immediately as we are the long arm in the province, such that the activity of these apparatuses has very much diminished, to the point that it is tantamount to having ceased. A number of confrontations with them have happened, because they are corrupt and support all the gangs in Suwayda' that steal, kidnap and smuggle.
Q: Yes, I mean this is what I heard, that the security apparatuses in Suwayda' are very weak, and thus there are many factions in Suwayda', and a lot of kidnapping.
A: Yes, very weak because they have lost their credibility on account of their corruption. There is kidnapping as a result of the presence of gangs in Deraa and Suwayda' whose concern is to collect money. And the strange thing is that when one of the members of these gangs is arrested, the security apparatuses release him after a number of days or a month at most.
Q: Yes, true, because of the corruption. I saw that the U.S. has been supporting armed groups (like the one called Jaysh Usud al-Sharqiya) in order to seize the eastern countryside of Suwayda' and the Badiya in Syria. What is the movement's stance on this matter?
A: The members of these groups are from the Bedouins who inhabit those areas, as they expelled Da'esh from them and returned to their homes. This is all outside the geography of Suwayda' and east of the villages of Suwayda' by dozens of kilometres. There has been no confrontation or tension with them. Our enemy is only the one who attacks us. Our land and our honour are a red line.
Q: Yes. So your stance towards these groups is neutral so long as they don't attack Suwayda'.
A: Exactly.
Q: With regards to the village of Hadr in Quneitra, has the Rijal al-Karama movement participated in defending it? Sometimes groups supported by the West and Jordan have tried to advance towards it.
A: The Rijal al-Karama movement has supported our people in Hadr as far as it can. The people of Jabal al-Sheikh have defended their presence and have been victorious because they are companions of truth.
Q: How does the Rijal al-Karama movement receive support? I heard some of the brothers in the occupied Golan and Palestine offer support for the movement even as the movement considers Israel to be an enemy.
A: There is no supporter for the Rijal al-Karama movement. From the freedom of our wealth we have bought weapons and formed treasuries in addition to the support of some of our exiled sons and with simple sums as well. We are free in our positions because there is no party that has sway over our decisions. You know that the dollar has sway over decisions. As for our weapons, they are from the freedom of our wealth. So we are masters of our selves.
Q: Yes, true. There are some loyalists who say that Israel supports the movement but of course this is not true and the movement does not recognize Israel.
A: And our people from Palestine from the Arabs of 48 [referring to Israeli Druze] are among our relatives, our people and sons of our sect. They have offered some of the support for the movement. And we do not forget that our people in the Golan have proven their Arab identity, because they have remained in their land and rejected receiving the identity of the Zionist entity, for they are fighters and the support is from them and not the government of the occupation entity. This talk [of receiving support from Israel] is farcical that they employ against Rijal al-Karama to slander its image in the face of public opinion. Of course this talk is untrue. All must see who has sold his possessions to buy some arms and join the movement.
Q: Correct. How has the situation in Suwayda' changed since the martyrdom [death] of Abu Fahad Waheed al-Bal'ous (may God have mercy on him)? I saw that the movement has not died despite his martyrdom.
A: Our movement is not a movement of individuals. It is a movement of principles outlined by the martyr sheikh (may God have mercy on him). And we are completing the path, with our leaders in the vanguard of our martyrs. And this is a source of pride for us.
Q: There is talk about a campaign of Shi'ification in Suwayda' by Iran and Hezbollah. Is this talk true and what is the stance of the Rijal al-Karama movement regarding this matter?
A: Until now this is only talk and rumours. But in the event that this should actually happen, may God forbid it: for indeed the Rijal al-Karama movement is prepared to defend the mountain against any aggressor until the last drop of blood in sacrifice. This mountain is for its people and not for any coloniser or occupier, for we consider this kind of work to be colonial intervention to change the demography of the province. Of course this is premature because the people of the mountain can't give way to these matters. Our religion is Tawheed [Druze], a tolerant humanitarian religion of affection that does not bear any animosity or incitement against any sect.
Q: I mean, I know that some of the youth of the Muwahhideen [Druze] have joined the ranks of Syrian Hezbollah. But they have not converted to Shi'i Islam. They are still muwahhideen.
A: These sorts of people have joined them [Hezbollah] because of the attention the fighter receives in their ranks and the neglect that obstructs him in the army, and because of the high salaries. Thus some have joined them, not for matters of creed or religion.
Q: Yes exactly. In the movement's opinion, has the opposition been defeated after the regime seized Aleppo last year?
A: We think that we are all losers in this war and there is no victor. With the fall of the first drop of blood in Syria, we all lost. As for the sparrings of the battles, this in the end is a war being managed by multiple states that have a specific means to realize their interests. We ask the Almighty to alleviate the oppression and destruction of this war for our people in Aleppo and all of Syria.
Q: What is your advice for the people of Jabal al-Summaq in north Idlib who live under Hay'at Tahrir al-Sham that forced them to renounce their religion? Is there a means of deliverance for them?
A: Our people in Jabal al-Summaq, despite all that has happened to them, have remained steadfast in their lands and rejected seeking refuge, which is in itself a heroic deed. What Hay'at Tahrir al-Sham is doing is considered terrorist action that has no relation whatsoever to humanitarian citizenship. As for deliverance, it is in the hands of God. And we will not spare effort to free them whether by any future settlements or meetings. Note that we sent messages to the United Nations and hold them responsible for what happens in Jabal al-Summaq.
Q: So in your opinion the best thing is intervention by the United Nations and not efforts by the regime and its allies to seize Idlib.
A: The Syrian state is not attentive to their matter and is not interested in resolving these outstanding matters. The parties that support Hay'at Tahrir al-Sham must pressure it to resolve this situation if they truly want to solve the outstanding problems in Syria.
Q: There is something else I forgot to ask. Does Rijal al-Karama offer salaries for its members?
A: No. Of course we are youth working day and night to secure our force and to remain protectors for our borders and dignity. Dignity brought us together, not money.