Many of the known Syrian Hezbollah groups have well-established social media profiles, even if those profiles do not give away much concrete information about those groups. For instance, al-Ghalibun has an official Facebook page, and while one can detect clear image shifts over time through name and symbol changes, tracing the group's background, recruiting base and development can be difficult without interacting with members or former members.
Other Syrian Hezbollah groups are even more obscure, with only some scattered references to be found on social media. Quwat al-Wa'ad al-Sadiq (Forces of the True Promise) is one such group, which I came across recently in light of news about the loss of some its fighters, apparently as part of the broader campaign by the regime and its allies to push eastwards through Syria. As it so happens, I got to know a member of Quwat al-Wa'ad al-Sadiq who is originally from the Druze village of Hadr in Quneitra on the border with the Israeli-occupied Golan Heights. His testimony here forms the basis of this post.
Quwat al-Wa'ad al-Sadiq, affiliated with Hezbollah, was set up early on during the Syrian civil war: "the beginning of the events," as this acquaintance put it. That would place the group's beginnings in 2012 as the initial protests had given way to full-armed conflict by then. The original base of the group is located in the Sayyida Zainab area of Damascus, home to Syria's most famous Shi'i shrine. For comparison, al-Ghalibun had similar beginnings in the Sayyida Zainab area.
However, the location of the original base in the Sayyida Zainab area has not made Quwat al-Wa'ad al-Sadiq a group only for Shi'a. Indeed, my source is from a Druze village and very clearly identifies as Druze, rather than someone with any intentions of converting to Shi'i Islam. As he put it, "The fighters are from all sects. It [the group] is an ideological formation, not sectarian." Recruitment appears to have taken place largely through personal connections on the ground- something that is all the more important on account of the lack of a major social media profile. For my acquaintance, this connection was familial in nature: "My brother took me with him [to join the group]." In fact, my acquaintance and three siblings of his have been in Quwat al-Wa'ad al-Sadiq: one was killed, another permanently wounded and my acquaintance wounded and currently resting in Hadr. As for my source's younger brother who was also in the group, my source eventually rejected that he should remain in the group with him on account of the danger of combat work.
Like many of the small Syrian Hezbollah outfits, Quwat al-Wa'ad al-Sadiq can broadly be seen as a 'special ops' group. As such, it has similarly fought on a variety of fronts, including Damascus, Qalamoun, Idlib, Deraa, Quneitra, Aleppo and the Syrian badiya area. According to my source, Quwat al-Wa'ad al-Sadiq "had the biggest role in liberating the al-Dukhaniya area in Damascus." The al-Dukhaniya area is located east of the capital and was seized by Syrian rebels in September 2014, only for the regime to recover it around a month later. More specifically, my acquaintance characterized Quwat al-Wa'ad al-Sadiq's role as one of an assault force and rapid intervention force.
Quwat al-Wa'ad al-Sadiq's field leadership is Syrian. However, as with the other Syrian Hezbollah formations, a supervisory role is played by members of Lebanon's Hezbollah, which also runs operations rooms for these groups and provides fire support. The Iranians, meanwhile, provide weapons for Quwat al-Wa'ad al-Sadiq and cover at least part (if not all/most) of the group's financial needs (e.g. salaries). The salaries amount approximately to 60,000 Syrian pounds a month (c. $110-120) with potential for additional remuneration: for instance, saving a wounded fellow member in the face of danger of sniper fire, or taking a difficult area.
Though there is naturally focus in the Syrian civil war on groups that have visible social media accounts and profiles, the reality is that there are many groups with little/no social media footprint that deserve analytical consideration. Quwat al-Wa'ad al-Sadiq is a case in point. The group's existence illustrates that the concept of Syrian Hezbollah is far from being a new phenomenon but dates back to the early days of the Syrian civil war. Furthermore, while it is true that Syrian Hezbollah groups have been most prominent among Syria's existing Shi'i communities, the building of Syrian Hezbollah cannot rely on those communities alone as they are such a small proportion of Syria's population, and it is not realistic to expect mass conversions to Shi'i Islam.
Below is the recent group of 'martyrs' for Quwat al-Wa'ad al-Sadiq killed in fighting this month.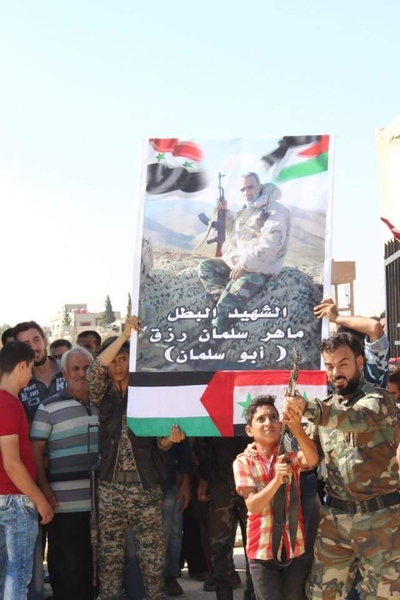 Maher Salman Razzaq, from the Druze village of Deir Ali in south Damascus countryside. All indications from his funeral show that he remained Druze and did not undergo a conversion to Shi'i Islam.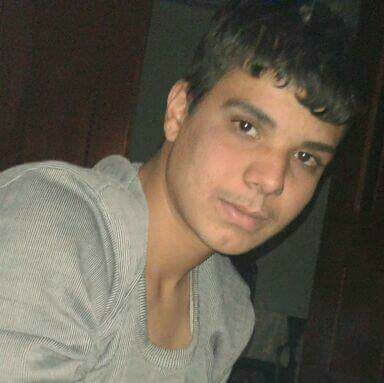 Yusuf Faiz Khaloof, originally from Za'ura.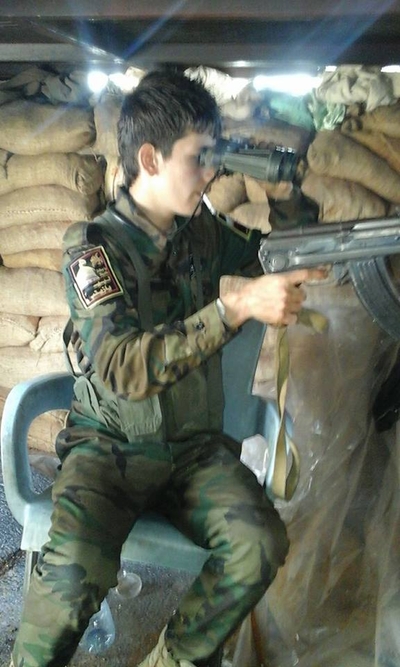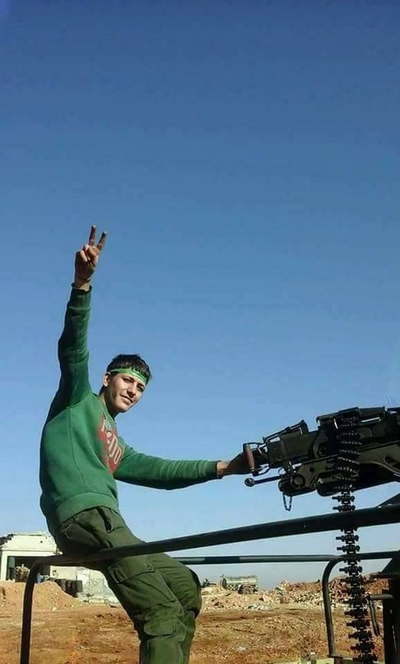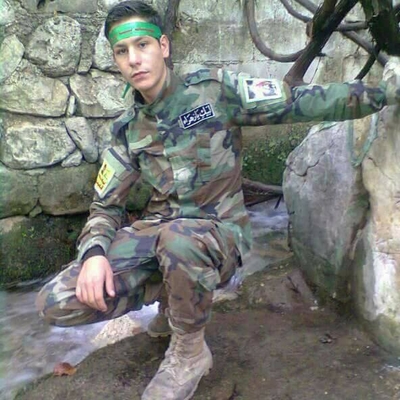 The brothers Aamer Hamdan and Ammar Hamdan, from the Tartous province village of Bayt Tuyun. Note the insignia such as 'At your service, oh Zahara'.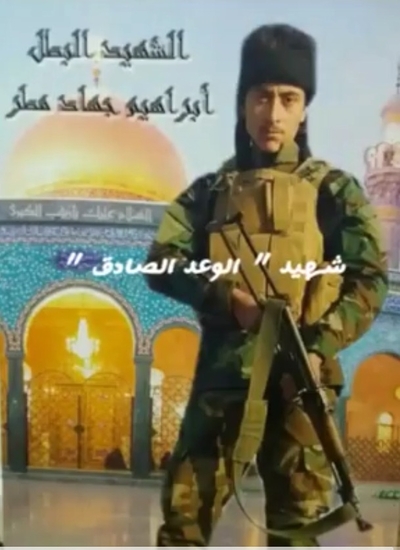 Ibrahim Jihad Matr. Origin unclear. Note the added description as "Martyr of al-Wa'ad al-Sadiq," referring to his affiliation with the group.
---------------
(Update 7 May 2018): Quwat al-Wa'ad al-Sadiq is part of the Local Defence Forces network.