In previous posts I provided translated excerpts from one of the four main Islamic State training camp textbooks (in this case, the absolute prerequisite recruits must learn and master: 'Course in Tawheed'). I will post the remaining lessons from that textbook translated in due course. Meanwhile, here are the two opening sections from the second of the four main textbooks: Muqarrar fi al-Fiqh (Course in Fiqh [Islamic Jurisprudence]).
Course in Fiqh for the Training Camps
Al-Eftaa wa al-Buhuth Committee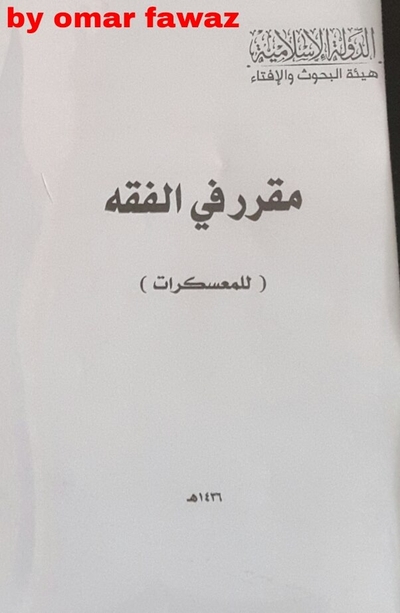 Before embarking on matters of fiqh one must get to know concepts that will facilitate the learner's understanding of these matters and their rulings:
Section One
Sources of Acquisition
The sources of acquisition among the Ahl al-Sunna wa al-Jamaat are:
1. The Noble Qur'an: this is the word of God revealed to our Prophet Muhammad by means of inspiration (Gabriel, peace be upon him): the miracle in its language, the worship in its recital transmitted to us in continuity: beginning from Sura al-Fatiha [first sura] and ending with Sura al-Nas [the last sura].
The Almighty has said: "Follow what has been revealed to you from your Lord and no other from allies. Little you remember."- al-'A'raf 3 [Qur'an 7:3]
2. The Sunna of the Prophet: all that has been reliably ascribed to the Messenger of God (SAWS) in word, deed and report.
The Almighty has said: "What the Messenger has given you: take it. And what he has forbidden to you: leave it. And fear God, for He is severe in penalty."- al-Hashr 7 [Qur'an 59:7].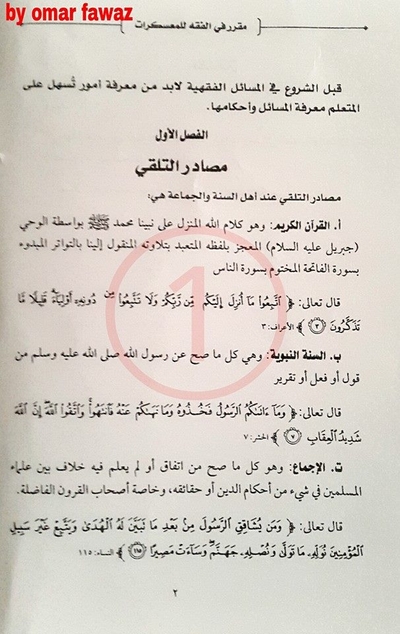 3. Ijmaa- all that has been reliably ascribed on points of agreement or in which no disagreement has been known among the 'ulama of the Muslims in a matter on the rulings of religion or its truths, especially the companions of the best centuries/generations.
The Almighty has said: "Whosoever opposes the Messenger after guidance has been made clear to him and follows other than the path of God: We will give him what he has taken and drive him into Hellfire. Evil it is as a destination."- al-Nisa' 115 [Qur'an 4:115].
And the Almighty has said: "And the first forerunners from the muhajireen and ansar, and those who have followed them with ihsan, God has been pleased with them, and they with Him, and He has prepared for them gardens beneath which flow rivers. They will reside there forever: that is the great attainment."- Tawba 100 [Qur'an 9:100].
And on the authority of Anas ibn Malik: that the Prophet (SAWS) would say: "God has protected my Ummah from gathering on error."- al-Sunna Laben Abi Asem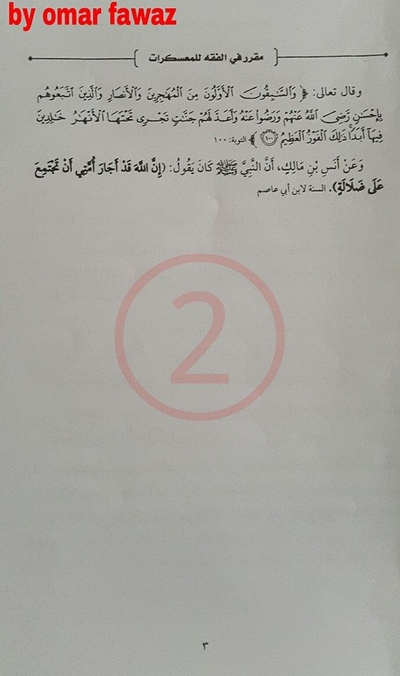 Section Two
Defining Rulings
Fiqh as a word: understanding
In law: Knowing the practical Shari'a rulings established from their detailed lines of evidence.
Shari'a rulings come in five types. They are:
Wajib: What the law has ordered as obligatory. E.g. The Almighty's words: "Go forth, light or heavy, and wage jihad with your wealth and souls in the path of God"- Tawba 41 [Qur'an 9:41]
Mustahabb: What the law has ordered to be assigned and desired, such as the SAWS [Prophet]'s words: "Pray before the sunset two rak'a, pray before the sunset two rak'a, pray before the sunset two rak'a [i.e. he said it three times]: this is for the one who wishes to do so."- Muttafiq alayhi.
Mubah: What the law has taken a neutral stance on, neither ordering nor forbidding it, such as these words from the Almighty on the marriage contract: "As for women of post-menstrual age with no desire for marriage, there is no blame upon them if they put aside their outer garments without being adorned. But modest abstaining is better for them. And God is hearing, knowing."- al-Nur 60 [Qur'an 24:60].
Muhram: What the law has condemned out of obligation [i.e. absolutely forbidden], such as the Almighty's words: "The one who prostates before God must not call on anyone with Him."- al-Jinn [Qur'an 72:18]
Makruh: What the law has condemned but not out of obligation, and it is commendable to abandon it, but doing it does not bring formal censure. For example: sleeping between sunset and supper, for in the two Sahih collections from a hadith of Abu Barza al-Aslami may God be pleased with him: that the Prophet (SAWS): "Used to hate sleeping before supper and discussion after it."