In light of media coverage regarding Israeli backing for certain Syrian rebels fighting the Assad regime along the border with Israel in Quneitra governorate, this article provides a wider overview of the situation along Israel's borders with Syria. It also establishes a better context through provision of extra detail not otherwise present in recent media coverage. The article concludes with an assessment of Israeli policies and aims on the border, given the various concerns regarding the situation in Syria.
INTRODUCTION
June 2017 saw a spike in media coverage regarding the situation on the borders between Israel and Syria, particularly focusing on Israeli support for certain Syrian rebels in Quneitra governorate in conflict with the Assad regime.[1] For the first time, these media reports have identified a specific rebel group receiving Israeli backing: Fursan al-Jawlan ("Knights of the Golan"), a group based in the rebel-held town of Jubatha al-Khashab that lies just opposite the Druze town of Buq'atha in the Israeli-held Golan Heights. This article will partly aim to provide further insight into Fursan al-Jawlan and the situation in Jubatha al-Khashab, particularly in relation to the broader conflict between the Assad regime and the rebels that is the main fault line in Quneitra governorate.
Further south along the Golan Heights is a border with the southwest part of Dar'a governorate. The Syrian side of this border is currently controlled by a group called Jaysh Khalid bin al-Walid ("The Army of Khalid bin al-Walid"- JKW), which is linked to the Islamic State and engaged in a war with Syrian rebel factions to the north and east of its holdings, which also share a border with Jordan, a participant in the U.S.-led coalition against the Islamic State. Media coverage of this area has noted the fact of the shared border between Israel and JKW, but little insight has been provided into the group's internal dynamics. Indeed, some recent developments of interest have largely gone unnoticed. For purposes of clarity, this article will examine the southern Golan front first and separately from the situation in Quneitra governorate.
JKW: INTERNAL DISRUPTION AND NO IMMINENT THREAT
JKW was formed in May 2016 in the Yarmouk Basin area of southwest Dar'a governorate, principally constituting a merger of the Yarmouk Martyrs Brigade (YMB), the Muthanna Movement and the Mujahidin Group. The latter two were groups that had been forced to take refuge in the Yarmouk Basin over the course of 2015-2016 on account of their conflicts with other rebel groups in Dar'a and Quneitra governorates, with accusations of links to the Islamic State.
YMB, on the other hand, was by far the largest group and native to the Yarmouk Basin, controlling several villages from its main base in the village of Jamla where YMB had originated. YMB had been at war with other rebel groups since at least the end of 2014, beginning with the assassination of YMB-linked cleric and Afghan jihad veteran Abu Muhammad al-Masalama in November 2014 and culminating in an open clash the following month with Jabhat al-Nusra, Syria's al-Qa'ida affiliate that accused YMB of links to the Islamic State. These accusations were in fact correct, though there was not much open-source evidence to corroborate them at the time and the claims were not universally accepted. Yet following the clash with Jabhat al-Nusra, YMB's affinities with the Islamic State–as well as its wider animosity towards the other rebel groups–became more obvious.[2]
In turn, the formation of JKW made the links between JKW's constituent groups and the Islamic State clearer. In the open-source evidence, the relations became evident in the production of reports and notifications on JKW activity and developments in the Yarmouk Basin through the Islamic State's Amaq News.
Apart from a brief clash in November 2016 involving a few JKW members, no security incidents have arisen for Israeli forces. There is a misconception regarding the November 2016 incident that the Islamic State "apologized" to Israel for the matter. This myth was sparked by comments from former Israeli Defense Minister Moshe Ya'alon.[3] No evidence supports the claim of an apology. Rather, the misconception has likely arisen from a garbling of the fact that the incident was not a planned attack on Israel, but was rather the reaction of a few JKW members to a perceived Israeli infringement on the group's territory.[4] It may also be the case that JKW's leadership was angry with the JKW unit that engaged with the clash, not wishing to provoke a wider war with Israel. However, the reason for not wanting a wider war with Israel is simply a matter of priorities, not any kind of secret affinity, relations, or contact with Israel. JKW is engaged in a war with other Syrian rebels and cannot afford to fight on another front against a power with vastly superior military assets. In turn, Israel has no interest in launching a wider offensive against JKW, not out of a cynical desire to maintain an Islamic State-linked presence along its border as a way to garner sympathy, but rather because a serious attempt to eliminate JKW would require an incursion with ground troops, a politically unviable option.
At the same time, it is difficult to suppose that Israel is not somehow working to disrupt JKW's functioning, likely in coordination with Jordan and the wider coalition against the Islamic State. In October 2016, JKW's first amir, Abu Hashim al-Shami–originally from Idlib and sent by the Islamic State from its territories in the north to run JKW–was assassinated in circumstances that suggest an inside job. Following the assassination, a new amir called Abu Muhammad al-Maqdisi was appointed, and JKW's security apparatus arrested multiple figures in Jamla who had been associated with the original YMB, including Abu Obeida Qahtan, a Syrian-Palestinian Afghan jihad veteran who was a close associate of YMB's original founder Muhammad al-Baridi (al-Khal), as well as al-Khal's brother Nidhal al-Baridi. The exact accusations behind the arrests were never made clear, though suspicion of collusion with Israel and involvement in the assassination of Abu Hashim al-Shami were among the rumors.
One line of interpretation saw the arrests as indicative of a power struggle between former members of the Muthanna Movement and YMB.[5] The Muthanna Movement was reduced to no more than dozens of members by the time it took refuge in the Yarmouk Basin in spring 2016, having lost all its territorial holdings to Syrian rebel groups. The group's deputy, Abu Omar Sawa'iq, was killed in an explosion at his home shortly before the formation of JKW. Significantly, he was said to have been among those who rejected the idea of merging with YMB. Following the formation of JKW, some former Muthanna Movement members were caught having escaped the Yarmouk Basin, while Abu Ayyub al-Masalama, the amir of the Muthanna Movement, left the Yarmouk Basin during the summer of 2016. Contradictory reports have emerged of his whereabouts since then,[6] but one claim in relation to the supposed Muthanna Movement power grab is that he went to the Islamic State's formal territories in order to curry favor with the leadership against YMB.
Against the interpretation of events as a Muthanna Movement power grab is the fact that not every notable figure from the days of YMB was kept in indefinite detention, and others were not arrested at all. For example, Abu Ali Saraya, also known as Abu Ali Shubat, headed the Islamic court during the final days of YMB. He was not arrested. Abu Hamza al-Kum, who headed the Islamic court for JKW during the late summer and autumn of 2016, was caught up in the arrests (having been removed from his position shortly before them) but was then released.[7]
The assassination of Abu Hashim al-Shami and wave of arrests did not appear to disrupt the overall functioning of JKW. For instance, output from the JKW media office primarily in the form of photo releases continued. In fact, JKW was able to launch a successful offensive in February 2017 against the rebels that captured several towns including Tasil and Sahm al-Jawlan, reportedly confounding the rebels through hacking into their communications.[8] In June 2017, however, JKW's leadership was hit twice in apparent airstrikes that suggest significant intelligence penetration by Israel, Jordan, and the wider coalition against the Islamic State. The first strike took place in the context of an extended visit to the Yarmouk Basin from a committee sent by the Islamic State from the north. The purpose of this visit, which began at the end of May 2017, appears to have been an inspection, including oversight of the frontline points and receiving any complaints from the wider population.[9] There was also a rumor that the committee was looking into the cases of Abu Obeida Qahtan and Nidhal al-Baridi in particular.[10]
An airstrike subsequently targeted a meeting on June 6, 2017, involving this committee and some of the JKW leadership: Among those killed in the strike were Abu Muhammad al-Maqdisi, Abu Mahmoud Binnish (a military commander in JKW),[11] and Abu Uday al-Homsi (another military commander in JKW).[12] Some initial reports claimed that Abu Ali Saraya was among the dead,[13] though that turned out not to be the case.[14] Abu Hashim al-Rifa'i, a military commander originally from Tal Shihab, replaced Abu Muhammad al-Maqdisi as amir of JKW. By this point, Abu Obeida Qahtan, Nidhal al-Baridi, Khalid Jamal, Nadir al-Qasim, and Abu Tahrir al-Urduni had all been executed.[15] Yet another airstrike on June 28, 2017, targeted a meeting involving Abu Hashim al-Rifa'i and other JKW figures, killing Abu Hashim as well as Abu Hamza al-Kum and Abu Obeida (a figure in the JKW Hisba apparatus).[16] Abu Ali Saraya appears to have escaped alive from this strike.[17]
There are varying accounts as to who exactly is conducting the airstrikes: Israel, Jordan, and/or the wider coalition against the Islamic State. No reports from CENTCOM's press releases on the relevant dates claim airstrikes in the Yarmouk Basin.[18] It is simply unlikely on an intuitive basis that Israel, Jordan, and the coalition would not be seeking to acquire intelligence on JKW's functioning and seek to disrupt the group at the leadership level, in the hope that such disturbances would give rebel groups the opportunity to retake territory from JKW and eventually push into JKW's strongholds. There is certainly a perception in the Yarmouk Basin that information is being passed by some inhabitants to these actors in an active bid to undermine JKW: "I ask God to expose them [the locals passing information]," said Abu Uday al-Dar'awi to this author.[19]
How effective this accelerated decapitation strategy against JKW will be remains to be seen, but from the perspective of Israel, Jordan, and the coalition, it is the only viable option short of a ground intervention. For reasons of corruption, factionalism, and the difficult terrain of the core territory of the Yarmouk Basin, the rebels' fight against JKW has only led to a stalemate at best, despite the fact that they undoubtedly outnumber JKW. Considering JKW's priorities and capabilities, disruption through airstrikes in which JKW is unable to retaliate also ensures that the lack of an imminent threat from the group to Israel is maintained.
THE QUNEITRA FRONT: A CLOSE LOOK AT JUBATHA AL-KHASHAB
Besides the fight against JKW, the conflict between the Assad regime and the rebels in Quneitra governorate is of considerable interest to Israel. The governorate is largely outside of regime control, which is concentrated in the Druze town of Hadr over the hills from Majdal Shams, and the Sunni Arab towns of al-Ba'ath City and Khan Arnabah. It is the rebel-held town of Jubatha al-Khashab, lying just south of Hadr, that is of particular interest for this study in consideration of Israel's involvement with rebel groups in Quneitra governorate.[20] The insights that this report aims to provide are drawn in considerable part from interactions with locals.
The main families present in Jubatha al-Khashab, whose inhabitants primarily practice agriculture, are:
-Maryud
-Bakr
-Nasar
-Alan
-Ghanim
-Hijazi
-al-Sharihi
– Kiwan
Like many areas in Syria, some of the population consists of internally displaced people. Jubatha al-Khashab fell outside of regime control in July 2012.[21] By consensus the first major formation to establish itself in the area was the so-called "military council." This military council was also known by fuller titles such as "The Military Council in Quneitra," as well as "The Military Council in Quneitra and the Golan" and "The Revolutionary Military Council in Quneitra and the Golan."[22] It was led by a Syrian army defector called Abd al-Ilah al-Bashir,[23] whose son was killed in fighting in Quneitra in November 2013.[24] Abd al-Ilah al-Bashir went on to become overall head of the Free Syrian Army (FSA) structure tied to the interim government and opposition-in-exile in February 2014, replacing Salim Idris.[25] In Abd al-Ilah al-Bashir's place in Quneitra came Radwan Hamdi al-Rafi.
It is not in the interests of this article to delve into a month by month account of battle data relating to the military council. What is apparent though is that the military council's influence was greater between 2012 and early 2014. In mid-2014 and beyond, there are signs of decline. Corruption allegations arose against the military council. For instance, "The Media Centre in Quneitra" wrote in a June 2014 post[26]:
A sum of $300,000 was paid by the interim government to Quneitra governorate, and the sum was handed to Abu Talal Abd al-Ilah al-Bashir. He distributed $50,000 to the Furqan [Brigades] of Kanaker [a locality in Damascus countryside]: i.e., not the sons of Quneitra, and he distributed $250,000 to the military council in al-Rafid. Its name is the military council in Quneitra. Has the military council in Quneitra become the whims of Liwa al-Sabtin and the Nu'aim tribe [the tribe of Abd al-Ilah al-Bashir]? We the sons of Quneitra demand a fair trial for the leader of the military council and head of the chief of staff Abd al-Ilah al-Bashir.
Likewise, the military council was accused of repressing local protests and concerns about misappropriation of funds by the local council in al-Rafid intended for service projects.[27]
Even so, the military council still exists as a formation today, though it is an extremely small faction with no presence in Jubatha al-Khashab. Its media output is primarily limited to issuing condolence statements to other factions, while operations on the ground consist of manning some front line points against JKW.[28]
The military council is of relevance here because it is the main organization from which Fursan al-Jawlan originated. Abu Muhammad, of the Nasar family in Jubatha al-Khashab and one of the leaders of Fursan al-Jawlan, explained that part of Fursan al-Jawlan used to belong to the military council.[29] While Fursan al-Jawlan was initially set up within the framework of the military council, a separation from the military council then occurred because of "corruption and lack of support."[30] He traced the corruption problems to the period following the assumption of the military council's leadership by Radwan Hamdi al-Rafi. The separation from the military council occurred in June 2015, and was in fact publicized in some local media at the time. A spokesman for Fursan al-Jawlan explained to SMART News at the time that the defection was due to a lack of military support, as well as the cutting off of salaries for fighters over the previous three months.[31]
Following the separation from the military council, Fursan al-Jawlan's ranks were bolstered by defections from the Syria Revolutionaries Front (SRF). SRF originated in the northern province of Idlib at the end of 2013 under Jamal Ma'arouf, but a southern branch also quickly emerged under the leadership of one Abu Usama al-Jawlani. While the northern branch was destroyed by then Syrian al-Qa'ida affiliate Jabhat al-Nusra in late 2014, SRF's southern branch continues to exist and is primarily based in Quneitra governorate. As even Abu Muhammad acknowledged, "On the level of Quneitra, [SRF] is very big."[32] However, like the military council, SRF in Jubatha al-Khashab collapsed through division and has ceased to exist in the area. According to the former head of the local council in Jubatha al-Khashab, SRF in Jubatha al-Khashab constituted "3 battalions, which have separated and divided into factions."[33] In fact, the local leader of SRF in Jubatha al-Khashab ended up joining the Golan Regiment, a National Defense Forces (NDF) affiliate whose foundation lies in ex-rebels in Quneitra governorate.[34]
A final point to note in relation to Fursan al-Jawlan's composition is that some members previously belonged to the Jabhat Ansar al-Islam ("Supporters of Islam Front") contingent in Jubatha al-Khashab. The group is part of the Southern Front,[35] a very broad coalition of vetted rebel groups in Dar'a and Quneitra that are entitled to aid through a Jordanian and Western-backed operations room based out of Amman. Jabhat Ansar al-Islam continues to have a presence in Jubatha al-Khashab, with a small contingent numbering no more than 20 individuals. Still, it appears to be struggling financially with lack of external support over the past year or so, with members partly making a living through sale of milk.
In the two years since Fursan al-Jawlan's break from the military council, the following factions have become the main groups in Jubatha al-Khashab:
-Fursan al-Jawlan
-Hay'at Tahrir al-Sham[36]
-Ahrar al-Sham
-al-Furqan Brigades
– Saif al-Sham Brigades[37]
Note that this list is not necessarily in order of faction size. There is no clear evidence that these factions have organized on a familial basis in Jubatha al-Khashab (i.e., that members of one family predominate in each particular group). In general, relations between the factions are described in positive terms, and no major incidents appear to have arisen. Of these factions, it is agreed that Fursan al-Jawlan constitutes the largest group. Abu Muhammad put the number of Fursan al-Jawlan members at 340.[38] By way of contrast, there is a more minor, independent group in Jubatha al-Khashab that goes by the name of Ansar al-Shari'a ("Supporters of Shari'a"). Clearly of Islamist orientation, Ansar al-Shari'a is rumored to receive support from Salafi networks in Lebanon. The former head of the local council put the number of members of Ansar al-Shari'a at 27.[39]
Alongside these factions exists a small judicial project affiliated with the Dar al-Adl and a civilian local council, which is ultimately affiliated with the interim government and currently lacks a head. The former head of the local council said that he resigned four months ago, saying that he did not wish to remain in his position forever as though he were Bashar al-Assad.[40] Currently, the local council in Jubatha al-Khashab is very limited in the services it can offer, being restricted to matters of bread and distribution of food aid baskets every two months.[41] Instead, Fursan al-Jawlan is filling the gap in services, something the group has advertised in its social media output. For example, a Facebook page affiliated with the group wrote in a post on June 14, 2017, "The brigade has continually offered its support to the northern sector [of Quneitra] since the beginning of its established until now: Part of that is the school of Jubatha al-Khashab that receives the biggest share of the salaries of the teachers and necessities of teaching, at a time when the Syrian opposition coalition is neglecting our school."[42]
Three other posts from the same day highlight the group's services provisions[43]: One mentions provision of free drinking water to civilians, not only in Jubatha al-Khashab but also nearby rebel-held villages in Quneitra, such as Ufaniya and Taranja. Another post notes that the group had been providing electrical power for civilians in Jubatha al-Khashab and wider northern Quneitra for 16 days in a row.[44] Finally, a post with a small video clip shows distribution of meat for fighters' families as well as poor families as the month of Ramadan for this year began.
According to the former head of the local council, the Fursan al-Jawlan services provision as witnessed has been going on for 8 months.[45] In contrast, Hay'at Tahrir al-Sham, despite its growing administrative apparatus and statehood image exhibited in the northwest of the country,[46] does not provide services in Jubatha al-Khashab. This contrast can simply be put down to resources, a matter that raises the issue of Israeli support for Fursan al-Jawlan, which appears to have begun around the time of the group's separation from the military council and has probably increased over the past year or so, coinciding with the establishment of a liaison unit by the Israeli army for the border areas with Syria.[47]
Though one member of Fursan al-Jawlan professed to have no knowledge of whether Israel provides support for the group on the grounds that he does not get involved in these matters,[48] it is otherwise readily acknowledged that support is coming to the group via Israel. One person who participated in battles with Fursan al-Jawlan claims that the aid itself is actually Emirati, but merely enters through Israel because Jordan refuses to allow provision of aid to Fursan al-Jawlan.[49] It is true that Fursan al-Jawlan is outside the framework of the Southern Front and thus does not receive any aid through the operations room in Amman. Yet the notion that the aid itself is Emirati is implausible. What is a matter of debate is the nature of the aid being provided.
Those who do acknowledge that Israeli aid is being provided try to minimize its extent, and justify it on the grounds of a dire humanitarian situation, and that at least for the present time, the Assad regime and its allies are far worse enemies than Israel. "The aid from Israel is limited to medical and humanitarian aid, as any faction in the southern region with aid taken from Jordan," said Abu Muhammad.[50] A specific example of humanitarian aid he mentioned was diesel fuel to operate well pumps for water provision for locals and cattle.[51] He proceeded to elaborate on what he saw as the difficult situation justifying the reception of Israeli aid:
"We've been besieged for six years, and no one offered us a hand of help in anything. The wounded were dying in front of us... Imagine your son is wounded, or your brother or your friend, in front of you, and you cannot do anything, and he is between life and death. Has anyone placed himself in the likes of these difficult positions?"[52]
Jubatha al-Khashab is described as being in a situation tantamount to siege. As Abu Muhammad explained, "[It is] an area besieged from all sides: From the western side, there is Israel. From the north, there is the Druze village of Hadr. From the east is a regime area. From the south-east is al-Ba'ath city, and it is with the regime. There is a very narrow crossing called the path of death, which we cross under regime strikes in the night only. Everyday there is a martyr and wounded on this path, continuous bombing."[53] While the evidence does not point to a situation like al-Zabadani or Madaya, in which cases of starvation were being reported, the regime does appear to control routes that would allow for food goods and other commodities to enter Jubatha al-Khashab.
Control of these routes has been an important means of leverage for the regime to try to impose so-called "reconciliation" agreements on some localities in Syria. In the wider southern region, exerting pressure through limiting access to foods goods and commodities has helped bring about reconciliations in some Dar'a towns like al-Sanamayn[54] and Mahajja.[55] The reconciliations officially bring back these towns under regime control, allowing the rebel factions inside them to continue to exist and manage internal security and issues of criminality. In return, the factions promise not to target regime forces; some weapons are handed over as part of the formal reconciliation proceedings; and some people engage in a process called taswiyat al-wad ("sorting out affairs"), which serves as a temporary amnesty and is particularly aimed at those who have evaded or deserted compulsory and reserve military service. There has been repeated talk of bringing about a reconciliation agreement in Jubatha al-Khashab, and it is possible that if such an agreement were to be implemented in the town, it would broadly follow the precedents in al-Sanamayn and Mahajja. Alternatively, an agreement might lead to a merger of some or all rebel fighters in Jubatha al-Khashab into an auxiliary holding force, such as the NDF's Golan Regiment or the "Hermon Regiment" created to act as a holding force in west Damascus countryside towns near Mt. Hermon.[56]
Despite claims in January 2017 by former Syrian MP Mus'ab al-Halabi, a reconciliation activist for Damascus countryside areas, that reconciliation negotiations were in their final stages in Jubatha al-Khashab,[57] reconciliation continues to be rejected. Unsurprisingly, there are claims in pro-regime circles that Israel has been working to obstruct reconciliation in the area through meeting with rebels.[58] Regardless of the truth of that particular claim, there is no doubt from Israel's perspective that there is an interest in preventing the implementation of reconciliation in Jubatha al-Khashab, for reasons that will be discussed in the conclusion. The provision of non-lethal aid to Fursan al-Jawlan–in forms such as medical treatment and supplies, food goods, and even cash payments to help pay salaries of the fighters or fund the group's services office–can be seen as an important means to prevent pressure to reconcile from becoming too great, thus preventing the regime from reasserting control over Jubatha al-Khashab.
No definitive evidence points to the supply of weapons to Fursan al-Jawlan, but it is likely that some of the cash payments are used to purchase some light weapons.[59] Considering the group's size, Fursan al-Jawlan does not have the capability to launch offensives on its own. Military activities are instead primarily confined to manning of frontline points. The group does not appear to have been a major participant in a rebel assault on al-Ba'ath City that began on June 24.[60] The assault was led by Hay'at Tahrir al-Sham and also saw the participation of the al-Furqan Brigades, Ahrar al-Sham and some FSA factions. One likely purpose of the assault has been to relieve perceived military pressure on fellow rebels in Dar'a city.
CONCLUSIONS: GOALS AND INTERESTS
With this overview of the dynamics in these border areas, it remains to be asked what exactly are the Israeli goals and interests here. Much of the recent analysis has used the terminology of a "buffer zone" in relation to Israel's border policies, meaning that the goal is to create an area of allied or "friendly" forces that will keep elements considered active threats to Israel away from the borders.[61] In this regard, the main threats are thought to be Iran and allied militias such as Lebanon's Hizballah, the concern being that were the regime to regain full control over Quneitra governorate, Iran and its allies would have free access to this territory to build a Golan "resistance" front against Israel, which would at minimum entail the threat of small-scale attacks to harangue Israeli forces in the Golan and "test the waters," so to speak, and at worst a full-scale invasion of Israeli territory.
It may in fact not be necessary for Iran to station its own personnel or members of foreign client forces in Quneitra in the future: It could well realize aspirations to build a "resistance" front in the area by "native proxy" through the multiple Syrian Hizballah groups that have arisen in the course of the civil war. Broadly speaking, Syrian Hizballah groups can be divided into two types: larger movements like Liwa al-Baqir, which claims 4,000 fighters[62] and has developed considerable networks within Aleppo province, and small-scale "special operation" groups that deploy to a number of different fronts depending on military needs and a sense of crisis. Some of these small Syrian Hizballah outfits have deployed to the Quneitra front,[63] though there is no evidence that they have done so to prepare for an imminent attack on Israel. In a future scenario of the development of a broader "resistance" along the Golan, these smaller groups may well be a key actor to threaten Israel.
A related source of concern has centered on the Druze village of Hadr, in that Samir al-Quntar–a Hizballah commander of Druze origin–and Farhan al-Sha'alan–an NDF commander originally from the Druze village of Ein Qiniyya in the Golan Heights–were trying to build a "resistance" movement in Hadr in order to target Israel.[64] Both men were killed in a suspected Israeli airstrike in December 2015. No hints have emerged since of the revival of such a project.
Yet the case of Hadr actually shows that the "buffer zone" narrative, while seemingly convincing in its simplicity, does not fully account for Israel's approach towards these border areas. On the general level, it is certainly true that in a choice between regime and rebel control over towns like Jubatha al-Khashab, the preference is that rebel forces should control them. With Hadr, however, Israel's concern is that the village should not fall into rebel hands, despite concerns about Hizballah using it as a base for recruitment of personnel to target Israel. This position has arisen in deference to the sentiments of the Druze community in Israel and the Golan Heights, who understandably fear the fate of their co-religionists should the village ever fall to the rebels. Muru Hawran demonstrated an awareness of this lack of Israeli willingness to see Hadr fall, elaborating, "All that is happening is an international game at the expense of Syrian blood: settling of accounts."[65] In a similar vein, he was clear that he still considered Israel to be an enemy state, but justified Fursan al-Jawlan's acceptance of aid through Israel on the grounds that it is better to do so than to "destroy oneself."[66]
It is indeed questionable how far one can really call the rebels who interact with Israel or commend the country's provision of medical treatment to rebels and civilians in comments intended for English-language media as necessarily "friendly." Four years ago, YMB made headlines when a spokesman for the group said YMB had no quarrel with Israel, apparently even in the event of the removal of Assad from power.[67] That group is now part of Islamic State-linked JKW, which has not yet caused any major disruptions to Israel's security in the Golan Heights, but that is merely a matter of the group's priorities in waging war against other rebel groups and expanding its holdings. What if JKW were to decide that its priority should no longer be fighting the other rebels, but instead to keep hold of what it already controls and instead harass Israeli forces?
The point of this line of thought is not that every rebel group is a new Islamic State-affiliate in waiting. Rather, that it is probably understood on the Israeli side that affiliations of rebel groups can shift over time and that the issue for these rebel groups is not necessarily striking an alliance or real friendship with Israel, but rather that they consider the Assad regime and its allies to be by far the greater evil. Abu Muhammad of Fursan al-Jawlan made this point well: "Yes, brother, [Israel is] an enemy that has usurped the land, but it has not usurped honor. All whom Israel has killed from the Arabs since the time of its establishment until now does not equal a fraction of those whom Bashar al-Assad has killed, and Russia is [also] an enemy, and Iran is an enemy, and Hizballah is an enemy."[68]
On another occasion Abu Muhammad affirmed contempt for Israel as a military force when asked about the issue of returning the Golan Heights to Syria: "[The Golan] would return within 24 hours [to Syria], had the martyrs or youth who were killed in Syria... and the arms and ammunition given to the conflicting sides [been used to liberate the Golan]... the Israeli military man is the most cowardly being on the Earth, and the Syrian man, or Arab Muslim, is the strongest man."[69] It is possible, of course, that he is indulging in such rhetoric partly because he is talking to an Arab interlocutor, but these remarks need to be borne in mind before automatically presuming that the rebels will be friendly clients somehow subservient to Israeli orders and whims in the area just because they receive aid and cash payments.
If one simultaneously wishes to prevent Iran and its allies from using Quneitra as a staging ground against Israel and to prevent Hadr from falling to the rebels, who may not be considered allies as such but rather the lesser evil with priorities focused elsewhere, then the only logical policy that reconciles these interests is conflict calibration. That is, ensuring that the conflict in Quneitra in particular remains a stalemate, ideally with a wider stalemate prevailing across Syria. One way the stalemate in Quneitra is maintained, as mentioned earlier, is through provision of aid to the likes of Fursan al-Jawlan, which partly alleviates the humanitarian situation in Jubatha al-Khashab and helps prevent the imposition of reconciliation on the town. Another way is through application of limited military force in the form of airstrikes on regime positions when the fighting intensifies in Quneitra and a stray mortar or two may land in the Golan Heights. The point raised in criticism that the "retaliation" for such incidents always ends up hitting regime positions is factually correct: Considering that the regime and its allies are regarded as far more hostile actors, Israel cannot indirectly aid them through airstrikes against the rebels, even if the rebels may be responsible for a projectile accidentally landing in the Golan Heights. At the same time, it is apparent these strikes are not conducted in such a way as to risk bringing about a decisive shift in the frontlines. Rather, the objective is simply to pressure the regime and its allies through putting them on the defensive.
Although these policies might seem cynical, it must again be stressed that they are analytically speaking the only logical way to address the various interests at stake as they have been defined. The current approach is far-removed from discussions of the possibility of regime change in Syria.[70] Given the mix of different competing factions in the current environment, the prospect of removing Assad from power in Damascus is justifiably feared for the risk of creating a power vacuum. A weak Syria kept in a state of civil war and stalemate, however, presents the least worst outcome in terms of security risks. Further, in such a scenario, Israel's hold on the Golan Heights will more likely be recognized, particularly if the native Syrian Druze population that remained comes to accept Israeli citizenship on a larger scale. So far, there has not been a major shift in citizenship numbers, but interactions with some of the younger residents in particular show growing recognition of the stability and human development in Israel contrasting with the civil war environment and autocratic system in Syria,[71] far removed from conceptions of the Golan Heights as a place where Syrians live under "ugly and brutal occupation."[72]
In the long-run though, Israel does not have the ability to influence the overall trend in the war, in significant part because ground interventions are not viable options, as mentioned earlier. If the overall trend continues to go in favor of the regime and its allies–whose priority right now is the eastern region of Syria and the borders with Iraq–then the sustainability of the conflict calibration policy may come into question if sufficient forces can be freed up for a large-scale offensive in Dar'a and Quneitra and there is no meaningful realization of an international agreement to keep Iranian forces and client militias away from the borders with the Golan Heights.
APPENDIX: PHOTOS FROM JUBATHA AL-KHASHAB (JUNE 2017)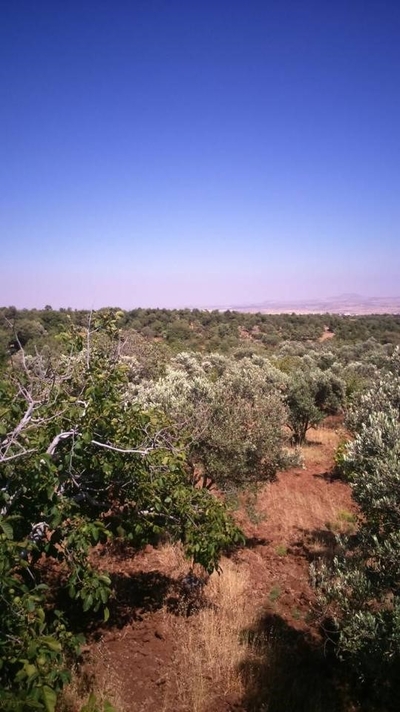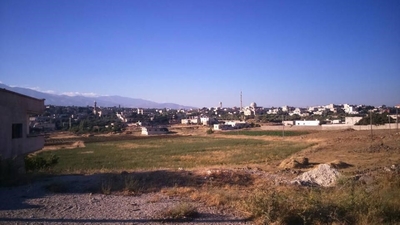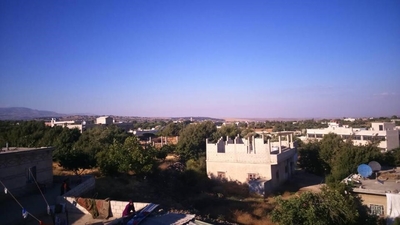 ---
NOTES
[1] Nour Samaha, "Israel's Quiet Campaign to Gain a Foothold in Southern Syria," Syria Deeply, June 15, 2017, https://www.newsdeeply.com/syria/articles/2017/06/15/long-read-israels-quiet-campaign-to-gain-a-foothold-in-southern-syria; Rory Jones, Noam Raydan, and Suha Ma'ayeh, "Israel Gives Secret Aid to Syrian Rebels," Wall Street Journal, June 18, 2017, https://www.wsj.com/articles/israel-gives-secret-aid-to-syrian-rebels-1497813430.
[2] Aymenn Jawad Al-Tamimi, "The Jihadi Threat on Israel's Northern Border," Middle East Review of International Affairs (MERIA), Vol. 20, No. 1 (Spring 2016), http://www.rubincenter.org/wp-content/uploads/2016/05/Jawad-YC-au1-PDF.pdf.
[3] "Ex-Defense Minister Says IS 'Apologized' to Israel for November Clash," Times of Israel, April 24, 2017, http://www.timesofisrael.com/ex-defense-minister-says-is-apologized-to-israel-for-november-clash/.
[4] Aymenn Jawad Al-Tamimi, "The Meaning of an Israeli Clash with an Islamic State Affiliate," War on the Rocks, December 13, 2016, https://warontherocks.com/2016/12/the-meaning-of-an-israeli-clash-with-an-islamic-state-affiliate/.
[5] Ibid.
[6] E.g., Unconfirmed claim that he arrived in Turkey having previously come to Raqqah, alongside the claim he had been killed in January 2017 in coalition airstrikes. Post in Syria Correspondent on Facebook, May 18, 2017, https://justpaste.it/abuayyubmasalammay2017.
[7] Conversation with a resident in Yarmouk Basin town of al-Shajrah, November 2, 2016.
[8] Phil Sands and Suha Ma'ayeh, "How ISIL Tricked Syria's Rebels into Self-Betrayal and Defeat," The National, March 8, 2017, http://www.thenational.ae/world/middle-east/how-isil-tricked-syrias-rebels-into-self-betrayal-and-defeat.
[9] Conversation with a friend in Jamlah, May 29, 2017.
[10] Ibid.
[11] The name suggests he is from the town in Binnish in Idlib province.
[12] Conversation with a friend in Jamlah, June 21, 2017.
[13] E.g., "After the Field Executions and Unknown Air-Raids, the Dawla Organization Is 'Without a Head' in the Yarmouk Basin," Orient News, June 7, 2017, http://orient-news.net/ar/news_show/137393/0/%D8%A8%D8%B9%D8%AF-%D8%A7%D9%84%D8%A5%D8%B9%D8%AF%D8%A7%D9%85%D8%A7%D8%AA-%D8%A7%D9%84%D9%85%D9%8A%D8%AF%D8%A7%D9%86%D9%8A%D8%A9-%D9%88%D8%A7%D9%84%D8%BA%D8%A7%D8%B1%D8%A7%D8%AA-%D8%A7%D9%84%D9%85%D8%AC%D9%87%D9%88%D9%84%D8%A9-%D8%AA%D9%86%D8%B8%D9%8A%D9%85-%D8%A7%D9%84%D8%AF%D9%88%D9%84%D8%A9-%D8%A8%D9%84%D8%A7-%D8%B1%D8%A3%D8%B3-%D8%A8%D8%AD%D9%88%D8%B6-%D8%A7%D9%84%D9%8A%D8%B1%D9%85%D9%88%D9%83. The Orient News report is also erroneous in claiming that there was a JKW announcement about any of these matters.
[14] Conversation with Abu Kinana al-Yarmouki (a Yarmouk Basin resident and member of JKW), June 21, 2017.
[15] Conversation with friend in Jamlah, June 21, 2017.
[16] Conversation with friend in Jamlah, June 28, 2017.
[17] Conversation with Abu Uday al-Dar'awi (a Yarmouk Basin resident originally from Ibta and supportive of JKW), June 29, 2017.
[18] CENTCOM press releases on military airstrikes against the Islamic State in Iraq and Syria, June 6-June 10, 2017 and June 26-June 30, 2017 (some strikes are not reported until a few days after they were initially conducted, having been "closed within the last 24 hours"). See http://www.centcom.mil/MEDIA/PRESS-RELEASES/.
[19] Conversation with Abu Uday al-Dar'awi, June 29, 2017.
[20] This report does not intend to suggest that interactions between Israelis and people in Quneitra governorate have been limited to Jubatha al-Khashab (e.g., as Samaha notes in her Syria Deeply report, Israeli civil society groups have engaged in wider outreach and provisions of aid to locals in the area), but the town does appear to have become the main focal point as far as ties with rebel groups are concerned.
[21] "Breaking: Quneitra–Liberation of Jubatha al-Khashab and Destroying the Enemy Forces," OmawiLive, July 18, 2012, https://justpaste.it/jubathaalkhashabuly2012.
[22] E.g. Facebook post from September 16, 2013, https://justpaste.it/majlisaskarithawrqu.
[23] A small biography can be found here: Free Ladha'iya Coordination, February 17, 2014, https://justpaste.it/abdilahbashirquneitra. It is said that he was born in the village of al-Rafid in 1965 and came to Jubatha al-Khashab after its fall outside of regime control, along with other officers who set up the military council. He became leader of the council soon after its formation.
[24] "Condolences to Abd al-Ilah from the Local Council in the Locality of Jubatha al-Khashab and Its Environs," November 26, 2013, https://justpaste.it/talalsonaskariqun.
[25] "Appointment of the Brigadier General Abd al-Ilah al-Bashir al-Nu'aimi As Head of the Chief of Staff of the 'Free Army,'" All4Syria, February 16, 2014, http://www.all4syria.info/Archive/131606.
[26] Media Centre in Quneitra, Facebook post, June 12, 2014 https://justpaste.it/mediacentrequneitrajune2014.
[27] "Corruption Accusation Dogs the Head of the Local Council in al-Rafid in Quneitra and the Council Denies," SMART News Agency, January 28, 2015, https://justpaste.it/majlisaskaricorruptionjan2015.
[28] Collection of statements issued by the "Revolutionary Military Council in Quneitra and the Golan" between September 2016 and May 2017, https://justpaste.it/majlisaskaristatements.
[29] Conversation, June 30, 2017.
[30] Ibid.
[31] "Defection of 'Liwa Fursan al-Jawlan' from the Military Council in Quneitra Because of the 'Cutting Off of Support'," SMART News, June 14, 2015, http://smartnews-agency.com/ar/wires/1840/%D8%A7%D9%86%D8%B4%D9%82%D8%A7%D9%82-%D9%84%D9%88%D8%A7%D8%A1-%D9%81%D8%B1%D8%B3%D8%A7%D9%86-%D8%A7%D9%84%D8%AC%D9%88%D9%84%D8%A7%D9%86-%D8%B9%D9%86-%D8%A7%D9%84%D9%85%D8%AC%D9%84%D8%B3-%D8%A7%D9%84%D8%B9%D8%B3%D9%83%D8%B1%D9%8A-%D8%A8%D8%A7%D9%84%D9%82%D9%86%D9%8A%D8%B7%D8%B1%D8%A9.
[32] Conversation with Abu Muhammad, June 20, 2017.
[33] Conversation, June 30, 2017.
[34] Conversation with Abu Muhammad, June 20, 2017. The Golan Regiment has been erroneously characterized as a Druze militia. For a corrective, see Nour Samaha, "How These Syrians Went from Opposition Fighters to Pro-Regime Militiamen," al-Monitor, April 3, 2017, http://www.al-monitor.com/pulse/originals/2017/04/syria-south-opposition-defection-army-israel.html.
[35] Sample post from the group's media wing mentioning this affiliation, June 26, 2017, https://justpaste.it/jabhatansarislam26jun2017.
[36] Interviewees still referred to this group as Jabhat al-Nusra, an al-Qa'ida-affiliated predecessor to Hay'at Tahrir al-Sham. Considering that most of Hay'at Tahrir al-Sham's assets are in the northwest of the country, the continued reference to Jabhat al-Nusra is quite understandable. There is little difference in manpower composition or size between Hay'at Tahrir al-Sham in Jubatha al-Khashab and Jabhat al-Nusra. On the wider Quneitra level, Hay'at Tahrir al-Sham's most significant presence is in the area of the old, ruined Quneitra city. Abu Muhammad says that Hay'at Tahrir al-Sham wounded have also received treatment in Israel (Conversation, June 19, 2017). This however does not prove that it is a matter of Israeli policy to provide treatment for Hay'at Tahrir al-Sham members.
[37] Southern Front affiliate. The specific local group affiliated with the Sayf al-Sham Brigades in Jubatha al-Khashab is called Liwa al-Izz, which also apparently runs a crossing to bring wounded people into Israel.
[38] Conversation, June 19, 2017.
[39] Conversation, June 22, 2017.
[40] Ibid.
[41] Ibid.
[42] Fursan al-Jawlan, Facebook post, June 14, 2017, https://justpaste.it/fursanjowlan14jun2017.
[43] These Facebook posts can be viewed here: https://justpaste.it/fursanjowlan14jun2.
[44] The former head of the local council clarified that Fursan al-Jawlan's role in electricity provision is supplying diesel fuel for generators (conversation, June 22, 2017). There is currently no national grid electricity in Jubatha al-Khashab.
[45] Ibid.
[46] Sam Heller, "Syrian Jihadists Jeopardize Humanitarian Relief," The Century Foundation, June 1, 2017, https://tcf.org/content/report/syrian-jihadists-jeopardize-humanitarian-relief/.
[47] "At Syrian border, IDF seeks closer contact with civilians on other side," Times of Israel, May 29, 2016 http://www.timesofisrael.com/on-syrian-border-idf-sets-up-unit-that-will-work-with-syrian-civilians/
[48] Conversation, June 20, 2017.
[49] Conversation with Muru Hawran, June 19, 2017.
[50] Conversation, June 19, 2017.
[51] Ibid.
[52] Ibid.
[53] Ibid.
[54] Aymenn Jawad Al-Tamimi, "Reconciliations: The Case of al-Sanamayn in North Deraa," Syria Comment, April 27, 2017, http://www.joshualandis.com/blog/reconciliations-case-al-sanamayn-north-deraa/.
[55] "The Regime Completes the Reconciliation of Mahajja of North Dar'a," All4Syria, May 13, 2017, http://www.all4syria.info/Archive/410207. Mahajja has seen a similar arrangement to al-Sanamayn with the rebel factions inside it broadly remaining as they are. Some of these factions are affiliated with more familiar rebel groups in the south, such as the Usud al-Sunna Division and SRF. Conversation with Usud al-Sunna Division affiliate leader in Mahajja, May 31, 2017.
[56] Aymenn Jawad Al-Tamimi, "The Syrian Civil War and Demographic Change," Syria Deeply, March 15, 2017, http://www.aymennjawad.org/19745/the-syrian-civil-war-demographic-change.
[57] "Reconciliation of Beit Jann and Jubatha al-Khashab in Its Final Stages," al-Watan, January 17, 2017, http://alwatan.sy/archives/87590.
[58] Facebook post by Ghassan Ali, February 15, 2017, https://justpaste.it/ghassnali15feb217.
[59] Jones, Raydan, and Ma'ayeh, "Israel Gives Secret Aid to Syrian Rebels."
[60] The operations room is called "Army of Muhammad." See founding statement, June 24, 2017, https://justpaste.it/armymoopsjune24.
[61] Ibid. and Samaha, "Israel's Quiet Campaign to Gain a Foothold in Southern Syria."
[62] Post by Omar Ashour in Liwa al-Baqir Facebook group, June 22, 2017, https://justpaste.it/liwabaqir22june2017.
[63] Examples include Liwa al-Imam al-Mahdi, al-Ghalibun, and Maghawir 313. The last of these is a Syrian Hizballah group with origins in Aleppo, set up in 2014 under the supervision and order of Hizballah commander al-Hajj Ala Albu Sana. Its first engagement was in the so-called 'Triangle of Death" located between the Dar'a, Quneitra, and Damascus countryside areas. Other engagements have included Latakia countryside, Idlib, Hama, and the campaign to retake Aleppo city. Conversation with Maghawir 313 leader, May 1, 2017.
[64] Cf. "The Brigadier General... a Documentary from al-Aalem Channel About the Martyr Samir al-Quntar," Inbaa.com, February 15, 2016, http://www.inbaa.com/%D8%A7%D9%84%D8%B9%D9%85%D9%8A%D8%AF-%D9%88%D8%AB%D8%A7%D8%A6%D9%82%D9%8A-%D9%85%D9%86-%D9%82%D9%86%D8%A7%D8%A9-%D8%A7%D9%84%D8%B9%D8%A7%D9%84%D9%85-%D8%B9%D9%86-%D8%A7%D9%84%D8%B4%D9%87%D9%8A%D8%AF/.
[65] Conversation, June 19, 2017.
[66] Ibid.
[67] Ilan Ben Zion and Agam Rafaeli, "We Have No Beef with Israel, Syrian Islamist Rebel Group Says," Times of Israel, July 1, 2013, http://www.timesofisrael.com/we-have-no-beef-with-israel-syrian-islamist-rebel-group-says/.
[68] Conversation, June 19, 2017.
[69] Ibid., June 21, 2017.
[70] Itamar Rabinovich, "Israel's View of the Syrian Crisis," Brookings Analysis Paper, No. 28 (November 2012), https://www.brookings.edu/wp-content/uploads/2016/06/Rabinovich-web-final.pdf.
[71] A variety of interesting anecdotes have emerged from interactions with locals in Majdal Shams, the largest remaining Syrian town in the Golan Heights. Many residents of course still believe in the necessity of returning the Golan Heights to Syria. One interestingly said that this return could only happen with the removal of Assad and a transition. Others though acknowledge the reality of Israel's hold over the Golan Heights. One young resident rejected the idea of returning the Golan Heights to Syria and coming under the "rulers of the Arabs."
[72] Nour Samaha on Twitter, December 20, 2016, https://twitter.com/Nour_Samaha/status/811216001849262080.