This paper is based on reporting trips undertaken by the author in March and April 2017 to Mosul city in Iraq and some surrounding areas, in particular on the left bank of the Tigris River (i.e. east Mosul). These trips focused on the current situation in general as well as comparisons with life under the Islamic State. Based on the observations, broader and policy recommendations for the Mosul area are also put forward.
On the multiple occasions on which this author visited east Mosul city, the route taken was always via the town of Bartella (still devoid of its original inhabitants) and the outlying area of Kokjili. It is in these outlying areas[1] that the role of the Hashd Sha'abi in maintaining security after the recapture of east Mosul is most visible and obvious. For relevant context here, the Hashd Sha'abi (Popular Mobilization) refers to the rise of primarily Shi'i militias in the aftermath of the fall of Mosul to the Islamic State in June 2014. There are also some non-Shi'i groups that come under the Hashd Sha'abi phenomenon, whose main official representation is in the Hashd Sha'abi committee that officially answers to the Prime Minister's office. Groups that are on the Hashd Sha'abi committee often have an ordinal number to designate their representation.
In the case of the route into Mosul via Bartella and Kokjili, the main Hashd formation observed to be manning checkpoints in March 2017 was Liwa al-Shabak (The Shabak Brigade), also known as Quwat Sahl Ninawa (Ninawa Plain Forces). As its name suggests, Liwa al-Shabak primarily recruits from the Shabak ethnic minority that had been living in the Ninawa plains near Mosul but were displaced by the advances of the Islamic State, which would consider them worthy of extermination by virtue of their Shi'i faith. Liwa al-Shabak is known as the 30th brigade on the Hashd Sha'abi committee. The commander of the brigade is one Abu Ja'afar al-Shabaki, with oversight over the brigade by Dr. Hunain al-Qaddo, an MP from the Shabak Democratic Assembly.[2]
In an interview, Abu Ja'afar told this author that Liwa al-Shabak is independent,[3] but there is evidence of links to the Iranian-backed Badr Organization, currently one of the most influential factions within the Hashd Sha'abi committee. For example, there are posts on social media that describe Liwa al-Shabak as a Badr affiliate.[4] On the ground, the following observations are relevant: at the time Liwa al-Shabak members could be observed manning checkpoints, at least one member could be observed wearing Badr insignia as well. In addition, by April 2017, Liwa al-Shabak insignia, flags, and markers had become less visible, being replaced by personnel with plain Badr insignia and flags, who told this author that Liwa al-Shabak is part of Badr.[5] Some Liwa al-Shabak sources affirmed the Badr affiliation but characterized it as somehow being a previous affiliation.[6] On this reading, Liwa al-Shabak was Badr's 30th brigade but has now become the 30th brigade of the Hashd Sha'abi committee. The distinction seems somewhat hollow though considering Badr's prominence in the committee.
Other Hashd groups can be found on the route going south of Bartella into other Ninawa plain villages rather than taking the route into east Mosul city. Like Bartella, these towns also remain devoid of their original inhabitants, the most notable case being Bakhdida, also known as Qaraqosh. This town was primarily Christian, and the main holding force there today is the Ninawa Plains Protection Units (NPU), a Christian Hashd group. The NPU is affiliated with the Hashd Sha'abi committee, and its main competitor for influence in the area is Kata'ib Babiliyun (Battalions of the People of Babylon), some of whose flags could be observed during a visit to Qaraqosh in March 2017. Despite the flags, it was apparent from observation that Kata'ib Babiliyun is less influential in the area than the NPU, with more personnel of the latter visible. Indeed, the leader of the NPU, Behnam Abush, told this author at the NPU base in Qaraqosh that Kata'ib Babiliyun numbered no more than 10 people in the area, while putting his own unit at 500 members, half of whom he claimed were deployed in the Qaraqosh area.[7] He noted the tensions between NPU and Kata'ib Babiliyun, adding that he was trying to resolve those problems.[8]
Kata'ib Babiliyun apparently had the status of the 30th brigade alongside Liwa al-Shabak,[9] but now characterizes itself as the 50th brigade on the Hashd Sha'abi committee.[10] The militia's own orientation towards Iran is evident in the group's symbolism and rhetoric, using the familiar extended arm and rifle that normally represent Iranian-backed "resistance" movements. Furthermore, Rayan al-Kaldani has made comments that resemble Shi'i sectarianism, as he likened the fight for Mosul to battling the "descendants of Yazid,"[11] a reference to the sixth caliph who is widely despised by the Shi'a. His comments, perceived as calling for collective revenge on the people of Mosul as they were recirculated in February 2017, prompted the Chaldean Catholic patriarch Louis Sako to condemn al-Kaldani.[12] Some of his Christian critics even suggest al-Kaldani may be a crypto-Shi'i,[13] though such ideas seem to go into the realm of conspiracy. A more plausible explanation is simply that al-Kaldani is firmly aligned with Iran and the "resistance" axis in his political thinking.
As one moves into the neighborhoods of east Mosul city, there is a notable contrast with the clear role of Hashd groups in maintaining security and acting as holding forces in these outlying areas. This does not mean that members of Hashd factions–particularly of the Shi'i militia type–are never observed inside Mosul city. In fact, vehicles bearing Hashd flags are a sight inside the city: On one occasion in March 2017, a vehicle was observed by this author bearing Badr's flag. In addition, Badr has established an office inside east Mosul city,[14] apparently for media purposes. However, these points do not translate to an active role for these groups in maintaining security inside east Mosul city. Rather, these Hashd personnel might be conducting media tours or coming in from the outside to purchase items from the markets in the city. Some Hashd triumphalist flag placing seems to have taken place as well, as became evident in observing the flag of the Iranian-backed Kata'ib Sayyid al-Shuhada in April 2017, planted at the Nabi Yunus shrine site in east Mosul that was destroyed by the Islamic State after it conquered the city in 2014.
Instead of these Hashd factions, real management of security largely falls on the Ninawa provincial police under Wathiq al-Hamdani, whose personnel are of mostly local origin and can be readily observed on the streets. Hamdani is originally from Mosul and had been serving in the Ninawa police prior to the fall of Mosul. His main base at the time of meeting him in March 2017 was located in the al-Nour neighborhood in east Mosul. In a more secretive location inside east Mosul is the base for the special SWAT forces that work alongside the police as necessary in certain operations. The SWAT forces are headed by Rayan al-Hayali, a local and long-standing member of the SWAT forces. He affirmed in an interview in March 2017 that the SWAT forces were particularly concerned with tracking Islamic State sleeper cells in the city, having arrested at least 45 people during that month.[15] It should be noted at the same time that the function of tracking sleeper cells and the like is not the sole preserve of the SWAT forces and police. The National Security Apparatus, affiliated with the Prime Minister's office and having a base inside Bartella as of March 2017, plays a similar role.[16] Plans were affirmed to transfer the base into the city.[17] It is not clear how far operations are coordinated between the National Security Apparatus and the other security forces, with the deputy commander for the National Security Apparatus in Ninawa implying that there was only coordination with the army and/or other actors when more force was required for an operation.[18]
Heading deeper into east Mosul city towards the Tigris River, one finds the Iraqi army's 16th division acting as a holding force, aiming to prevent crossings and infiltrations by Islamic State fighters across the river as well as guarding against what is now primarily a threat of mortar attacks and sniper fire. There has also been a threat from Islamic State-manufactured drones,[19] though that appears to have subsided as the Islamic State has steadily lost control of west Mosul. In any case, security risks have meant that entering some of east Mosul's neighborhoods near the Tigris River (e.g., al-Zira'i neighborhood, where the famous grand mosque commissioned by Saddam Hussein is located) have required journalists to obtain special permits from the 16th division. Personnel from the 16th division are not necessarily from Mosul or the wider Ninawa area: This author's encounters included personnel from areas much further south like Diyala and Wasit provinces.
Beyond these regular forces, there are also said to be "tribal Hashd" forces inside east Mosul city. These small groups are not affiliated with the Hashd Sha'abi committee, but are rather tied to certain local personalities like Faris al-Sinjari. Less well armed than the regular forces, these tribal Hashd forces are not as easily visible in the city. The other main actor of note–occupying a somewhat ambiguous position–is the Ninawa Guards affiliated with Atheel al-Nujaifi, the former governor of Ninawa province. The Ninawa Guards personnel are mostly trained by Turkish army officers whom the government in Baghdad regards as an illegal presence inside Iraq.
The head of the Hashd Sha'abi committee Falah al-Fayadh denied that the Ninawa Guards was linked with the committee in November 2016.[20] However, by January 2017 this status seemed to have changed, with salaries distributed by the Hashd Sha'abi committee for Ninawa Guards fighters.[21] Atheel al-Nujaifi has also had an arrest warrant issued against him, and cannot venture into Mosul, with Ninawa police leader Wathiq al-Hamdani mentioning to this author that he is obliged to arrest Atheel al-Nujaifi if he enters.[22] Yet the Ninawa Guards participated in fighting to recapture east Mosul city, working with the Iraqi army's 16th division.[23] At the end of January 2017, the Ninawa Guards was reported to have withdrawn for the most part from east Mosul city, maintaining a small presence inside the al-Malayeen neighborhood.[24] This presence continues to play a role in security inside al-Malayeen neighborhood.[25] No meeting was held with the Ninawa Guards presence inside Mosul city, though warnings were heard about venturing into that area on account of risk of kidnapping and falling into the hands of armed gangs.[26] These warnings indicate that the regular forces inside east Mosul city are not evenly distributed in the various neighborhoods, with greater reliance on these Sunni paramilitaries where regular police numbers in particular fall short. These groups, like the various Hashd factions on the peripheries of east Mosul, are unlikely to disband for the foreseeable future, using their presence to build political influence.
THE WIDER SITUATION IN EAST MOSUL AND COMPARISONS WITH THE ISLAMIC STATE PAST
Despite some fears prior to the operation to retake the city, east Mosul has not witnessed devastation of the sort that prevents return to a normal life on some level. On entering the eastern half of the city, one can quickly observe that markets are open, shops are functioning, traffic is on the streets, and restaurants are open with customers in attendance. This situation contrasts with the scenes of destruction emerging from west Mosul, where the fighting is more difficult on account of the denser clusters of buildings, contrasting with the more open streets and layout of east Mosul. Another point of interest is that the Iraqi forces are generally commended for supposedly dealing well with the civilian population, contrasting with complaints of harassment, blocked-off roads for Maslawis in the period prior to the fall of Mosul. Undoubtedly the most admired force in this regard is the elite Counter-Terrorism Service, also known as the Golden Division.
Of more controversial repute are the federal police divisions and the Emergency Response Brigade, both of which act as paramilitary forces for the Interior Ministry, presently headed by Qasim al-Araji of Badr. The government has relied heavily on these forces in the battles to retake west Mosul, in light of concerns about overuse of the Counter-Terrorism Service. Two members of the Ninawa police forces, stationed in the Hamdaniya area to the east of Mosul city,[27] expressed their concerns to this author in March 2017 about the battle for west Mosul, with one of them affirming that the "federal police will not have mercy" on the civilians and that the end scale of destruction will be similar to Syria.[28] The problem with these forces, they noted, is that they are heavily politicized, featuring members of political factions in their ranks, with loyalists from groups like Badr, Asa'ib Ahl al-Haq and the Da'wa party. This perception was partly borne out in a visit in March 2017 to the west Mosul frontlines, in which a member of the federal police[29] proudly revealed a shirt underneath his uniform bearing the logo of Saraya al-Salam, the militia of Muqtada al-Sadr.[30] More recently, a media storm has erupted over photos taken by a photojournalist working with the German outlet Der Spiegel and embedded with the Emergency Response Brigade, appearing to document horrific abuses of civilians.[31]
Despite the apparent return to normality in east Mosul, signs of the war are evident in damaged infrastructure and buildings, and it seems unlikely that much of this damage will be repaired in the near future on account of inefficiency of reconstruction efforts and services provision. Indeed, Wathiq al-Hamdani, complained of the big problems in the "humanitarian situation" and denounced the "corrupt politicians" for not helping Mosul, in particular meaning the local Ninawa MPs.[32] There was no provision of national grid electricity in east Mosul during the visits in March and April 2017, with reliance instead on generators. However, since this author left east Mosul in April 2017, some national grid electricity has now returned to the city.[33]
Some civil society undertakings were occasionally observed on the streets of Mosul, such as small-scale road and street repair and cleaning. Similar activities are presently advertised on social media, with some projects backed by aid organizations such as the United Nations Development Programme.[34]
In general, residents of east Mosul affirmed that life now was better than the days of the Islamic State. "Who likes them?" asked rhetorically a member of the Al Fariq restaurant staff in the al-Nour neighborhood of east Mosul city.[35] There is of course an analytical caveat before proceeding into further detail: That is, the most obvious problem is that openly expressing support for the Islamic State or the days of its rule in east Mosul understandably risks exposing oneself to arrest. There may be overstatement of popular dislike for the Islamic State in interaction with those perceived to be outside observers in order to uphold the reputation of the people of Mosul and portray them as entirely passive victims. Similar points apply to internally displaced persons (IDPs) from Mosul in the refugee camps outside of the city.
That said, the specific observations raised in interviews with residents as well as IDPs did provide some genuine insights. While the overall assessment of life under the Islamic State was resoundingly negative, some interviewees conceded in the early days that there was joy over the government's loss of Mosul, with romantic notions of "tribal revolutionaries" as checkpoints were removed from various places. In part these perceptions were bolstered by a limited and auxiliary role for other Iraqi insurgent groups like the Ba'athist-Sufi group called the Army of the Men of the Naqshbandi Order (JRTN). Though outside observers often supposed a crucial "alliance of convenience" between these groups and IS, the reality is that they were quickly stamped out.[36]
Most interviewees inside Mosul and in the IDP camps noted that the streets in Islamic State-controlled Mosul were clean and maintained, something that the Islamic State promoted multiple times in its propaganda.[37] This street cleaning effort, alongside some construction and infrastructure projects, was attributed to the compulsion to work imposed on the municipal office by the Islamic State, which threatened much harsher punishments than the Iraqi government authorities for slacking off and refraining from work, such as confiscation of property and/or imprisonment. The commitment to municipal services provision is attested in Islamic State documents from the time of its control of Mosul, such as regulations that emerged in December 2014 for garbage collection and disposal of waste.[38]
As far as other services go, there was no national-grid kind of electricity provision by the Islamic State. Instead, there was largely reliance on the same generators that have existed for decades, with limited provision of national grid electricity from the Iraqi government via the Mosul Dam beginning in around March 2015. In some parts of the wider Mosul area, the Islamic State is said to have installed circuit breakers to ensure fairer distribution of electricity among residents using the generators. Schools were open under the Islamic State, but with the issuing of a new curriculum of books to comply with the Islamic State's outlook on education for the academic year 2015-2016, many parents refrained from sending their children to school, not wishing to see them indoctrinated.
The most common refrain of discontent with the Islamic State was the fact that the organization imposed extensive social restrictions. "They hold you to account for everything," went the expression. These restrictions were principally embodied in the hisba apparatus of the Islamic State, which would enforce Islamic morality in public, such as through regulation of public dress and beard length, while banning supposed vices like smoking. The frustration is understandable and comes across as genuine: The restrictions were certainly an infringement on personal freedoms. In contrast, people today on the streets of Mosul can be observed to be smoking, and while the conservatism is evident in the hijab being the norm for women in Mosul, the more fully covering niqab and the like were not readily apparent in the city. Thus, there is a case to be made that the Islamic State represents something culturally alien to Mosul city. In this regard, one should note the Islamic State's destruction of prominent heritage sites inside the city. In addition, this author's relative in al-Zuhur neighborhood in east Mosul city pointed to an urban-rural divide at play, noting that most of the Islamic State members who were inside Mosul city were from the rural areas of Ninawa province.[39]
On a final general note, it should also be remembered on a chronological time scale that things undoubtedly got worse under the Islamic State. For instance, in the earlier days of Islamic State control, personal and family incomes were not so much of an issue as the Iraqi government continued to provide salaries for its employees who remained inside Mosul, undoubtedly aiming to maintain leverage. By late summer 2015, it was decided to cut these payments off, hoping to prevent the Islamic State from profiting off taxation of the payments. Moreover, more and more restrictions on freedom of communication and information access came over time, with a ban on satellite TV and private internet connections by summer 2016.
CONCLUSIONS AND RECOMMENDATIONS
The overall outcome in east Mosul has been much more positive than many observers might have predicted before the start of the operations to retake the city. However, there are still many areas of concern to be addressed. While it seems unlikely that the Islamic State will be able to reconquer the city in the near future, there is the risk of a return to a pre-2014 status quo, in which the Islamic State's predecessors were essentially Mosul's mafia, widely extorting from most businesses and institutions. Even if the Islamic State were to lose all its formal territorial holdings in Iraq and Syria, the re-emergence of the mafia phenomenon in Mosul would allow the organization to maintain significant financial assets for operations as an insurgent movement.
The most obvious step to work to prevent this problem is to continue to strengthen the Ninawa provincial police forces, which are best suited to working with the population to track down Islamic State cells and personnel hiding within the city. To the extent that local Hashd groups remain inside the city, they should ideally be integrated into the police forces as well. In contrast, paramilitary forces of the Interior Ministry like the federal police should not be used to hold ground in Mosul city in the near future, nor should Shi'i militia factions/political groups like Badr be allowed to turn any offices they may open in the city into militia bases to play a role in local security. Rather, these offices should be restricted to political outreach and media functions.
The preservation of Islamic State documents, especially personnel records, is also of vital importance. These materials, if processed efficiently, are among the most reliable guides for tracking down members of the organization and looking into network links. Many documents will of course have already been lost through burning by the Islamic State itself, but thorough searches for documents even in long since retaken areas may yield more surprises and intelligence treasures.
Other problems to prevent a resurgence of the Islamic State are more difficult to root out, most notably the issue of widespread corruption, which might allow those who are actually members of the organization to escape the arm of the law and pass through checkpoints, while others who might have been arrested by mistake end up in unjust detention. Unfortunately, corruption is deeply ingrained across Iraq's political and societal order, transcending sectarian boundaries. Affirming the need to tackle it is something much more easily said than done. Corruption is also a major issue in the provision of services and development projects. A failure to deal with corruption may lead to future romanticizing of and sympathy for the Islamic State past when municipal services were actually more efficient than the status quo prior to the fall of Mosul in 2014.
APPENDIX: PHOTOS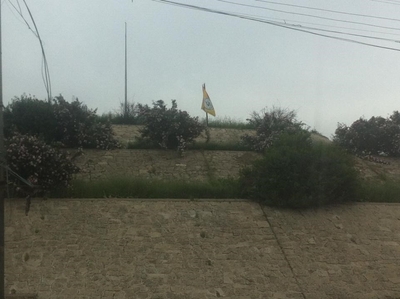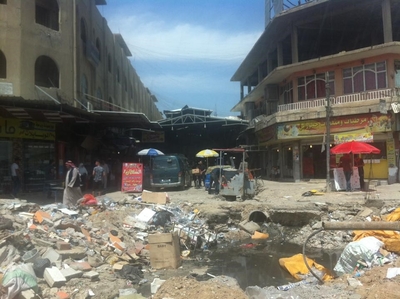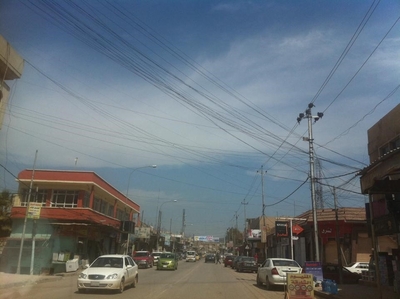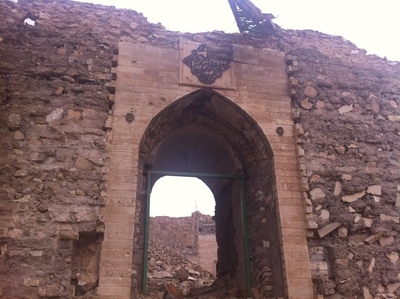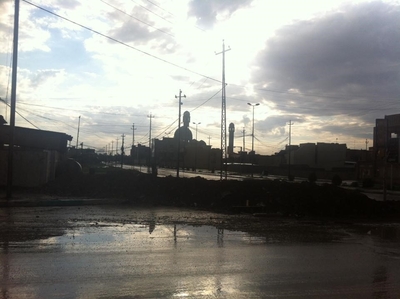 A road that was partially blocked off with dirt at it leads to areas near the Tigris river that might come under Islamic State mortar and sniper fire in the campaign to retake west Mosul. Access was managed by the Iraqi army's 16th division. The Grand Mosque can be seen in the distance (Photo: Aymenn Jawad Al-Tamimi).
---
*Aymenn Jawad Al-Tamimi is a Rubin Fellow at the Rubin Center for Research in International Affairs at the Interdisciplinary Center (IDC) Herzliya. He is also the Jihad-Intel Research Specialist at the Middle East Forum. He is a graduate from Brasenose College, Oxford University, with a degree in Classics and Oriental Studies. His research interests primarily concern Iraq and Syria, focusing on armed groups on all sides of the conflicts therein. He has given expert testimony at the British House of Commons and has been published in and made media appearances on BBC News, France 24, Al-Jazeera English, USA Today, The Economist, El Mundo, PJMedia, and more.
NOTES
[1] Note for context that the wider area to the east of Mosul is known as the Ninawa plains and the Hamdaniya area.
[2] Post by "The Media Office for the MP Dr. Hunain al-Qaddo," Facebook, November 1, 2016, https://justpaste.it/liwashabakqaddo.
[3] Interview, March 2017.
[4] Sample social media posts collected here: https://justpaste.it/liwaalshabakbadr.
[5] Conversations with Badr personnel at checkpoint on way out of east Mosul city, April 2017.
[6] Conversation with a Liwa al-Shabak fighter, March 2017. Conversation with Qays al-Shabaki, who works in Liwa al-Shabak media, May 2017.
[7] Interview, March 2017.
[8] Ibid.
[9] Post from Rayan al-Kaldani, the overall leader of Kata'ib Babiliyun and its political wing "The Christian Movement in Iraq," Facebook, November 5, 2016, https://justpaste.it/rayankaldani30brigade.
[10] E.g., Post from Kata'ib Babiliyun Facebook page, May 11, 2017, https://justpaste.it/babiliyun50brigade.
[11] To quote al-Kaldani exactly: "They are the descendants of Yazid, and we are the descendants of John. Our battle will be a Christian one with the descendants of Yazid," Khabr Ajil, Facebook, February 6, 2016, https://www.facebook.com/kabr.ajal.iq/videos/vb.588012504550567/1126782727340206/?type=2&theater. The "John" reference here is not John the Baptist but rather John bin Hawai, originally a Christian slave bought by Imam Ali. John reputedly fought alongside Imam al-Hussein at the Battle of Karbala against the forces of Yazid and was killed in the battle.
[12] "The Chaldean Church Condemns the Statements of Rayan Salim al-Kaldani Regarding Taking Revenge on the People of Mosul," al-Sumaria News, February 15, 2017, http://www.alsumaria.tv/news/195321/%D8%A7%D9%84%D9%83%D9%86%D9%8A%D8%B3%D8%A9-%D8%A7%D9%84%D9%83%D9%84%D8%AF%D8%A7%D9%86%D9%8A%D8%A9-%D8%AA%D8%B3%D8%AA%D9%86%D9%83%D8%B1-%D8%AA%D8%B5%D8%B1%D9%8A%D8%AD%D8%A7%D8%AA-%D8%B1%D9%8A%D8%A7%D9%86-%D8%B3%D8%A7%D9%84%D9%85-%D8%A7%D9%84%D9%83%D9%84%D8%AF%D8%A7%D9%86/ar#.
[13] E.g., Interview with a priest from Bartella presently based in Erbil, March 2017.
[14] Interview with a relative in al-Zuhur neighborhood, east Mosul city, April 2017.
[15] Interview with Ninawa SWAT leader, March 2017.
[16] E.g. Reportedly arresting a gang dealing in weapons in east Mosul, post on Facebook, May 15, 2017, https://justpaste.it/amnwatanimosul.
[17] Interview with deputy commander of the National Security Apparatus in Ninawa, March 2017. His name is Hisham al-Hashimi (not to be confused with the more well-known Iraqi security analyst who has the same name) and he is from Mosul.
[18] Ibid.
[19] Interview with Ninawa SWAT leader, March 2017.
[20] "Al-Fayadh: Ninawa Guards Is Not an Official Name and We Do Not Acknowledge It," al-Hashed.net, November 7, 2016, http://al-hashed.net/2016/11/07/%D8%A7%D9%84%D9%81%D9%8A%D8%A7%D8%B6-%D8%AD%D8%B1%D8%B3-%D9%86%D9%8A%D9%86%D9%88%D9%89-%D9%84%D9%8A%D8%B3-%D8%AA%D8%B3%D9%85%D9%8A%D8%A9-%D8%B1%D8%B3%D9%85%D9%8A%D8%A9-%D9%88%D9%84%D8%A7-%D9%86%D8%B9/.
[21] "Hashd Sha'abi Committee Distributes Salaries to Ninawa Guards Fighters," Ninawa al-Ghad, January 3, 2017, https://www.youtube.com/watch?v=Kjejl9KLuOo.
[22] Interview with Wathiq al-Hamdani, March 2017.
[23] Interview with an advisor to Atheel al-Nujaifi in Arbil, March 2017.
[24] Post by Khalid al-Shamri, Facebook, January 29, 2017, https://justpaste.it/nujaifigropmosuljan2017.
[25] E.g., Claims to have arrested members of a criminal gang: Wikalat Anba Iraqiyun, April 7, 2017, https://justpaste.it/harsninawaapril2017.
[26] There have also been reports of armed gangs using military uniform to engage in criminal behavior in east Mosul, extorting from citizens and robbing civilians, prompting intervention from the Ninawa police. See post by Mosul News Network, Facebook, March 25, 2017 (https://justpaste.it/mosulnewsnetwork25march2017)
[27] Both of these men are residents of Arbil, but work in the Hamdaniya area on an approximate rotational basis of 12 days of work and 12 days of leave permit. One of them is originally from the south Ninawa locality of Qayyara and is of Juburi tribal origin. He says that he worked with the U.S. army as a translator for two years. The other policeman is a Shabak originally from Bartella.
[28] Conversation with the policeman of Qayyara origin, March 2017.
[29] Many of the federal police members encountered were from areas well outside Mosul and Ninawa, such as Karbala and Baghdad.
[30] These remarks are not to say that every member of the federal police or the Emergency Response Brigade is a bad person. For instance, some Emergency Response Brigade members have previously worked with U.S. forces during the years of the occupation and have some interesting backgrounds, with one even having told this author that he had converted to Christianity after coming across an Islamic State mass grave and deciding he wanted nothing to do with Islam. These individual stories, however, should not be used to disguise problems of politicization in the ranks of these forces.
[31] "Iraq Investigates Alleged Abuses by Mosul Troops," BBC, May 24, 2017, http://www.bbc.com/news/world-middle-east-40031249.
[32] Interview with Wathiq al-Hamdani, March 2017.
[33] Conversation with relative in al-Zuhur neighborhood, May 2017.
[34] E.g., Post from Sama al-Mosul, Facebook, May 8, 2017, https://justpaste.it/samaalmosu8may2017.
[35] Interview, March 2017.
[36] One IDP interviewed in April 2017 mentioned that he had a cousin in JRTN, who was then killed by the Islamic State.
[37] E.g. Photo set from Islamic State's Ninawa media office, forum post on January 6, 2015, http://www.muslm.org/vb/showthread.php?530075-%D8%AF%D9%88%D9%84%D8%A9-%D8%A7%D9%84%D8%AE%D9%84%D8%A7%D9%81%D8%A9-%D8%A7%D9%84%D8%A5%D8%B3%D9%84%D8%A7%D9%85%D9%8A%D8%A9-%D8%A3%D8%AE%D8%A8%D8%A7%D8%B1-%D9%85%D8%AA%D8%AC%D8%AF%D8%AF%D8%A9/page559.
[38] Aymenn Jawad Al-Tamimi, "Aspects of Islamic State (IS) Administration in Ninawa Province: Part II," aymennjawad.org, January 20, 2015, http://www.aymennjawad.org/15952/aspects-of-islamic-state-is-administration-in.
[39] Interview with Ninawa SWAT leader, March 2017.