After a long hiatus, the Islamic State's Ajnad Media, which produces the Arabic nasheeds, has finally released a new production (the last ones being 'Praise be to God' released in July 2016, 'In the path of God' released in May 2016 and 'The Dawla has arisen' released in January 2016). It is possible the small output partly reflects a disruption to the Islamic State's media production in terms of killing potential Arabic language munshids, while al-Hayat media has continued to produce nasheeds in languages besides Arabic.
Below is a preliminary translation by me of this new nasheed: 'Mawkab al-Nur' ('The Convoy of Light'). The themes here are very general and oft-recurring: the glorious past, subduing the disbelievers etc. In addition, the Arabic used here is very straightforward.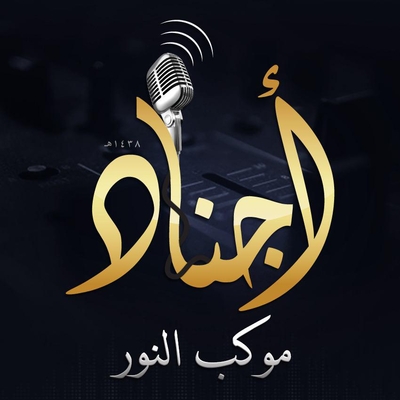 The convoy of light has called us. Take the initiative, our hand-mill [of war] has turned.
The bond of religion is calling, oh our brother, oh our brother.
Accept the burden and arise together, it [the bond of religion] only has us today.
We are descendants of noble ones, who subdued disbelief for a time.
The most truthful people in tongue, the finest people in soul.
They were leaders, defiant, a statement in the mouth of fate.
Here is the victory that has become evident, and the history has risen in prestige.
So arise today glorious and lofty, and relieve our hardship.
Dawn has arisen and sung, glad tidings have spread over our hills.
The world has rejoiced in exultation,* and truth has come on high and become manifest.
The disbelievers will only see youth who reject degradation.
They will only see battles, spearheads and constant attacks.
We will fill the world with loftiness, and spread justice with the guarantee of protection.
We have been a mercy to mankind, and a torment to our enemies.
*- The verb used here can also mean 'to say 'la illah ill Allah' (there is no deity but God).
By Aymenn Jawad Al-Tamimi | Mon, October 24, 2016 1:23 PM | Permalink
To recall, Jaysh Khalid ibn al-Waleed ('The Army of Khalid ibn al-Waleed') is an Islamic State-linked group in southwest Deraa province (the Yarmouk Valley/Basin area) on the border with the Golan Heights. Formed in late May 2016 mainly out of a merger of three groups, the most important of which was Liwa Shuhada' al-Yarmouk , Jaysh Khalid ibn al-Waleed came under the leadership of one Abu Hashim al-Shami, a man originally from Idlib province dispatched by the Islamic State to head the group. This followed on from the appointment of the Saudi Abu Abdullah al-Madani as head of Liwa Shuhada' al-Yarmouk in March 2016, a surprise appointment at the time that also had the hand of Islamic State involvement.
Though the above information is correct, it should be noted that the issue of leaders and their names has not been publicised on the official media channels of Liwa Shuhada' al-Yarmouk and the successor Jaysh Khalid ibn al-Waleed. Instead, fake and/or unofficial announcements publicising this correct information sometimes appear. Since the formation of Jaysh Khalid ibn al-Waleed, the links with the Islamic State have been made more obvious through consistent advertisement of Jaysh Khalid ibn al-Waleed releases on Islamic State media aggregate channels like Nashir News on Telegram (in fact, Telegram is currently the only outlet where official Jaysh Khalid ibn al-Waleed media exists). In addition, the Islamic State's auxiliary media wing Amaq News reports on developments concerning the group and the Yarmouk Valley area.
While the military situation is locked in a stalemate as the rebel factions supported by Jordan and the West find it difficult to penetrate the Yarmouk Basin and are largely not local to the area, Abu Hashim al-Shami (often referred to in local media as 'Abu Othman al-Idlibi', presumably based on his Idlib origins) was assassinated by the rebels. Though I have been able to confirm this information through private contact, a fake statement in the name of Jaysh Khalid ibn al-Waleed (below) was circulated regarding his death. Its lack of authenticity is demonstrated by its lack of appearance on Islamic State outlets like Nashir News on Telegram. In addition, the Jaysh Khalid ibn al-Waleed media account 'Mohammad Daraa' on Facebook (an account overseen by multiple people in Jaysh Khalid ibn al-Waleed media) decried the statement as a forgery (also below).
Continue to full text of posting...
By Aymenn Jawad Al-Tamimi | Mon, October 24, 2016 | Permalink
This post constitutes a continuation of the previous posts that comprise the archive of Islamic State administrative documents (cf. here and here) and cannot be expanded further owing to technical issues. Thus, this post begins with Specimen 23A, constituting the 599th specimen in the archives.
Specimen 23A: Return form, office of the affairs of the mujahideen, Shirqat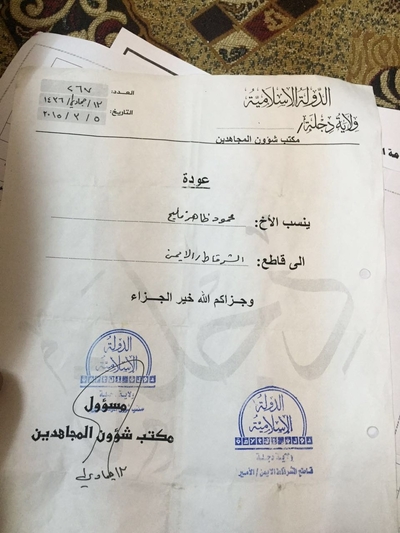 Islamic State
Wilayat Dijla/Office of the affairs of the mujahideen
No. 267
Date: 13 Jumada al-Awal 1436 AH/5 March 2015 CE
Return
The brother [...] belongs to the sector of Shirqat/right side [western Shirqat]
May God reward you best.
Official of the office of the affairs of the mujahideen
Islamic State
Wilayat Dijla
Office of the affairs of the mujahideen
Islamic State
Wilayat Dijla
Shirqat sector right side/Amir
Continue to full text of posting...
By Aymenn Jawad Al-Tamimi | Sat, September 17, 2016 1:33 PM | Permalink
As I have documented previously, the Jabal al-Summaq area in Idlib province is originally Druze, but inhabitants were forced to renounce the religion twice and convert to Sunni Islam: first in late November 2013 because of pressure from the Islamic State in Iraq and al-Sham (ISIS), and then under al-Qa'ida affiliate Jabhat al-Nusra (rebranded at the end of July 2016 as the officially independent Jabhat Fatah al-Sham: hereafter referred to in this post as JFS) in January 2015. Since JFS controls Jabal al-Summaq, with the control being absolute in the villages of the mountain itself (while Ahrar al-Sham also considers the villages on the plain to be within its own zone of influence), there has been a more thorough Islamization program than occurred under ISIS, which withdrew from Idlib province in early 2014 in the face of infighting with rebel factions. The Islamization program has included destruction of shrines and an insistence locals abide by imposed Shari'i regulations, which were reiterated in a speech last year by then Jabhat al-Nusra official- Abu Qatada al-Iraqi- in one of the villages (Kaftin).
Though Abu Qatada al-Iraqi was removed from his position in the Jabal al-Summaq area as his approach was seen as too confrontational, it did not mean a change in the actual Islamization policies. These policies were most recently reaffirmed in a statement distributed in Kaftin by Jabhat al-Nusra that emerged in mid-July 2016 just prior to the rebranding. The original is included below and translated. Note that it also addresses in part internally displaced persons that have come to Kaftin since Jabal al-Summaq is a de facto safe zone (though there have been a number of air-raids recently for multiple reasons). In referring to all inhabitants of Kaftin as Muslims, it is clear there is no recognition of a Druze identity among the original residents.
Continue to full text of posting...
By Aymenn Jawad Al-Tamimi | Mon, September 5, 2016 10:36 PM | Permalink
The Islamic State (IS) has recently announced the death of its official spokesman Abu Muhammad al-Adnani, first via its auxiliary outlet Amaq News and then through an official posting under Wilayat Halab ('Aleppo Province'). It seems most likely that he was killed in a U.S. strike on the al-Bab area in north Aleppo, the last remaining stronghold in the area amid rebel advances along the border with Turkey. Thus, it is unsurprising that the announcements of his death mention he was 'inspecting' IS military operations in Aleppo. It is also of note that the Wilayat Halab posting describes Adnani as a Husseini (a descendant of the Prophet Muhammad's household) and Qurashi (of the Quraysh tribe to which the Prophet belonged). As Charles Lister notes, the bestowal of these epithets on Adnani suggests that he may have been groomed to be the successor to Abu Bakr al-Baghdadi (as Baghdadi, in his role as Caliph, also has his reputed Husseini and Qurashi origins trumpeted). Certainly the conception of Adnani as the successor would not be surprising in light of the fact that he had the most recognisable persona in IS as embodied in the speeches he gave.
Continue to full text of posting...
By Aymenn Jawad Al-Tamimi | Tue, August 30, 2016 9:40 PM | Permalink
Over the past few years I have documented numerous militias fighting on the side of the regime in Syria, generally an understudied topic (at least as regards native formations: foreign Iranian-backed Shi'a militias intervening in Syria to support the regime are better covered). Below I compile a list of my articles on the subject, sorted by sub-categories (though there may be overlap in some cases, as the article contents will show). I will add to this list as I write more articles
[Last updated on 4 September 2016]
Syrian Hezbollah/Syrian Shi'i Militias
- Liwa al-Imam Zain al-Abidain
- The Ja'afari Force
- Liwa Sayf al-Mahdi
- Quwat al-Ridha
- Fawj al-Imam al-Hujja and Junud al-Mahdi
- The National Ideological Resistance
- Liwa al-Imam al-Mahdi
- Al-Ghalibun
- Liwa al-Baqir/Local Defence Forces

Al-Bustan Association militias
- Kata'ib al-Jabalawi
- Leopards of Homs
- Dir' al-Watan
Factions of Suwayda' province
Palestinian factions
- Liwa al-Quds
- Liwa al-Jalil
- Quwat al-Jalil
Military Intelligence Branch/Military Security factions
- Lions of the Eternal Leader
- Fawj Maghawir al-Badiya
- Quwat Dir' al-Amn al-Askari
Amn al-Dawla intelligence agency militias
Air Intelligence factions
- Tiger Forces (incl. Leopard Contingents)
Suqur al-Sahara'
- Suqur al-Sahara'
- Fawj Maghawir al-Bahr
Christian factions
Republican Guard
- Lions of the East/Majmu'at Nafidh Assad Allah
- Popular Security & Support Forces
- Coastal Shield
- Liwa Sayf al-Haq Assad Allah al-Ghalib
Miscellaneous
- Liwa Usud al-Hussein (Quwat Humat Suriya)
- The Syrian Resistance
- Syrian Social Nationalist Party (Nusur al-Zawba'a)
- The Arab Nationalist Guard
- Liwa Khaybar
Notes
- Liwa Khaybar may be air intelligence and/or military intelligence affiliated.
- Quwat al-Ghadab has a Republican Guard affiliation.
- Liwa Sayf al-Mahdi is affiliated with the 4th Armoured Division.


By Aymenn Jawad Al-Tamimi | Tue, August 30, 2016 12:32 PM | Permalink
Jaysh Khalid ibn al-Waleed (The Army of Khalid ibn al-Waleed)- named for a companion of the Prophet who helped secure the Muslim conquest of the Levant through the crucial Battle of Yarmouk- is a group linked to the Islamic State (IS) based in the Yarmouk Valley/Basin (Wadi/Hawdh al-Yarmouk) of southwest Deraa province on the border with the Golan Heights. The group was formed in late May 2016 from the following components:
. Liwa Shuhada' al-Yarmouk (the Yarmouk Martyrs Brigade: LSY)- the main component of Jaysh Khalid ibn al-Waleed. Once aligned with the Western-backed Southern Front, it first established connections with IS around summer 2014 and began overtly displaying affinities with IS after heavy clashes with Jabhat al-Nusra in December 2014, which accused LSY at the time of being aligned with IS even as observers were widely sceptical.
Continue to full text of posting...
By Aymenn Jawad Al-Tamimi | Sat, July 30, 2016 3:42 PM | Permalink
When it comes to the Syrian insurgency, one of the biggest dilemmas facing its backers has been the role of al-Qaeda affiliate Jabhat al-Nusra. Despite its affiliations, the group has been widely viewed by the insurgency as an important military partner in many (but by no means all) of the zones of conflict since it first came on the scene publicly in 2012. Jabhat al-Nusra's fortunes have varied over time- for instance, it lost all of its assets in the oil-rich eastern province of Deir az-Zor to the Islamic State by summer 2014- but it has survived notions of a total collapse. Today, its main base is in the northwestern province of Idlib, and with the breakdown of the U.S.-Russia brokered 'cessation of hostilities' this year, Jabhat al-Nusra has played a leading role in fighting in Latakia and south Aleppo countryside, spearheading alongside Salafi group Ahrar al-Sham the coalition known as Jaysh al-Fatah, which was first set up in 2015 and led the routing of the Assad regime from Idlib province.
Continue to full text of posting...
By Aymenn Jawad Al-Tamimi | Sun, July 24, 2016 11:15 PM | Permalink
Readers of this blog will have known that a long-standing interest of mine has been the structure of Islamic State (IS) administration, focusing primarily on internal documents. To mark the start of Eid, IS has released via its central media outlet al-Furqan Media a video on the very subject, entitled 'Structure of the Caliphate'. Below are some observations of mine: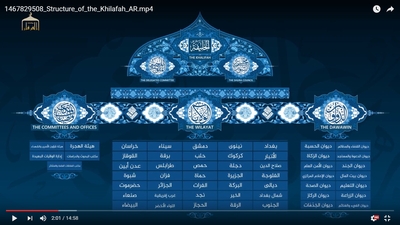 1. The list of 'wilayas' ('provinces') of the Islamic State in the above screenshot is particularly interesting. In total, IS counts 35 wilayas: 19 inside Iraq and Syria and 16 outside of Iraq and Syria. Most notably, despite widespread speculation of IS gearing up towards announcing a new wilaya in the Philippines and claims that IS is now operating as a wilaya in the Philippines, there is no mention of the Philippines as a wilaya. Nor is there any mention of Tunisia, Indonesia, Somalia and Bangladesh: countries where IS has also claimed operations. The last real expansion on the geographic stage on the international level was the Caucasus wilaya a year ago.
In my view, the lack of new wilaya announcements reflects an IS strategy of avoiding wilaya announcements because they lack credibility without realisation of governance and administration on the ground akin to the system in place in IS-controlled territories in Iraq and Syria. With the exception of Libya (though this too is now in doubt with the attacks on the IS stronghold of Sirte), the wilaya projects abroad have been disastrous in so far as achieving administration on the ground (Arabic: tamkeen). Internal dissent in IS (which I will discuss in a later post using some unseen internal documents) long recognized this problem, and advised against wilaya announcements and that allegiance pledges should be taken secretly. While the latter point has not been heeded, IS now seems more cautious in translating allegiance pledges into the creation of new provinces.
Continue to full text of posting...
By Aymenn Jawad Al-Tamimi | Wed, July 6, 2016 4:17 PM | Permalink
'Qamat al-Dawla' ('The Dawla Has Arisen'- in reference to the Islamic State) was a nasheed produced by Ajnad Media and released in mid-January 2016. Whereas a number of Islamic State nasheeds use straightforward classical Arabic ('We will move forth to excellence' being a good example), this one is particularly interesting for what is often termed Bedouin Arabic in form and language: terminology used generically to refer to the Arabian Peninsula. A somewhat comparative case is the nasheed 'Oh Son of Yemen' that notably contains the phrase 'وش علامك' ('what you want/seek', in reference to the Houris of paradise).
Many native Arabic speakers would in fact find nasheeds like 'Qamat al-Dawla' difficult to understand. A more precise definition of the language of 'Qamat al-Dawla' is offered by a reader @3bdulelah, who pinpoints the language of this nasheed as Qasimi dialect (from the Qasim region in central Arabia).
Below is my translation of the nasheed (see here for original).
Continue to full text of posting...
By Aymenn Jawad Al-Tamimi | Sun, July 3, 2016 3:45 PM | Permalink