ظهرت مسألة المناطق الحدودية بين سوريا ولبنان (خصوصاً ريف حمص وشمال البقاع) في الإعلام الشهر الماضي مع وصول الشرطة العسكرية الروسية إلى هذه المناطق. وكانت هناك إشاعات عن إنسحاب المقاومة الإسلامية حزب الله من المنطقة غير ان هذا الشيء لم يحصل, بل انسحبت الشرطة العسكرية الروسية.
مع ذلك, قد تغير الوضع في المناطق الحدودية فتم إغلاق المعابر غير الرسمية التي كانت تحت إشراف أجهزة أمنية سورية.
ولكي أسلط الضوء على هذه التطورات, قمت بإجراء مقابلة مع الحاج محمد جعفر قائد درع الوطن التابع للفيلق الخامس (المدعوم من قبل الجانب الروسي) وللتشكيل مقر بقرية زيتا في المناطق الحدودية. أحياناً يزور الجانب الروسي المقر من أجل التفقد.
ملاحظة: قمت بإجراء المقابلة بتأريخ ٥ تموز ٢٠١٨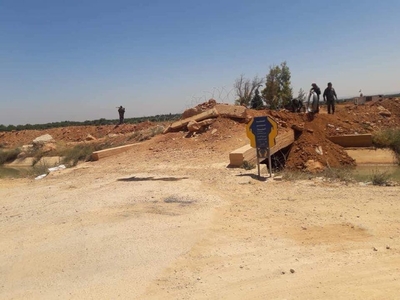 Continue to full text of posting...
By أيمن جواد التميمي | Thu, July 19, 2018 12:38 PM | Permalink
The Syria-Lebanon border region between the Homs countryside and the north Beqaa came to some media attention last month when Russian military police arrived in the area. There was also some talk of an impending Hezbollah withdrawal. In fact, the Russian military police quickly departed, while the Hezbollah presence remained as it was before. The incident led to rumours that the Russians had sought for Hezbollah to withdraw from the area, only for Hezbollah to reject that, partly on the grounds that the Russian move into the area was not coordinated with the group and Iran.
Whatever the case, there has been a notable change in the border areas. Specifically, the unofficial crossings that Lebanese citizens living on both sides of the border have been using are now closed. Of course, this development significantly disadvantages those Lebanese citizens who use those crossings.
Continue to full text of posting...
By Aymenn Jawad Al-Tamimi | Thu, July 19, 2018 6:11 AM | Permalink
في سياق حملة الحكومة السورية التي تهدف الى إستعادة الجنوب السوري أصبحت قوات النمر من أبرز التشكيلات التي تشارك في العمليات. وتركز قوات النمر على ريف درعا الشرقي. وفوج طه هي وحدة من وحدات قوات النمر التي تشارك في العمليات. وإسمه الكامل <<فوج طه إقتحام>> ويدل إسمه الكامل على دور الفوج كقوة إقتحامية لقوات النمر. وليلة الأمس عملت مقابلة مع إعلامي الفوج حول التشكيل والوضع في الجنوب. علماً ان الإضافات التوضيحية مبينة بين قوسين معقوفين.
Continue to full text of posting...
By أيمن جواد التميمي | Sat, July 7, 2018 11:30 AM | Permalink
As part of the Syrian government's campaign to retake southern Syria in its entirety, Suhail al-Hassan's Tiger Forces, affiliated with the air intelligence, have emerged as a leading participant in the campaign, focusing on the east Deraa countryside front. One of the Tiger Forces units involved in the southern campaign is the Taha Regiment. This group is more fully known as "Taha Regiment- Assault," indicating its role as an assault force for the Tiger Forces. I conducted an interview with a media representative for the Taha Regiment regarding the group and the situation in the south. The interview was conducted overnight on 6-7 July 2018. The transcript is below, with any insertions for clarity in square brackets.
Continue to full text of posting...
By Aymenn Jawad Al-Tamimi | Sat, July 7, 2018 8:26 AM | Permalink
لقد كتبت في فترة سابقة عن بعض الوحدات في قوات الدفاع المحلي (المدعومة إيرانياً) مثل سرايا الرعد (قطاع إدلب) وسرايا المقاومة (قطاع الساحل او قطاع اللاذقية), ويخص هذا المقال بلواء أشبال الحسين التابع لقوات الدفاع المحلي في قطاع حمص.
Continue to full text of posting...
By أيمن جواد التميمي | Mon, July 2, 2018 5:50 PM | Permalink
Previous posts have explored affiliates of the Iranian-backed Local Defence Forces (LDF) like Saraya al-Ra'ad (Idlib sector) and Saraya al-Muqawama (Latakia/coastal sector). Liwa Ashbal al-Hussein is another LDF affiliate but belongs to the LDF's Homs sector.
Continue to full text of posting...
By Aymenn Jawad Al-Tamimi | Mon, July 2, 2018 5:24 PM | Permalink
The current military campaign of the Syrian government to recapture southern Syria has raised serious questions regarding how the rebel factions and Islamic State affiliate Jaysh Khalid bin al-Waleed (JKBW) should respond. After all, like the southern rebels, most members of JKBW are from the wider Hawran area. Indeed, many members come from places in Hawran outside the Yarmouk Basin (which is controlled by JKBW) like Inkhil. By one estimate from a source from Inkhil, some 150-200 people from Inkhil have joined Jaysh Khalid bin al-Waleed.
The most notable exceptions I know of within JKBW are Abu Ja'afar al-Urduni (who currently heads the Hisba) and the head of JKBW's court, who is of Saudi origin and came to the Yarmouk Basin after the Raqqa campaign against the Islamic State concluded last year. This Saudi person has replaced Abu Ali Saraya, who is currently imprisoned by JKBW partly in relation to his erroneous judgements surrounding the assassination of JKBW's first amir Abu Hashim al-Idlibi.
Continue to full text of posting...
By Aymenn Jawad Al-Tamimi | Sun, July 1, 2018 11:12 AM | Permalink
The Syrian government's ongoing campaign to regain control of Deraa and Quneitra has led to the displacement of tens of thousands of people. Of those who have been displaced, some have taken refuge in the Yarmouk Basin enclave of the Islamic State affiliate Jaysh Khalid bin al-Waleed (JKBW). For example, some people recently arrived in the Yarmouk Basin locality of Nafi'a, fleeing the rebel-held town of Nawa that has been hit by airstrikes. Note that JKBW's zone of control is still separated from the frontlines with the Syrian government and its allies by the rebel-held areas in the south.
In light of the displacements, this second statement from JKBW's 'Public Relations' department that I have obtained is calling for migration to its zone of control. For comparison, one should remember the Islamic State's video campaign calling for migrations to its territories in Iraq and Syria when the refugee/migrant crisis came to the forefront of media attention.
Note as with the previous JKBW Public Relations statement the use of the Islamic State label.
Continue to full text of posting...
By Aymenn Jawad Al-Tamimi | Fri, June 29, 2018 11:45 AM | Permalink
A previous post explored the life of Abu Waheed al-Heetawi, a deceased Jaysh Khalid bin al-Waleed (JKBW) fighter from the Deraa locality of Heet, which is currently besieged by JKBW. It is fair to say that the nature of this siege is an understudied subject.
Amid the ongoing military campaign by the Syrian government with Russian support against the rebel-held south, news has come of a ceasefire between the rebels in the south and JKBW through the mediation of a third-party body called Hay'at al-Islah. However, there are low expectations regarding the supposed ceasefire's durability, with suspicions that JKBW will break the ceasefire and engage in treachery. It is also not expected that JKBW will lift the siege of Heet, which is itself controlled by the Sadd al-Bagha operations room of rebel factions opposed to JKBW.
For further exploration of the siege situation in Heet, I interviewed the head of the relief office of the Heet local council. Questions and answers follow below with some editing and reordering for clarity. Any explanations of terms and insertions for clarity are in square brackets. This interview was conducted on 20-21 June 2018.
----------------------------------
Q: Can you describe the locality of Heet to me in a general sense?
A: Dear brother, with regards to Heet, it is a small locality surrounded by the Yarmouk Valley. The number of inhabitants is 6000 people and there is also displacement with regards to families outside the locality. And it is currently besieged by Jaysh Khalid bin al-Waleed and the siege has lasted for more than a year and a half consecutively. Inside the locality there are displaced families but a few families only and currently inside the locality settled people are living and they used to be present inside the Yarmouk Basin. Brother, the locality is of course controlled by the Free Army factions under the name of Sadd al-Bagha. But there is great suffering in the living situation for the locality.
Continue to full text of posting...
By Aymenn Jawad Al-Tamimi | Tue, June 26, 2018 10:01 PM | Permalink
[Publisher's note: In debates surrounding the Nigerian jihadist group Boko Haram, a group of academics called into question Jacob Zenn's credibility. Such charges are serious and Jacob Zenn has the right to defend himself and reply. I have given him the space to publish his detailed response to the critics. Please note that guest posts on my site are generally welcome. Feel free to contact me if you wish to publish something on my site- Aymenn Jawad Al-Tamimi].
In discussions involving politics and conflict, the elements of sound research, coherent writing, and a constructive exchange of opinions and perspectives are all crucial. Below, Boko Haram specialist Jacob Zenn responds in full to an attempted critique on his recent article "Demystifying al-Qaida in Nigeria: Cases from Boko Haram's Founding, Launch of Jihad and Suicide Bombings" in a special issue of the journal Perspectives on Terrorism in December 2017. [1] Co-written by five academics in April 2018, the attempted critique defied the boundaries of good scholarship both in terms of academic rigor and academic exchange. [2] Zenn's shorter response to their critique will appear in the June 2018 issue of Perspectives on Terrorism, while this post offers Zenn's larger point-for-point rejoinder.
Continue to full text of posting...
By Jacob Zenn | Fri, June 22, 2018 8:49 PM | Permalink