Jaysh Khalid ibn al-Waleed (The Army of Khalid ibn al-Waleed)- named for a companion of the Prophet who helped secure the Muslim conquest of the Levant through the crucial Battle of Yarmouk- is a group linked to the Islamic State (IS) based in the Yarmouk Valley/Basin (Wadi/Hawdh al-Yarmouk) of southwest Deraa province on the border with the Golan Heights. The group was formed in late May 2016 from the following components:
. Liwa Shuhada' al-Yarmouk (the Yarmouk Martyrs Brigade: LSY)- the main component of Jaysh Khalid ibn al-Waleed. Once aligned with the Western-backed Southern Front, it first established connections with IS around summer 2014 and began overtly displaying affinities with IS after heavy clashes with Jabhat al-Nusra in December 2014, which accused LSY at the time of being aligned with IS even as observers were widely sceptical.
Continue to full text of posting...
By Aymenn Jawad Al-Tamimi | Sat, July 30, 2016 3:42 PM | Permalink
When it comes to the Syrian insurgency, one of the biggest dilemmas facing its backers has been the role of al-Qaeda affiliate Jabhat al-Nusra. Despite its affiliations, the group has been widely viewed by the insurgency as an important military partner in many (but by no means all) of the zones of conflict since it first came on the scene publicly in 2012. Jabhat al-Nusra's fortunes have varied over time- for instance, it lost all of its assets in the oil-rich eastern province of Deir az-Zor to the Islamic State by summer 2014- but it has survived notions of a total collapse. Today, its main base is in the northwestern province of Idlib, and with the breakdown of the U.S.-Russia brokered 'cessation of hostilities' this year, Jabhat al-Nusra has played a leading role in fighting in Latakia and south Aleppo countryside, spearheading alongside Salafi group Ahrar al-Sham the coalition known as Jaysh al-Fatah, which was first set up in 2015 and led the routing of the Assad regime from Idlib province.
Continue to full text of posting...
By Aymenn Jawad Al-Tamimi | Sun, July 24, 2016 11:15 PM | Permalink
Readers of this blog will have known that a long-standing interest of mine has been the structure of Islamic State (IS) administration, focusing primarily on internal documents. To mark the start of Eid, IS has released via its central media outlet al-Furqan Media a video on the very subject, entitled 'Structure of the Caliphate'. Below are some observations of mine: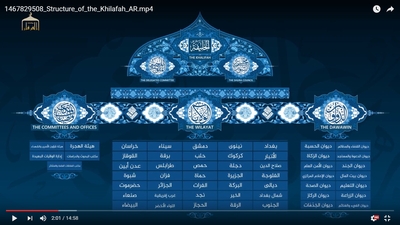 1. The list of 'wilayas' ('provinces') of the Islamic State in the above screenshot is particularly interesting. In total, IS counts 35 wilayas: 19 inside Iraq and Syria and 16 outside of Iraq and Syria. Most notably, despite widespread speculation of IS gearing up towards announcing a new wilaya in the Philippines and claims that IS is now operating as a wilaya in the Philippines, there is no mention of the Philippines as a wilaya. Nor is there any mention of Tunisia, Indonesia, Somalia and Bangladesh: countries where IS has also claimed operations. The last real expansion on the geographic stage on the international level was the Caucasus wilaya a year ago.
In my view, the lack of new wilaya announcements reflects an IS strategy of avoiding wilaya announcements because they lack credibility without realisation of governance and administration on the ground akin to the system in place in IS-controlled territories in Iraq and Syria. With the exception of Libya (though this too is now in doubt with the attacks on the IS stronghold of Sirte), the wilaya projects abroad have been disastrous in so far as achieving administration on the ground (Arabic: tamkeen). Internal dissent in IS (which I will discuss in a later post using some unseen internal documents) long recognized this problem, and advised against wilaya announcements and that allegiance pledges should be taken secretly. While the latter point has not been heeded, IS now seems more cautious in translating allegiance pledges into the creation of new provinces.
Continue to full text of posting...
By Aymenn Jawad Al-Tamimi | Wed, July 6, 2016 4:17 PM | Permalink
'Qamat al-Dawla' ('The Dawla Has Arisen'- in reference to the Islamic State) was a nasheed produced by Ajnad Media and released in mid-January 2016. Whereas a number of Islamic State nasheeds use straightforward classical Arabic ('We will move forth to excellence' being a good example), this one is particularly interesting for what is often termed Bedouin Arabic in form and language: terminology used generically to refer to the Arabian Peninsula. A somewhat comparative case is the nasheed 'Oh Son of Yemen' that notably contains the phrase 'وش علامك' ('what you want/seek', in reference to the Houris of paradise).
Many native Arabic speakers would in fact find nasheeds like 'Qamat al-Dawla' difficult to understand. A more precise definition of the language of 'Qamat al-Dawla' is offered by a reader @3bdulelah, who pinpoints the language of this nasheed as Qasimi dialect (from the Qasim region in central Arabia).
Below is my translation of the nasheed (see here for original).
Continue to full text of posting...
By Aymenn Jawad Al-Tamimi | Sun, July 3, 2016 3:45 PM | Permalink
The ongoing fighting in the Yarmouk Valley in southwest Deraa on the border with the Golan Heights between Liwa Shuhada' al-Yarmouk (LSY) and Harakat al-Muthanna al-Islamiya (HMI) on one side versus southern FSA factions and the southern Jaysh al-Fatah on the other is more or less at a stalemate. While the latter have succeeded in reversing the gains of LSY and HMI, pushing deeper into the Yarmouk Valley has proven more difficult but life has become increasingly difficult for Yarmouk Valley residents with rebel bombardment and price hikes through siege conditions. Until now, there has also been the question of why LSY and HMI have not formally united. A statement declaring a merger of HMI under LSY last month turned out to be fake. I myself have speculated that this may be because HMI has wanted to preserve an identity independent of LSY, which is clearly linked to the Islamic State (IS) and has undoubtedly tried to pull HMI into its orbit.
Continue to full text of posting...
By Aymenn Jawad Al-Tamimi | Tue, May 24, 2016 3:47 PM | Permalink
In my analysis on the infighting in Deraa province for Jihadology, I noted that although Harakat al-Muthanna al-Islamiya (the Islamic Muthanna Movement- HMI) is actively at war with rebel factions in the western Deraa countryside and is cooperating with the Islamic State [IS]-linked Liwa Shuhada' al-Yarmouk (Yarmouk Martyrs Brigade- LSY) in this regard, there have been no indications of infighting further east between the Deraa al-Balad (southern Deraa city) HMI contingent and rebel forces, as the contingent in the city pledged only to fight the regime. In addition, I speculated that perhaps we would see a fragmenting of HMI between the western and eastern halves.
This prediction has been vindicated in a new statement issued by the Deraa al-Balad contingent of HMI announcing its defection from HMI and the formation of a new Katibat al-Murabitun (Sentinels Battalion). Thus, the question now arises: what next for HMI, which is now confined to the west Deraa countryside? Speculation continues that the group is linked to IS, but HMI leader Abu Ayyub, speaking to al-Jazeera, has denied this claim:
Continue to full text of posting...
By Aymenn Jawad Al-Tamimi | Mon, March 28, 2016 2:23 PM | Permalink
Readers of this blog will be familiar by now with the outline of the story of Liwa Shuhada' al-Yarmouk (the Yarmouk Martyrs Brigade) in the Yarmouk Valley/Basin in southwest Deraa province bordering the Golan Heights. An FSA-brand brigade that first emerged in the summer of 2012, the group maintained formal FSA affiliations into the summer of 2014, as it was a member of the Southern Front and signed onto a statement affirming democratic values. Subsequently, some changes emerged in the group's branding with the adoption of a more Islamic logo, but the brigade continued to coordinate with other factions.
Then in December 2014, Syrian al-Qa'ida affiliate Jabhat al-Nusra clashed with Liwa Shuhada' al-Yarmouk, accusing the brigade of links to the Islamic State (IS). Since that time, outwardly, Liwa Shuhada' al-Yarmouk has openly moved in orientation towards IS as part of a 'reform' program devised by then leader al-Khal, adopting a new logo including the same flag as that used by IS, setting up an administrative model imitating to an extent the IS system of Diwans (government departments) and engaging in IS-style rhetoric and talking points. Despite these overt signs of leanings towards IS, the group has always denied allegiance to IS and has insisted in its official discourse that it is independent. However, the latest leadership shuffle in Liwa Shuhada' al-Yarmouk- involving the surprise appointment of a new Saudi amir who was sent and put in power by IS and is portrayed as being the true successor to al-Khal- clearly points to links between the group and IS.
Continue to full text of posting...
By Aymenn Jawad Al-Tamimi | Sat, March 19, 2016 1:05 AM | Permalink
The town of Azaz in north Aleppo countryside near the border of Turkey emerged to the forefront of attention to the Syrian civil war in the weeks preceding the 'truce'/reduction in hostilities as the Kurdish YPG-dominated 'Syrian Democratic Forces' (SDF) attempted to take the remainder of rebel-held north Aleppo countryside, taking advantage of the regime and its allies' cutting off Aleppo city from the border by breaking the sieges of the Shi'a villages of Nubl and Zahara'. The SDF seized Mennagh airbase and Tel Ref'at, but no other major advances occurred, despite widespread speculation that Azaz and Mare'a would fall too. Instead, at the present time, only occasional clashes occur on the peripheries of Azaz in particular.
Continue to full text of posting...
By Aymenn Jawad Al-Tamimi | Thu, March 17, 2016 11:40 AM | Permalink
After the assassination of its first leader al-Khal in mid-November 2015, the pro-Islamic State (IS) Liwa Shuhada' al-Yarmouk (Yarmouk Martyrs Brigade) based in southwest Deraa province along the border with the Golan Heights appointed Abu Obeida Qahtan as new leader. Qahtan, of Palestinian Syrian origin, is a jihadi veteran and apparently among the founders of Liwa Shuhada' al-Yarmouk. His presence in the group is also rather exceptional in that he is originally from the Yarmouk camp in Damascus, not a native of the Yarmouk Valley/Basin (Wadi/Hawdh al-Yarmouk) where Liwa Shuhada' al-Yarmouk is based and draws most of its manpower.
In this context, two important local clans are the landowning Baridis, from which al-Khal came, and the Ja'ounis, from which his deputy Abu Abdullah al-Ja'ouni (also killed in mid-November 2015 alongside al-Khal) came. According to a Ja'ouni from the Hawdh al-Yarmouk locality of Shajra that is controlled by Liwa Shuhada' al-Yarmouk, the Ja'ounis are Palestinian in origin but have long been present in Shajra. As for foreign members (muhajireen), the only known case until now has been an Israeli Arab who paraglided into Liwa Shuhada' al-Yarmouk territory from the Golan Heights in October 2015, clearly with a prior exceptional agreement from al-Khal, who otherwise rejected muhajireen.
Continue to full text of posting...
By Aymenn Jawad Al-Tamimi | Mon, March 14, 2016 8:45 PM | Permalink
Of all the places where the Islamic State (IS) has declared official affiliates outside of Iraq and Syria in the form of 'wilayas' ('provinces'), Yemen arguably represented one of the most attractive prospects for expansion: a chaotic environment, Sunni-Shi'a sectarian polarisation inflamed by the Houthi expansion from the north of the country that had captured the capital San'a, and the chance to undermine al-Qa'ida in the Arabian Peninsula (AQAP). Though Yemen was officially declared as an IS province in the first wave of international expansion in November 2014, it was not until some three months later that real evidence of an IS presence on the ground began to emerge, with statements issued in the name of multiple IS Yemeni wilayas. It is clear that IS intended to make its mark through mass-casualty attacks targeting the Houthis, contrasting with AQAP's rejection of this approach on account of Zawahiri's Guidelines.
The intent to inflame sectarian tensions did not mean that IS took no interest in the Saudi-led coalition intervening in Yemen in support of de jure Yemeni president Abd Rabbu Mansur Hadi and local forces working under him or cooperating out of expediency against a common enemy (the Houthis). Indeed, a number of IS operations have targeted the coalition. Earlier this month, for example, IS launched a suicide attack targeting the Ras Abbas training camp overseen by the Saudi-led coalition west of Aden, aiming to kill 'apostates' from the 'soldiers of Taghut'. In December 2015, IS claimed the assassination of the governor of Aden in a car bomb attack. In Hadhramaut province, IS fights the Hadi-aligned Yemeni army, primarily claiming to target it with mortar and rocket fire.
While IS has clear military capabilities and may be dispatching personnel from its centre in Iraq and Syria (or from elsewhere) to Yemen- see, for instance, the case of a suicide bomber in the Aden-Abyan province with a kunya suggesting origin from the Netherlands - its administrative capabilities on the ground and real control of territory remain very limited in contrast with AQAP. For instance, some propaganda has advertised IS-affiliated medical centres in Hadhramaut and Aden, but their size, exact location and extent of services are not clear. No hard evidence suggests they serve the local populations. Rather, it is more likely they are simply providing treatment for IS fighters, and with regards to Aden, it is claimed that the IS health centre may be located in al-Buraiqeh district. It is certainly true that IS has been trying to impose its vision of Islamic society in parts of Aden, distributing da'wa literature and publishing a statement in 2015 calling for Shari'a implementation in Aden University. However, all the activities above seem to be the limit of IS administration in Yemen- far less sophisticated than IS governance in Iraq, Syria or Libya.
In addition, IS in Yemen has been rocked in the past few months by internal dissent in the ranks with disapproval of the overall governor of the Yemeni affiliates (the wali of Yemen) appointed by Abu Bakr al-Baghdadi. These disagreements have been leaked in a series of documents. Though they have been referred to elsewhere, I present all the documents that have come to light in this controversy with full translations. To summarize, the sequence of events, beginning in mid-December 2015, is as follows:
- Letter disavowing work with the wali of Yemen signed by dozens of IS officials and soldiers in various Yemeni provinces, while affirming continued allegiance to Baghdadi.
- Dissenters joined by other officials and soldiers.
- Dissenters rebuked by member of IS' Shura Council, who affirms that they must be loyal to the wali of Yemen, otherwise the conduct amounts to breaking allegiance with IS.
- Dissenters reject rebuke, while affirming they are still loyal to Baghdadi.
- Perceived ringleaders of the conspiracy against IS are formally expelled from the ranks.
- Problems persist, so a new set of expulsions is decreed.
The list of signatories among the dissenters indicate that some high-rank personnel were involved. The initial statement of expulsion, which revealed the existence of an IS bureaucratic department to manage distant international affiliates, identified 7 individuals in particular to be thrown out. The names do not exactly match but this likely reflects kunya variation among individuals. It is also not clear how many in total ended up being expelled by remaining in the ranks of the dissenters or returned to the ranks of IS. The episode is nonetheless important in showing that while IS partly aims to expand by exploiting fractures within other jihadi organizations- and has done so with a degree of success in the North Caucasus and Libya- its affiliates on the whole, being less sophisticated in organization than IS central and not having the same rigid security apparatuses to crack down on dissent, are also vulnerable to internal splits. This observation should help to provide a more nuanced analysis of IS expansion on the international stage.
Below are the documents in full, with translation.
Continue to full text of posting...
By Aymenn Jawad Al-Tamimi | Mon, February 29, 2016 1:52 PM | Permalink