The rise of multiple militia factions in Syria that come under the mantra of 'Syrian Hezbollah' is now a well-established aspect of the conflict. The most well-known of these groups is Quwat al-Ridha whose origins lie in the Homs area. One problem in researching these groups is the difficulty in obtaining much concrete information about them, with a general reluctance on the part of their members and leaders to talk to outsiders.
A case-in-point of this open-source obscurity is al-Ghalibun ("Those who overcome"- a reference to Qur'an 37:173: 'And indeed our soldiers are the ones who overcome'). The group has a social media presence that emerged in 2015, but aside references to some areas of operations (e.g. in Aleppo and Quneitra provinces and Palmyra), some 'martyr' claims and name and emblem changes, precious little data of value can be found in that social media presence.
Continue to full text of posting...
By Aymenn Jawad Al-Tamimi | Sun, April 16, 2017 4:28 PM | Permalink
The number 313 has turned up multiple times in the Syrian civil war. Referring to the supposed number of Muslim soldiers at the battle of Badr but also the companions of the Imam al-Mahdi in eschatology, 313 can have significance for both Sunni and Shi'i Muslims. However, in the Syrian civil war, the 313 reference seems to appear more on the regime side, particularly in association with Shi'i militancy in support of the regime. The 313 Battalion is another example of this trend. The militia is also known as the 313 Force and Liwa al-Rasul al-'Adham ("The Great Apostle Brigade": a reference to the Prophet Muhammad). On the issue of multiple names for one group, cf. here.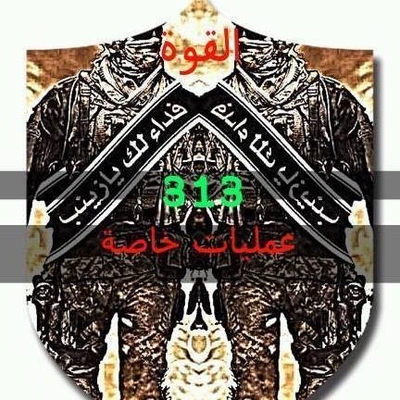 An emblem for the 313 Battalion: "The 313 Force. Special Operations." The ribbon reads: "Sacrifice for you, oh Zaynab" (referring to Sayyida Zaynab, whose shrine is in Damascus and the key site for Shi'i militias in Syria to defend).
Continue to full text of posting...
By Aymenn Jawad Al-Tamimi | Thu, March 30, 2017 | Permalink
Overall, the resonance of the Islamic State (IS) among the Palestinian Arab populations in Israel, the West Bank and Gaza has been relatively low. Attempts to connect some recent Palestinian attacks on Israelis to IS have been unconvincing. Where support for IS does exist, it is primarily found in Salafi jihadi circles in Gaza, though there are no formal affiliates in Gaza, but rather pro-IS groups. Some of these groups have undoubtedly acted as feeders into IS ranks both in the Sinai area (where a formal wilaya- 'province'- was declared in November 2014) and to 'IS central' in Iraq and Syria. There have also been claimed links between Gaza and the IS affiliates in Libya.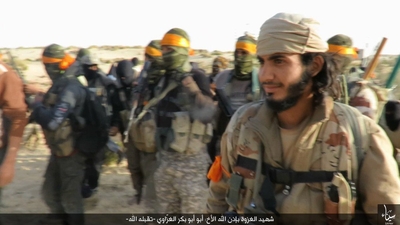 Abu Bakr al-Ghazawi (Abu Bakr the Gazan), who died fighting in the ranks of the IS affiliate in Sinai. He had reportedly been expelled from the ranks of Hamas, the Muslim Brotherhood oriented group that governs Gaza. Many Salafi jihadis- including the pro-IS networks, have featured Hamas defectors.

Bilal Ali al-Ghafri, a Gazan who was killed fighting in the ranks of IS in the Mosul area. Condolences paid to him here by the Ibn Taymiyya Media Centre, a Salafi jihadi media outlet in Gaza.
Continue to full text of posting...
By Aymenn Jawad Al-Tamimi | Sun, March 5, 2017 5:54 PM | Permalink
The previous post for Jihadology discussed life in the Islamic State training camps through looking at the terms of an IS training camp contract in a sample document from the pre-Caliphate era. This post serves as a companion follow-up in examining what the structure of an IS training camp might look like, using another document obtained amid the Turkish-backed 'Euphrates Shield' Syrian rebel operations against IS that currently aim to drive out IS from the north Aleppo city stronghold of al-Bab.
The document provides a general survey of details regarding a training camp in Aleppo province, including an overview of location, key officials, trainers, weapons inventory and needs of the camp. Like the training camp contract, this document also comes under the administrative label of Idarat al-Mu'askarat ('Camps Administration'), but the use of the label 'Islamic State' alone, rather than Islamic State in Iraq and al-Sham (ISIS) as appears in the training camp contract, indicates that the document dates after the Caliphate's declaration on 29 June 2014, even as a precise date is missing.
Continue to full text of posting...
By Aymenn Jawad Al-Tamimi | Wed, February 8, 2017 1:07 PM | Permalink
Jund al-Aqsa ("Soldiers of al-Aqsa," referring to the al-Aqsa Mosque in Jerusalem) is a jihadi group that was first set up in 2013 and primarily operates in Idlib and Hama provinces in northwestern Syria. Though it has publicly made clear its ideological alignment with al-Qa'ida, its hardline conduct in dealing with other Syrian rebel factions means that it is often accused of being secretly in league with the Islamic State. It is certainly true that the rank and file has had Islamic State sympathizers, at least some of whom have formally joined the Islamic State. Once a valued member of the Jaysh al-Fatah coalition set up in 2015 that drove out the regime from most of Idlib province, Jund al-Aqsa finds itself widely disliked among the Syrian insurgency, most notably clashing with Ahrar al-Sham, with a round of clashes occurring in October 2016 and now this month again.
The last time the clashes happened, Jund al-Aqsa appeared to have sought protection through pledging allegiance to Jabhat Fatah al-Sham, the rebranded Jabhat al-Nusra that has ostensibly dropped ties with al-Qa'ida. Yet it seems that the renewal of clashes and pressure on Jabhat Fatah al-Sham to disown Jund al-Aqsa have led to a new statement from Jabhat Fatah al-Sham disavowing the group and issuing a clarification on that apparent allegiance pledge, affirming that it was actually rejected at the time by many people in Jund al-Aqsa, but for reasons of fear of a renewal of clashes and hope that the group could be controlled by Jabhat Fatah al-Sham, it was decided until now not to make an announcement about the matter.
Continue to full text of posting...
By Aymenn Jawad Al-Tamimi | Mon, January 23, 2017 1:22 PM | Permalink
The existence of people in some parts of the Middle East to the north of the Arabian Peninsula (i.e. to the north of Saudi Arabia) who are ethnically black but Arab in culture and language has been documented in wider media to a certain extent. For example, in the southern Iraqi port city of Basra, a considerable population of such black people can be found, thought to be descended from slaves brought to the area from Africa during past centuries. Known by the Arabic terms zanji or 'abd (plurals zanj and 'abid respectively- the latter considered more derogatory with the connotations of slavery), black Iraqis have suffered problems of discrimination at the hands of their lighter-skinned compatriots.
Besides black Iraqis, there are also black Palestinians, whose presence in Gaza was the subject of an al-Monitor article in late 2013. Multiple origin accounts are given for these black Palestinians, some noting the slave trade (as is the case with the Iraqis), and others pointing out migrations from Sudan and Egypt to serve in the Ottoman Empire's army. These black Palestinians, like the black Iraqis, have also experienced at least some racism and discrimination from the wider population.
Much more obscure though- indeed, practically undocumented as far as I can tell- is the existence of a population of black Syrians. I first came across the matter in photos put out by the Islamic State-affiliated Jaysh Khalid bin al-Waleed based in the Yarmouk Basin (Arabic: Hawdh al-Yarmouk) in southwest Deraa on the border with the Golan Heights and Jordan. Observe the two photos below. A black man can clearly be identified in the crowd of spectators in each case.
Continue to full text of posting...
By Aymenn Jawad Al-Tamimi | Thu, January 19, 2017 8:21 PM | Permalink
O fato de haver pessoas em algumas regiões do Oriente Médio ao norte da Península Arábica (ou seja: ao norte da Arábia Saudita) consideradas etnicamente negras mas árabes quanto à cultura e língua, já está sendo apresentado, até certo ponto, na grande mídia. Por exemplo, no sul da cidade portuária de Basra no Iraque é possível encontrar uma população de tamanho considerável dessas pessoas de pele negra que acredita-se serem descendentes de escravos trazidos da África através dos séculos para aquela região. Conhecida pelos termos árabes zanji ou 'abd (cujos plurais são Zanj e 'abid respectivamente − sendo que 'abid é considerado mais depreciativo devido às conotações escravagistas). Os iraquianos negros sofrem de discriminação nas mãos de seus compatriotas de pele mais clara.
Além dos iraquianos de pele escura, há também palestinos de pele escura, cuja presença em Gaza foi o tema de um artigo no al-Monitor no final de 2013. Várias narrativas são apresentadas no tocante à origem desses palestinos, algumas salientando o comércio de escravos (como é o caso dos iraquianos) e outras ressaltando as migrações do Sudão e do Egito para servirem no exército do Império Otomano. Esses palestinos, assim como seus análogos iraquianos, também experimentam pelo menos alguma forma de racismo e discriminação da população em geral.
Continue to full text of posting...
By Aymenn Jawad Al-Tamimi | Thu, January 19, 2017 | Permalink
Ajnad Media is the Islamic State's media wing that produces Arabic-language nasheeds and recitations of sections of the Qur'an. The outlet released a new nasheed yesterday. The content of the nasheed is very generic in nature and echoes many prior themes in Islamic State nasheeds. I have provided a preliminary translation of the nasheed below, and have given some explanation of phrases that might seem obscure or odd at first sight.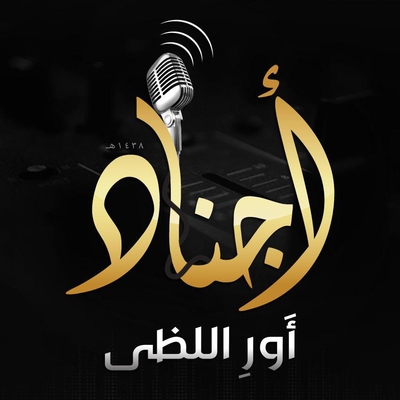 Continue to full text of posting...
By Aymenn Jawad Al-Tamimi | Sat, January 14, 2017 12:00 PM | Permalink
The attack in Jerusalem yesterday that killed four young Israeli soldiers has been claimed in a circulated statement by a Palestinian group calling itself the "Baha' Alyan Groups." Its statement of responsibility can be read below, with brief explanatory notes in square brackets: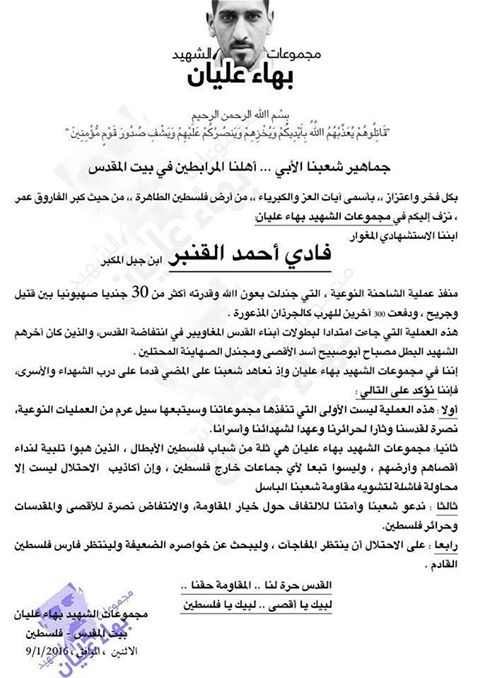 "The Martyr Baha' Alyan Groups
In the name of God, the Compassionate, the Merciful:
'Fight them: God will torment them at your hands and ruin them, giving you victory over them and healing the hearts of believing people' [Qur'an 9:14].
Masses of our defiant people, our people on ribat in Bayt al-Maqdis [Jerusalem]. With all pride and honour, in the highest signs of glory and greatness, from the pure land of Palestine, where al-Faruq Omar [Omar bin al-Khattab, the second Caliph after the Prophet's death] cried Allahu Akbar, we present to you in the Martyr Baha' Alyan Groups:
Our martyrdom operative commando son Fadi Ahmad al-Qanbar, son of Jabal al-Mukaber, who carried out the major truck operation that brought down by God's help and power more than 30 Zionist soldiers among the killed and wounded, and prompted 300 others to flee like frightened rats. This operation that came as an extension of the heroic acts of the commando sons of al-Quds [Jerusalem] in the al-Quds Intifada, the last of whom was the martyr hero Masbah Abu Sabih the lion of al-Aqsa who brought down the occupying Zionists.
Indeed we in the Martyr Baha' Alyan Groups, as we pledge to our people to move forward on the path of the martyrs and prisoners, affirm the following:
1. This operation is not the first our groups have carried out, and a powerful stream of major operations will follow it, supporting our Quds, in revenge for our noble [/free] people, and as a promise to our martyrs and prisoners.
2. The Martyr Baha' Alyan Groups is a contingent of the youth heroes of Palestine, who have arisen heeding the call of their Aqsa and land, and they are not affiliated to any groups outside Palestine, and indeed the lies of the occupation are nothing but a failing attempt to distort the resistance of our intrepid people.
3. We call on our people and Ummah to gather around the choice of resistance, and rise up to support al-Aqsa, the holy sites and the noble [/free] people of Palestine.
4. The occupation must wait for surprises, and let it look for its weak flanks and await the coming knight of Palestine.
al-Quds is free for us...The resistance is our right
At your service al-Aqsa...At your service Palestine.
The Martyr Baha' Alyan Groups
Bayt al-Maqdis- Palestine
Monday, corresponding to 9 January 2016 CE."
Continue to full text of posting...
By Aymenn Jawad Al-Tamimi | Mon, January 9, 2017 | Permalink
With the regime's recapture of Aleppo city in its entirety, the wider insurgency finds itself in a moment of crisis. The rebellion's main centre is now the rural northwest province of Idlib, as the regime also looks set to clear up remaining pockets in the wider Damascus area, thereby firmly cementing its control over the two most important conurbations in the country.
It is not unreasonable to put down many of the failings of the rebellion to a lack of unity among the various factions on the ground. Though many of the factions are capable of issuing joint political statements, such actions do not translate to actual unity inside the territories they control.
To be sure, many unity initiatives have been tried in the past, such as the Revolutionary Command Council (RCC) set up in late 2014. Despite looking superficially impressive in terms of the number of factions involved, its significance was overstated. The RCC failed to bring about real mergers and eventually the entire body was quietly forgotten over the course of 2015.
Continue to full text of posting...
By Aymenn Jawad Al-Tamimi | Sat, January 7, 2017 3:24 AM | Permalink