Previously I have written on Liwa al-Mukhtar al-Thiqfi, a small group deployed at the time I wrote the article to Latakia province, under the leadership of one al-Hajj Mukhtar and asserting direct affiliation with Iran's Islamic Revolutionary Guard Corps (IRGC). Katibat Ali Sultan (The Ali Sultan Battalion) similarly claims affiliation with the IRGC but has an even lower social media profile.
I first came across Katibat Ali Sultan in some posts by one Samih Zahr al-Din, a Druze member of the group who clearly still identifies as Druze and is originally from the predominantly Druze province of Suwayda' in southern Syria. For example, in a post dated 7 March 2017, he wrote:
"Katibat Ali Sultan rapid intervention squadron, to support the Syrian army's 15th division in Deraa and resist the attack that Jabhat al-Nusra and the armed factions have undertaken in Deraa al-Manshiya [neighbourhood]."
Continue to full text of posting...
By Aymenn Jawad Al-Tamimi | Thu, October 5, 2017 4:02 PM | Permalink
Understandably, there has been widespread disbelief on social media regarding the claim published by the Islamic State's Amaq News that the Las Vegas attacker was a "soldier of the Islamic State" (i.e. inspired by Islamic State to carry out the attack). Probably anticipating or responding to the disbelief, Amaq News released a follow-up post saying the attacker had embraced Islam months ago. Amaq News only purported to rely on "a security source." In this context, "security" refers to the carrying out of operations inside enemy territory. Thus, any Islamic State-directed or Islamic State-inspired attack inside the U.S., which is leading the coalition against Islamic State, would come under this category.
Amaq News, established in 2014, is almost universally recognized as a part of the Islamic State's media apparatus, but it has not been formally acknowledged as such by the Islamic State in its propaganda directed to the external world. Thus, Amaq News represents the foremost example of an auxiliary agency for the Islamic State. In not being formally acknowledged to the external world as a part of the Islamic State, Amaq News can present preliminary claims of attacks as news agency items, thus the framing of a "source" speaking to Amaq News on these matters.
Most of the Islamic State attacks in the West and other enemy states are first reported on via Amaq News. Many of the claims turn out to be reliable with further evidence provided: for example, Amaq News has released exclusive videos of attackers. These cases suggest the attackers have been in contact with Amaq News, perhaps via personnel or intermediaries operating in the West. The Amaq News items can also be followed up by official Islamic State media statements.
Continue to full text of posting...
By Aymenn Jawad Al-Tamimi | Mon, October 2, 2017 11:47 AM | Permalink
As a companion to my study for CTC Sentinel on the Islamic State and its relations with the Kurds, here are the original documents in full with translation.
Continue to full text of posting...
By Aymenn Jawad Al-Tamimi | Thu, September 21, 2017 12:52 PM | Permalink
Despite the continued territorial setbacks for the Islamic State, with Raqqa likely soon to be lost and the organization's enemies pushing into Deir az-Zor province, the media wing responsible for Arabic nasheed production (Ajnad) continues to release new nasheeds. The latest one is لن ننثني ("We will not bow down"), the verb having connotations of giving up, bending over, defeat and frustration. As with the other recent nasheeds released by Ajnad, the messaging again focuses on defiance in the face of losses and that the idea that the Islamic State will not be truly defeated. Below is my translation of the new nasheed.
Continue to full text of posting...
By Aymenn Jawad Al-Tamimi | Fri, September 8, 2017 9:16 AM | Permalink
Amid the continued failure of the Syrian rebels to roll back the Islamic State-linked Jaysh Khalid bin al-Waleed in the southern province of Deraa, the U.S.-led coalition and its allies seem to be resorting increasingly to repeated decapitation of the leadership in targeted strikes. These strikes have killed multiple officials in the organization, such as Abu Qasura Kanakari and Abu Hamza Tawheed. On 17 August, a strike killed the amir Abu Tayyim Inkhil, whose life I aim to document in this post.
As Abu Tayyim Inkhil's name suggests, he is originally from the town of Inkhil in north Deraa countryside, well outside the Yarmouk Basin area controlled by Jaysh Khalid bin al-Waleed. The town is currently controlled by the Syrian rebels. The number of inhabitants is around 45,000 and the main tribes in the town are:
- al-Khawabira
- al-Rayabi
- al-Nasir
The main rebel factions in the town are affiliated with the Southern Front, among them:
- Liwa Ahfad Omar bin al-Khattab
- Liwa Usud al-Islam
- Liwa al-Khalifa Omar
- Liwa Shuhada' Inkhil
- Liwa Mujahidee Hawran
- Liwa Ghuraba' Hawran
- al-Liwa' al-Awal Maham Khasa
Hay'at Tahrir al-Sham and Ahrar al-Sham also maintain a presence in Inkhil. Hay'at Tahrir al-Sham has a base in Inkhil but does not offer services in the town, unlike the situation in the northwest of Syria. Ahrar al-Sham, however, does not have a base in Inkhil.
Continue to full text of posting...
By Aymenn Jawad Al-Tamimi | Thu, September 7, 2017 8:29 PM | Permalink
مضت سنتان تقريبا على اغتيال الشيخ ابي فهد وحيد البلعوس وهو الشيخ الدرزي الذي قام بتاسيس حركة رجال الكرامة في محافظة السويداء في جنوب سوريا (اغلب الناس اهناك دروز). يوجد سوء فهم حول الحركة مع القول ان الحركه تهدف الى اسقاط النظام واطار الدولة في السويداء. فتعمل رجال الكرامة حقيقة على اساس بقاء هذه الاطارات مع التركيز على فكرة الدفاع المحلي بدلا عن التجنيد في الجيش من اجل القتال في مكان بعيد عن بلدة الاصل. لذلك, كما قلت سابقا, رجال الكرامة هي حركة حيادية واصلاحية.
مع وجود شبهات تشير الى تورط مواليين للنظام في اغتيال البلعوس, لم تغير الحادثة المنهج الاساسي للحركة والوضع على الارض, فادارة الامن المحلي في السويداء هي على الاغلب مسؤولية رجال الكرامة وفصائل محلية اخرى (بعضها اكثر موالية), ويوجد تقارير كثيرة عن الخطف وكلام كثير عن الفساد والتهريب في المحافظة. وفي حال اعتداءات من قبل جهات خارجية على السويداء, تتحد رجال الكرامة بفصائل اخرى في السويداء من اجل صد العدى.
ما كان مقتل البلعوس مهلكا للحركة التي يقودها يحيى الحجار الذي خلف رأفت البلعوس (اخ وحيد) في شباط ٢٠١٧. ولا يزال تشكيل مجموعات محلية جديدة للحركة اضافة الى مجموعات قيد تشكيل. مثلا كان يوجود على الاقل ٥ مجموعات قد تم تشكيلها او كانت قيد التشكيل الشهر الماضي من بينها بيرق المجد. الجذير بالذكر ان اسماء المجموعات المحلية التابعة للحركة هي عامة على شكل بيرق فلان.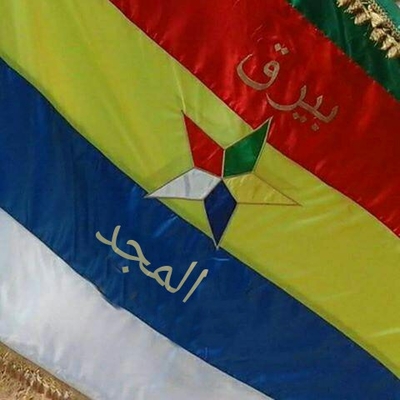 راية بيرق المجد
ومن اجل التكلم عن بيرق المجد وموضوع رجال الكرامة بشكل عام وامور اخرى تتعلق بالدروز في سوريا, عملت مقابلة مع الاعلامي لبيرق المجد الذي طلب عدم كشف عن اسمه. اني قمت بتحرير المقابلة قليلا عشان الوضوح
Continue to full text of posting...
By ايمن جواد التميمي | Fri, September 1, 2017 7:18 PM | Permalink
It has been almost two years since the assassination of Sheikh Abu Fahad Waheed al-Bal'ous, the Druze sheikh who founded the Rijal al-Karama (Men of Dignity) movement in the predominantly Druze province of Suwayda' in southern Syria. Many misconceptions have surrounded Rijal al-Karama, above all the idea that the movement aims to remove the regime and state structures from Suwayda'. In reality, Rijal al-Karama operates on the premise of those basic structures remaining in place, while emphasizing the idea of defending one's local area instead of being conscripted into the army to fight in a place far removed from one's home. In short, as I have outlined before, Rijal al-Karama is more of a reformist and third-way movement.
Though suspicions regarding Bal'ous' assassination pointed to the killing as the work of regime loyalists, the incident has not really altered the movement's fundamental outlook and situation on the ground. Handling of local security largely remains delegated to Rijal al-Karama and other local militias (some of a more loyalist orientation), incidents of kidnappings are frequently reported, and allegations of corruption and smuggling within the province are widespread. Any incidents of attacks on Suwayda' by outside forces will lead to joint initiatives between Rijal al-Karama and other militias in Suwayda' to repel the attacks.
Bal'ous' death proved not to be a fatal blow to Rijal al-Karama, which is presently led by Yahya al-Hajar, who succeeded Bal'ous' brother Ra'afat in February 2017. New local affiliates for the movement continue to be set up or are in the process of creation. Last month, at least five new affiliates were set up or in the process of being formed, one of those being Bayraq al-Majd (Banner of Glory), talk of which arose in the latter half of that month. Note that local affiliates of Rijal al-Karama' generally take the form of Bayraq X (Banner of X) in nomenclature.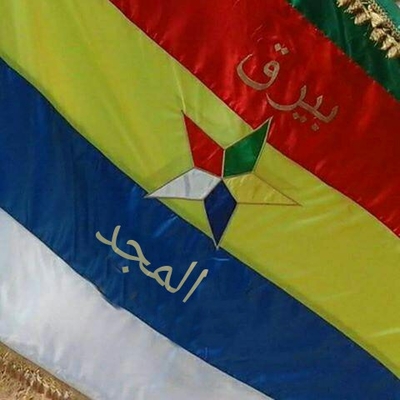 Flag for Bayraq al-Majd, similar in design to other Rijal al-Karama affiliate flags, with the Druze flag and the Druze star in the centre.
To discuss Bayraq al-Majd, the situation of Rijal al-Karama more generally and other issues relating to the Druze in Syria, I interviewed the media activist for Bayraq al-Majd (who will remain anonymous at his request), as transcribed below, with minor editing for clarity and some explanatory notes in square brackets.
Continue to full text of posting...
By Aymenn Jawad Al-Tamimi | Fri, September 1, 2017 2:26 PM | Permalink
For prior parts in this ongoing archive, see:
Specimen 39P: Statement on education, al-Hajr al-Aswad, south Damascus (late August 2017)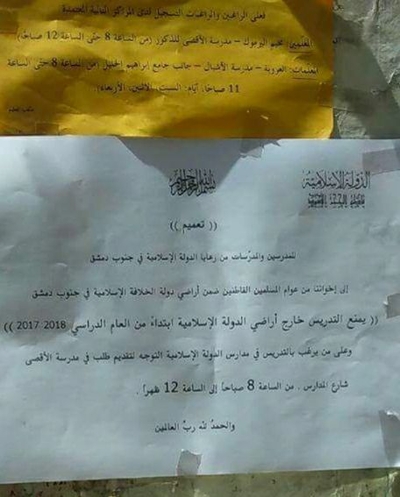 Islamic State
al-Hajr al-Aswad area
In the name of God, the Compassionate, the Merciful
Statement for distribution
To the male and female teachers from the citizens of the Islamic State in south Damascus
To our brothers from the Muslim populace dwelling within the lands of the state of the Islamic Caliphate in south Damascus:
It is forbidden to teach outside the lands of the Islamic State beginning from academic year 2017-2018.
The one who wishes to teach in the schools of the Islamic State should go and submit a request in the al-Aqsa school on al-Madaris street from 8 a.m. to 12 p.m.
And praise be to God the Lord of the Worlds.
Continue to full text of posting...
By Aymenn Jawad Al-Tamimi | Mon, August 28, 2017 7:43 AM | Permalink
Many of the known Syrian Hezbollah groups have well-established social media profiles, even if those profiles do not give away much concrete information about those groups. For instance, al-Ghalibun has an official Facebook page, and while one can detect clear image shifts over time through name and symbol changes, tracing the group's background, recruiting base and development can be difficult without interacting with members or former members.
Other Syrian Hezbollah groups are even more obscure, with only some scattered references to be found on social media. Quwat al-Wa'ad al-Sadiq (Forces of the True Promise) is one such group, which I came across recently in light of news about the loss of some its fighters, apparently as part of the broader campaign by the regime and its allies to push eastwards through Syria. As it so happens, I got to know a member of Quwat al-Wa'ad al-Sadiq who is originally from the Druze village of Hadr in Quneitra on the border with the Israeli-occupied Golan Heights. His testimony here forms the basis of this post.
Continue to full text of posting...
By Aymenn Jawad Al-Tamimi | Wed, August 23, 2017 10:17 PM | Permalink
بعض فصائل حزب الله السوري لها صفحات معروفة على وسائل الاعلام الاجتماعية مع ان هذه الصفحات لا تكشف عن معلومات كثيرة عن المجموعات: مثلا فصيل الغالبون له صفحة رسمية على فيس بوك و من الممكن ان تشوف تغيرات في صورته مع مرور الوقت عن طريق تغيرات الاسماء والرموز, ولكنه لا يوجد معلومات كثيرة عن اصل الفصيل واساس التطوع والتطور بلا التكلم مع عناصر او عناصر سابقة
ويوجد فصائل اخرى لحزب الله السوري وهي اغمض من الغالبون, مع وجود منشورات متفرقة على وسائل الاعلام الاجتماعية فقط. وقوات الوعد الصادق هي فصيل من هذه الفصائل الغامصة, فلاحظت وجودها فقط عن طريق خبر عن مقتل بعض مقاتليها ضمن حملة اوسع للحكومة السورية وحلفائها نحو شرق البلد. وتعرفت على عنصر من الفصيل وهو اصلا من حضر (القرية الدرزية في القنيطرة) على الحدود مع الجولان السوري المحتل. وما قال لي هو اساس هذه المقالة.
تم تاسيس قوات الوعد الصادق التابعة لحزب الله خلال الايام الاولى للحرب في سوريا: بداية الاحداث, كما قال لي صديقي. لذلك كانت بداية التشكيل في سنة ٢٠١٢ مع قيام صراع مسلح في البلد. ويقع المقر الاساسي للمجموعة في منطقة السيدة زينب بدمشق وهي دار المرقد الشيعي الاشهر في سوريا. الجذير بالذكر ان بداية فصيل الغالبون كانت في ظروف مماثلة.
ولكن موقع المقر الاساسي للفصيل لا يعني ان باب التطوع لقوات الوعد الصادق مفتوح امام الشيعة فقط, فصديقي هو من قرية درزية ولا يزال يعتبر نفسه كدرزي ولا ينوي ان يتشيع, فقال لي: المقاتلون من كل الطوائف, فهي تشكيل عقائدي وليس طائفيا. ويبدو ان التطوع يحدث عن طريق العلاقات الشخصية: وهذا مهم جدا مع عدم وجود صفحات كبيرة للفصيل على وسائل الاعلام الاجتماعية. فانضم صديقي للفصيل عن طريق العلاقات العائلية, فقالي لي: اخذني اخي معه. وكان صديقي وثلاثة من اخوته في الفصيل: منهم انقتل واحد, اصيب الثاني بشكل دائم, واصيب صديقي وهو يقوم باستراحة في قريته الان. اما الاخ الاصغر لصديقي الذي كان في الفصيل ايضا, فرفض صديقي ان يبقى اخوه في الفصيل بسبب خطورة العمل القتالي.
ومثل الكثير من فصائل حزب الله السوري, قوات الوعد الصادق هي بمثابة مجموعة مهام خاصة, فقاتلت على جبهات كثيرة منها دمشق وادلب ودرعا والقنيطرة والقلمون وحلب والبادية السورية. وحسب ما قال لي صديقي, كان للفصيل الدور الاكبر في تحرير منطقة الدخانية في دمشق. الجذير بالذكر ان هذه المنطقة تقع الى شرق العاصفة وسيطر عليها المتمردون في ايلول ٢٠١٤ ولكن الحكومة السورية وحلفاءها استعادت المنطقة بعد شهر تقريبا. وقال صديقي بشكل معين ان قوات الوعد الصادق هي قوة اقتحامية وقوة تدخل سريع.
القيادة الميدانية للقوات هي متكونة من سوريين, ولكنه مثل التشكيلات الاخرى لحزب الله السوري, يجود دور مشرف لعناصر حزب الله اللبناني والذي يدير غرفة العمليات للفصائل ويعطي دعم ناري, بينما الاصدقاء الايرانيون مسؤولون عن السلاح للقوات وعلى الاقل جزء (او ممكن اغلب او كل) الحاجات المالية (مثلا الرواتب). والرواتب هي تقريبا ٦٠٠٠٠ ليرة سورية شهريا مع امكانية مكافأة اضافية (مثلا اذا قام عنصر بانقاذ رفيق مصاب في وجه خطر القناصين او السيطرة على منطقة صعبة).
طبعا التركز على مجموعات مع صفحات كبيرة على وسائل الاعلام الاجتماعية هي شيء عادي ولكنه حقيقة يوجد مجموعات كثيرة بلا هذه الصفحات تستحق الاعتبار وقوات الوعد الصادق هي مثال من هذه المجموعات, فيدل وجود الفصيل على ان فكرة حزب الله السوري ليس جديدة ولكنها من بداية الازمة في سوريا, وحيث يجند اكبر فصائل حزب الله السوري الشباب من المجتمع الشيعي في سوريا, لا يمكن ان يعتمد بناء حركة حزب الله السوري على الشيعة فقط بسبب الاعداد القليلة, وتوقعات تشيع اغلب سكان سوريا هي وهمية.
اخيرا اقدم لكم مجموعة من شهداء قوات الوعد الصادق (يعني القتلى) الذين انقتلوا هذا الشهر
Continue to full text of posting...
By ايمن جواد التميمي | Wed, August 23, 2017 | Permalink